Video, breath test show Las Vegas constable lied to trooper
February 27, 2013 - 3:53 pm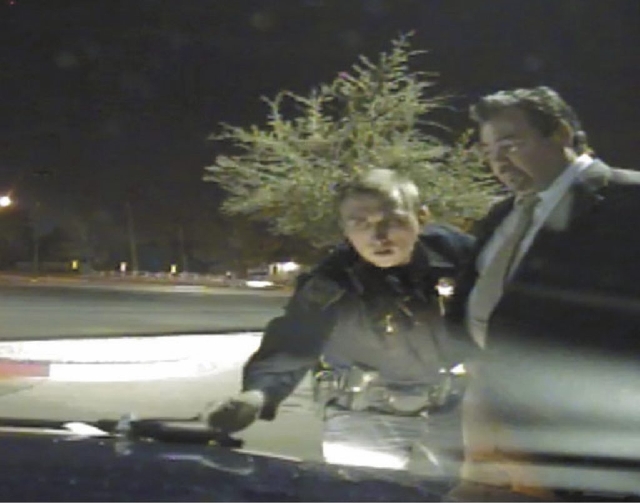 Las Vegas Constable John Bonaventura lied to a police officer during a traffic stop about drinking alcohol, according to a Nevada Highway Patrol dashboard video released Wednesday.
Bonaventura told trooper Chelsea Webster he hadn't been drinking before she pulled him over about 8 p.m. on Feb. 12. He told Webster he just left his office in downtown Las Vegas and was on his way home.
The trooper said the smell of alcohol in Bonaventura's official county constable vehicle was "overwhelming," and she asked him to be completely honest with her.
"I smell alcohol in the car, and call me crazy, I don't know what's going on," Webster is heard saying.
Bonaventura registered a 0.099 on a preliminary breath test and stumbled several times during a field sobriety test, the video shows.
Under Nevada law, driving with a blood-alcohol level of 0.08 or higher is prohibited. But the Clark County district attorney's office declined to prosecute Bonaventura because the preliminary test is not admissible in court.
An official test, taken at the jail nearly two hours later, showed the constable had a blood-alcohol level of 0.069. The arrest report said that the second test was delayed because Bonaventura has high blood pressure, which lengthened the time needed for a medical screening.
The district attorney's office also said Highway Patrol officers might have pulled over the wrong constable's vehicle after a motorist reported a vehicle being driven erratically south on U.S. Highway 95 near Boulder Highway.
Webster noted a second constable's car in the parking lot where Bonaventura was stopped and asked Bonaventura, who said he was within sight of his home, about the other driver.
"Who's that?" she asked.
"That's one of my deputies," he replied.
The trooper seemed confused and asked whether the deputy lived with Bonaventura.
"No," the constable replied.
She asked Bonaventura again when he had stopped working that night.
"I work 24/7," the constable said.
After Bonaventura had several false starts while attempting a heel-to-toe walk in a Wal-Mart parking lot at Tropicana Avenue and McLeod Drive, Webster laughed.
"Don't start yet, OK?" she told him.
Webster later told another officer Bonaventura made her "nervous" because he flashed his emergency vehicle lights instead of immediately pulling over.
After the constable was out of his car, the trooper frequently reminded him to stay in front of her patrol car. Webster told another trooper who arrived as her backup that she felt threatened by Bonaventura and had unholstered her Taser stun gun. That action was not caught on camera.
"Several times I felt that Bonaventura was trying to intimidate me with his status as an officer," Webster later wrote in her report.
She asked Bonaventura several times about his gun, which the constable said he left inside his vehicle
Later, she called a supervisor and asked whether the constable should be booked on charges of being intoxicated while carrying a firearm.
The supervisor apparently declined.
"You don't want to do that?" Webster can be heard saying on the video.
Shortly after his arrest, Bonaventura blamed Clark County administrators and elected officials for what he claimed was a "setup."
Bonaventura did not return a call seeking comment.
Outside the jail after his release on Feb. 13, Bonaventura said he believed county officials who are seeking to abolish his office had troopers follow him from his downtown office.
Bonaventura told the Review-Journal he had "one or two" drinks at the Stratosphere hotel-casino during an AFL-CIO union function about 4:30 p.m., then returned to his office. He said he hadn't been drinking at his office.
Since Bonaventura took office in 2011, he has been involved in a heavily criticized foray into reality television, hit with allegations of sexual harassment, mired in jurisdictional disputes and criticized for using clever accounting to circumvent county oversight.
He also has hired deputies with questionable histories that include run-ins with the law.
Driven by Bona­ventura's actions, County Commissioner Chris Giunchigliani has asked for an ordinance change that would abolish the office. A public hearing on the issue is set for March.
Contact reporter Mike Blasky at mblasky@reviewjournal.com or 702-383-0283.