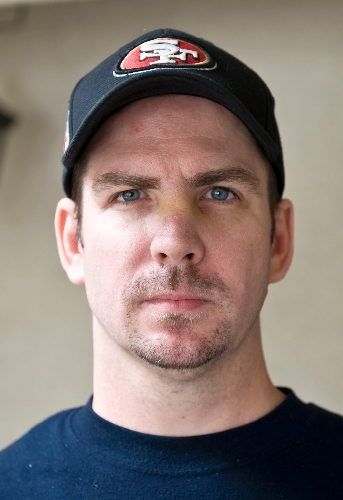 Mitchell Crooks says he never set out to get rich that night. He just wanted to test his new video camera.
But his confrontation with Las Vegas police officer Derek Colling a year ago, which was caught on video and went viral on the Internet, will put roughly $66,000 in Crooks' pocket.
"For me it's not about the money. It's about holding them accountable," he said Monday.
The Metropolitan Police Department's Committee on Fiscal Affairs unanimously approved a $100,000 payment to settle Crooks' federal civil rights lawsuit. His legal fees will take about a third of the settlement.
"I wish Derek Colling would have to pay it and not the taxpayers," Crooks said.
The 37-year-old unemployed stage technician said he will use the money to pay his medical bills, donate to whale protection group Sea Shepherd Conservation Society and buy new video equipment.
He said he had hoped to take the case further, but the fact that Colling was fired and the decision by Erik Scott's relatives to drop their lawsuit in the fatal Costco police shooting had influenced his decision to settle.
"To me it's just better to settle, get it over with and move on," Crooks said.
The confrontation unfolded the night of March 20, 2011, on Crooks' dark cul-de-sac near Desert Inn Road and Maryland Parkway.
Crooks said he decided to test his new high-end camera by filming officers investigating a burglary call at a house across the street. He filmed for about 45 minutes from his driveway.
As Colling was driving away, he stopped in front of Crooks, got out of his vehicle and approached him, asking whether he lived there. Crooks said "No" at first, then quickly said he did live there as Colling walked toward him, ordering him to stop filming.
When Crooks refused to stop the camera, Colling knocked him to the ground and beat him, according to the lawsuit. Crooks said he suffered a broken nose and injured ribs in the confrontation.
Crooks was arrested for battery against an officer, trespassing and resisting arrest. The charges were dropped but not before he spent two days in jail.
An internal investigation concluded that Colling, a six-year veteran, had violated several department policies. Police would not release the specific policy violations.
Sheriff Doug Gillespie fired Colling in December, though Colling has appealed to an arbitrator in hopes of regaining his job. The arbitrator heard the case last week and will issue a decision within a month or two, Gillespie said.
The sheriff called Colling's actions "totally unprofessional and inappropriate."
He said the $100,000 settlement was appropriate given the circumstances, Crooks' medical bills and other factors.
The case and its widely viewed video reminded all police officers that their actions can and often will be captured on video, whether it's by a citizen on the sidewalk or a security officer in a casino, Gillespie said.
Crooks' lawyer, David Otto, said the case highlighted the rights of citizen journalists to freely record the actions of police officers without fear of intimidation or worse.
"The point illustrated here is police cannot do whatever they want," Otto said. "They cannot silence the press with their fists and their guns."
Crooks said he is glad he can put the incident behind him and will be less likely to grab his camera the next time he sees police on his street.
"Two is enough," he said, referring to the two highly publicized incidents he stumbled into because of his camera.
In 2002, he videotaped two Inglewood, Calif., police officers beating a 16-year-old boy near Crooks' home. The incident strained race relations in Southern California; the police officer was white, the teenager black.
Crooks tried to sell that tape and then declined to give it to prosecutors. He was jailed on old warrants from unrelated drunken driving and petty theft charges. Civil rights advocates decried it as retribution.
Crooks said the Las Vegas incident has come up in job interviews, and he believes it has hurt his chances to get hired.
Now that the lawsuit is settled, he hopes the attention will die down so that he can find a job and move on to other goals, including starting a production company and focusing on other video projects, "like filming a UFO," he said.
Contact reporter Brian Haynes at bhaynes@review
journal.com or 702-383-0281.