War Machine sentenced to 36 years to life in prison in assault case — VIDEO
Updated June 5, 2017 - 5:53 pm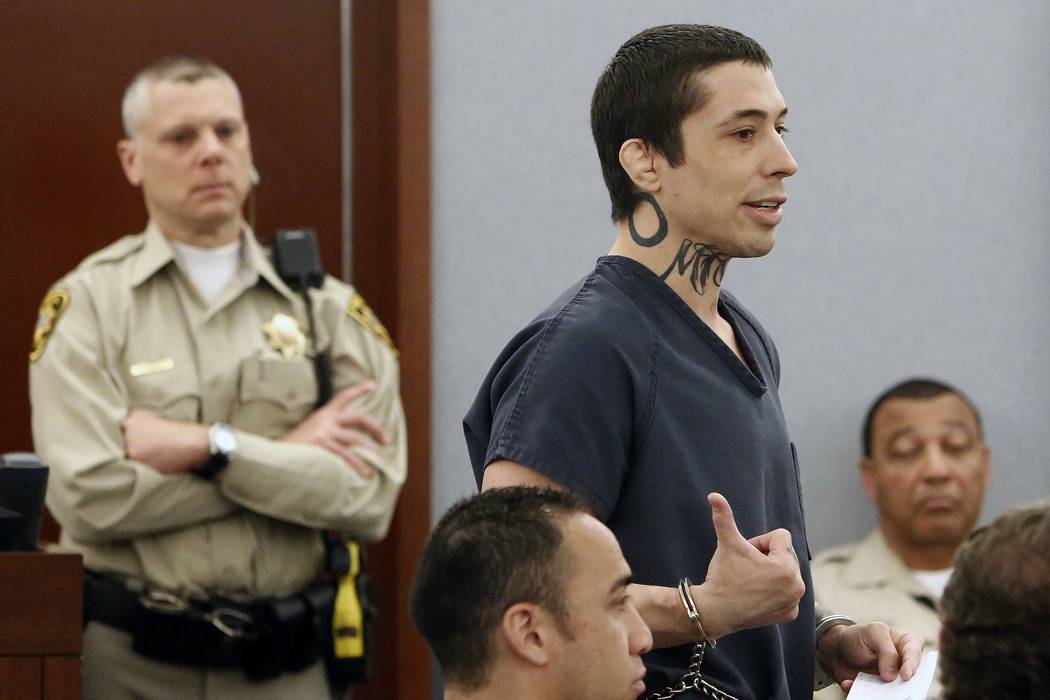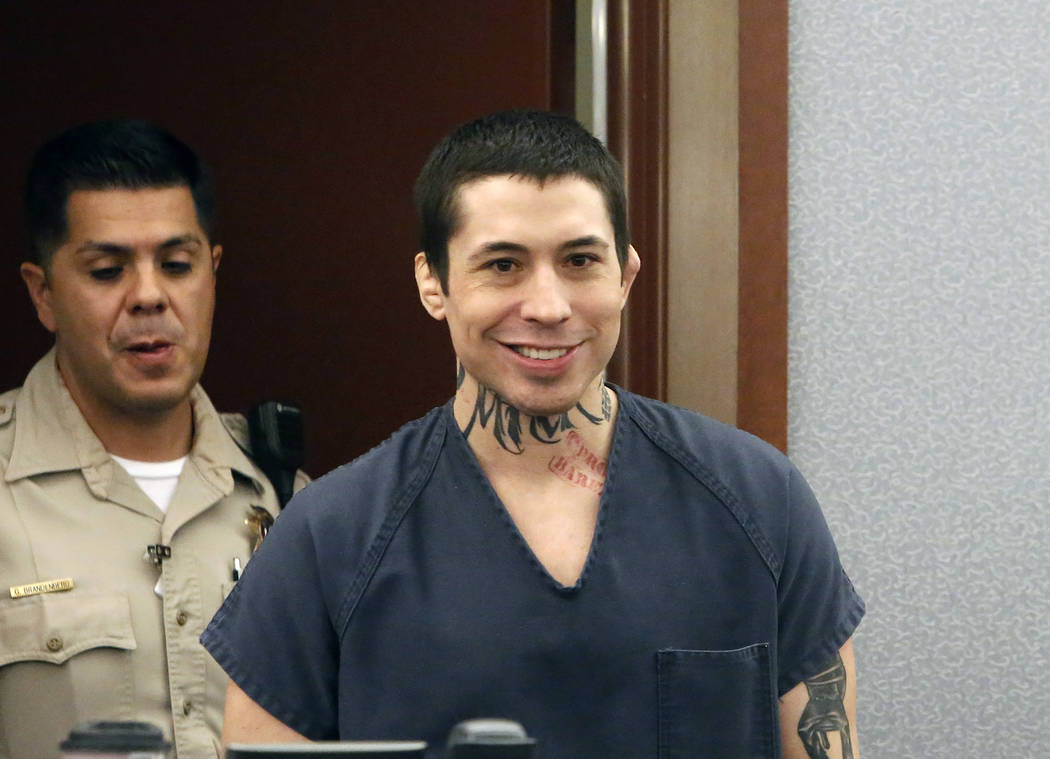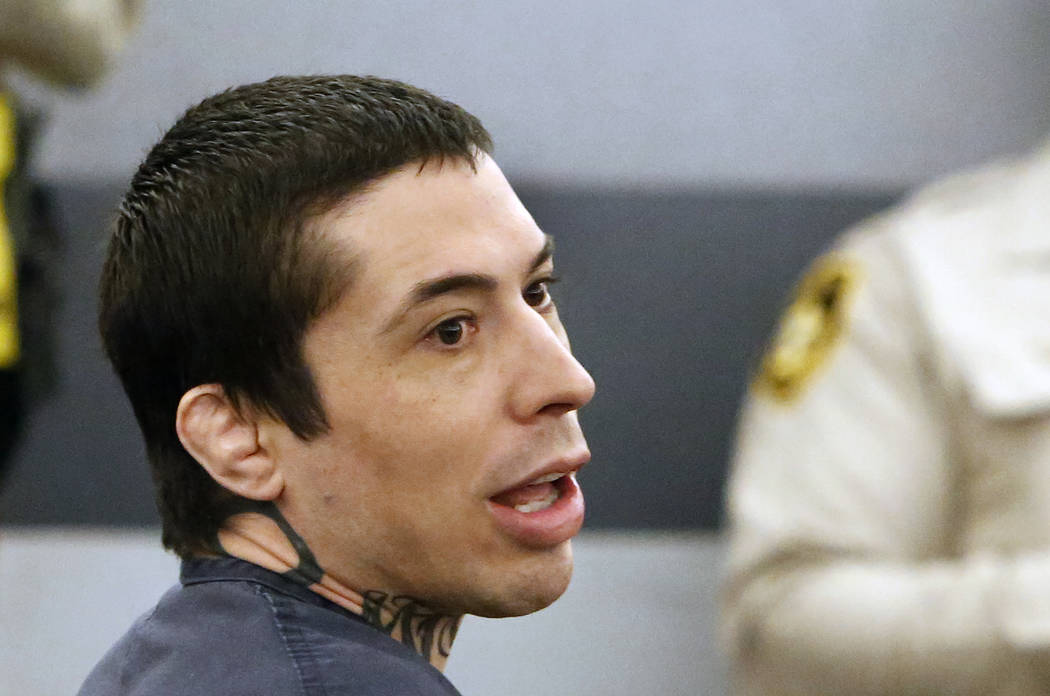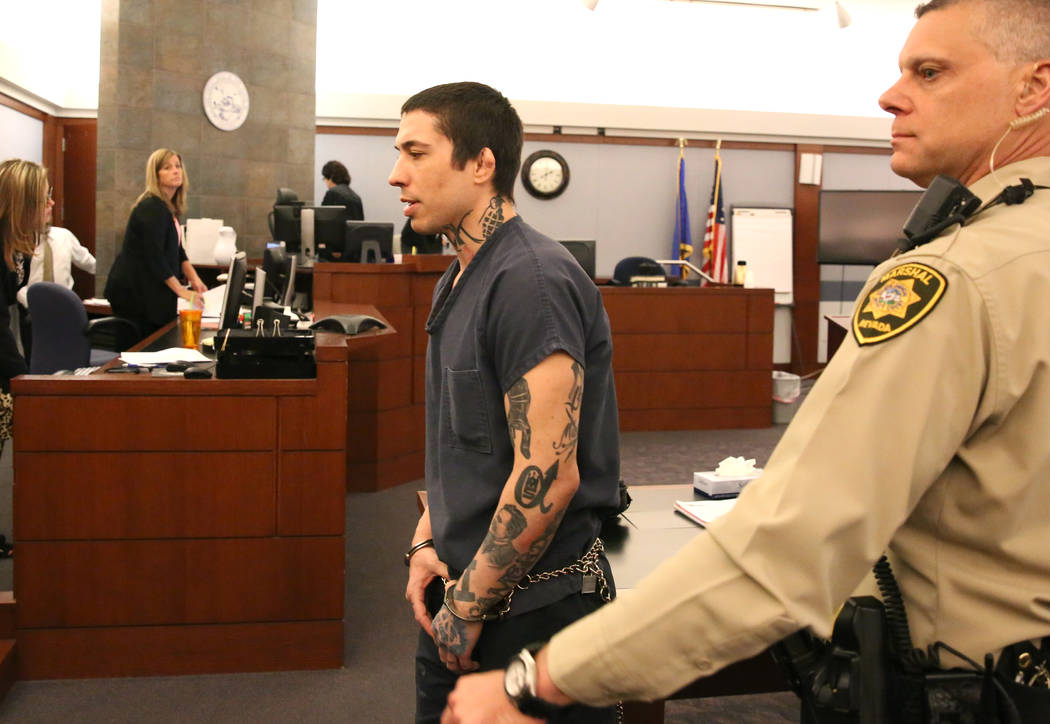 Former mixed martial arts fighter War Machine must serve a prison sentence of 36 years to life, a judge ruled Monday, but the ex-girlfriend he was convicted of beating and raping said she will continue to fear for her safety.
"I don't know how much time in prison would make me feel right," Christine Mackinday told District Judge Elissa Cadish in a tear-filled statement. "But I do know that when he gets out he will kill me."
War Machine, also known as Jonathan Koppenhaver, said that since his arrest on Aug. 15, 2014, he has found religion and peace and is "finally able to manage whatever the hell is going on" inside his head.
"Not a day goes by that I don't seriously regret what I did," Koppenhaver told the judge. "I hated the way I think. I hated my impulses. … I hate myself."
Koppenhaver, 35, was convicted in March of more than two dozen charges, including sexual assault and first-degree kidnapping.
Corey Thomas, a man who was in Mackinday's home when Koppenhaver burst in and attacked the two, asked the judge to consider Koppenhaver's violent past, which prosecutors said dated back to 2002.
After unsuccessfully arguing for a new trial, defense attorney Jay Leiderman asked for a sentence of 16 years to life in prison.
The lawyer said Koppenhaver endured physical and emotional abuse as a child. When Koppenhaver was 13, his father died in his arms. His mother drank heavily and used heroin. Leiderman also asked the judge to consider a traumatic brain injury Koppenhaver suffered, along with his use of steroids, Adderall and Lexapro, as mitigating factors in his penalty.
"We're devastated about today, but we feel good about an appeal," Leiderman said after the sentencing.
As the case dragged through the court system for nearly three years, Koppenhaver took to social media to criticize judges and prosecutors, though it remains unclear how he was able to post while incarcerated. In court, he has shrugged, smiled and laughed, once even blowing a kiss at Chief Deputy District Attorney Jacqueline Bluth.
Meanwhile, Mackinday struggled to confront the man she once loved and to relive the terror she endured, testifying at various court proceedings, revealing intimate details of her life.
Bluth said she told Mackinday, "If there is one little girl that you can save out there from getting in this type of relationship, or getting her mom out of it, you can do it. This is bigger than you."
"And she sucked it up, and she did it," the prosecutor said.
Mackinday testified at Koppenhaver's trial that she endured repeated abuse at the hands of Koppenhaver during most of their 15-month relationship before an hourslong attack that led to his arrest.
She said she no longer has normal relationships, and she lives in fear of her surroundings because Koppenhaver threatened to have friends kill her if he was jailed for the beatings.
"It's been a really long three years," Mackinday told the judge Monday. "And I'm so ready for this to be over."
Contact David Ferrara at dferrara@reviewjournal.com or 702-380-1039. Follow @randompoker on Twitter.
RELATED
Las Vegas jury convicts War Machine of sexual assault
'I genuinely felt I was going to die' Christine Mackinday tells jury in War Machine trial — VIDEO
Ex-girlfriend says she testified against War Machine to help other women
'I wish I would have shot you,' victim's mother tells War Machine
In War Machine trial, Mackinday's friends talk about signs of abuse
Fellow fighter testifies that War Machine had choked him out
Once-prospective juror delivers gift for War Machine midtrial
War Machine's attacks on girlfriend escalated through relationship, prosecutor says
Judge will allow testimony about rape fantasy at upcoming War Machine trial