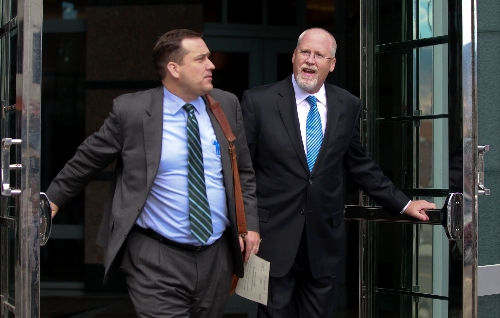 Former power broker Harvey Whittemore pleaded not guilty in Reno federal court Thursday in a scheme to unlawfully funnel $138,000 in campaign contributions to Senate Majority Leader Harry Reid.
Whittemore, 59, who once wielded much influence in Nevada politics as a legislative lobbyist, also was charged with lying to the FBI and the Federal Election Commission. He faces up to 20 years in prison and a $1 million fine.
After accepting his plea, U.S. Magistrate Judge William Cobb ordered Whittemore released on his own recognizance.
Whittemore, who had surrendered to the FBI earlier in the day, appeared in court wearing a dark suit, his ankles shackled. He never acknowledged the audience.
His Reno lawyer, John Arrascada, afterward promised a spirited fight to clear Whittemore's name.
"There will be no stone left unturned in our defense," Arrascada said.
Asked whether Reid would be called as a witness in the case, Arrascada said he didn't know.
Arrascada said Whittemore was "proceeding with his everyday life" in the wake of his indictment, which has "brought his family closer together."
Whittemore speaks every day with his five children, the lawyer said.
Cobb set an Aug. 7 trial before U.S. District Judge Larry Hicks in Reno, but pretrial issues probably will push back that date.
Cobb acknowledged that he has known Whittemore for about 40 years and has had a "close relationship" with him, but he insisted that he could be fair and impartial. Federal prosecutors did not object to having him hear the case.
Nearly two hours after entering his plea, Whittemore was released from custody. He greeted reporters and photographers as he emerged from the federal courthouse but declined comment.
The Nevada U.S. attorney's office and the Justice Department's Public Integrity Section in Washington, D.C. are handling the prosecution.
Assistant Attorney General Lanny Breuer, who runs the Justice Department's Criminal Division, alleged in a statement from Washington on Wednesday that Whittemore used his family members and employees as "conduits" to make illegal contributions to the campaign of an elected member of Congress.
Although Reid, a powerful Nevada Democrat on Capitol Hill, was not identified, a review of campaign fundraising reports by the Las Vegas Review-Journal shows Reid received about $150,000 from Whittemore and his family and associates in March 2007. Whittemore once considered Reid among his closest friends.
Reid spokeswoman Kristen Orthman issued a statement late Wednesday, saying Reid had no knowledge that Whittemore was "engaging in these alleged unlawful contributions."
Whittemore faces four felony charges, including making excessive campaign contributions, making contributions in the name of another and making a false statement to a federal agency.
The indictment alleges he met with a federal elected official in February 2007 in Las Vegas and agreed to raise $150,000 by the March 31, 2007, campaign finance deadline.
Whittemore then "knowingly devised a scheme" to funnel his own money to the elected official's campaign, the indictment alleges.
At the time, federal law allowed a maximum $4,600 to be contributed to a campaign by an individual and $9,200 by a couple.
Whittemore is alleged to have reimbursed his associates through checks and wire transfers from his personal account.
The indictment alleges Whittemore duped the elected official's campaign committee into believing the campaign contributions came from the individuals, "when, in truth and in fact, as defendant well knew, the contributions came from the funds of the defendant."
The investigation became public Feb. 9, as FBI agents fanned out across the state at some 30 locations to serve subpoenas on Whittemore business associates, family members and employees.
The Review-Journal first reported that agents were interested in sizeable contributions that Whittemore and his associates made to Reid's re-election campaign in March 2007.
Allegations had surfaced that employees of Whittemore's former development company, Wingfield Nevada Group Holding Co., and its subsidiaries were used to donate to political campaigns and were later reimbursed by Whittemore with company money.
In recent years, Whittemore turned his attention away from lobbying to land development.
At the time of his big push to contribute money to Reid's campaign, Whittemore was orchestrating the development of Coyote Springs, a master-planned community in Southern Nevada. With the help of Reid and other members of the Nevada congressional delegation, Whittemore sought to overcome several governmental hurdles because of county water issues and federal land issues.
But in 2008, the 43,000-acre development stalled because of the housing crash and economic recession and has languished ever since.
Contact Jeff German at jgerman@reviewjournal.com or 702-380-8135. Contact Capital Bureau Chief Ed Vogel at evogel@reviewjournal.com or 775-687-3901.