Woman pleads guilty in teacher's fatal beating
December 29, 2011 - 4:44 pm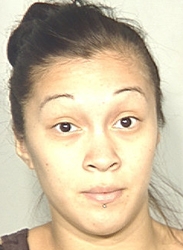 A 21-year-old Las Vegas woman pleaded guilty Thursday to five counts of conspiracy stemming from the robbery and assault that led to the death of an Eldorado High School teacher.
As part of the plea deal with Bridget Lugo, prosecutors agreed to drop 19 other counts including murder, armed robbery and battery charges, court records show.
A sentencing date was set for Feb. 2 before District Judge Jennifer Togliatti. Lugo remained in the Clark County Detention Center, according to jail records.
Authorities say Lugo and five others attacked Timothy VanDerbosch around 5 a.m. on Oct. 20, 2010, during a thrill-seeking robbery spree.
Before VanDerbosch, 50, could escape, authorities said, he was chased down and pummeled by the pack. They left him unconscious in the street.
Soon after, VanDerbosch was struck by a passing truck, near Washington Avenue and Betty Lane. He later died at University Medical Center.
The defendants were driving away and saw that VanDerbosch had been struck, Las Vegas police said.
The defendants thought the teacher had money based on how he was dressed, prosecutors said.
One other defendant has taken a plea deal and a third is expected to in February.
Saul Favela, 20, David Rosas, 21, and Marcos Coronel Castrejon, 21, are awaiting trial. If convicted, Favela and Rosas could face the death penalty.
Authorities said the defendants began their spree about 1:30 a.m. by driving around the northeast valley seeking people to rob.
Investigators have described the group as a "party crew" motivated by the thrill of random violence against anyone they happened to meet.
There were nine victims before VanDerbosch: a man on his way to his first day at a cab company, a man and a woman walking home from a bus stop, a couple taking in the view of Las Vegas and a group of four people.
The cabdriver cooperated, giving up everything he had of value, but was still stabbed, police said.
Two other victims were pistol-whipped and suffered substantial injuries.
Prosecutors have said the defendants have made full confessions.
Contact reporter Francis McCabe at fmccabe@reviewjournal.com or 702-380-1039.