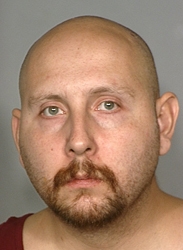 A 29-year-old man arrested on a murder charge this week is accused of killing his 59-year-old aunt, a Las Vegas police report released Tuesday said.
David Monarrez was booked Monday into the Clark County Detention Center on a charge of murder with a deadly weapon in the slaying of Rosa Monarrez, identified in the report as David Monarrez's aunt.
Rosa Monarrez died from a gunshot wound in her neck, the Clark County coroner's office said.
Investigators found her body after they responded to a call to a home in the 1000 block of Bracken Avenue at 5:10 p.m. Sunday. The residence is near South Maryland Parkway and East Oakey Boulevard.
The report said Rosa Monarrez's brother called 911 after finding his sister struggling for life. He thought she might have committed suicide.
Investigators learned that David Monarrez lived at the home with the victim. David Monarrez was described as deaf and suffering from schizophrenia. The report said there was "constant conflict" between the two over money.
Police returned around 2:30 a.m. Monday when David Monarrez returned to the home. Officers saw Monarrez holding a black and gray nylon bag in his left hand.
A 9 mm gun was found in the bag. Blood and hair were on the gun, the police report said.
One officer conducted the interview in sign language and assisted the other officers in the interview room.
Monarrez initially denied that the nylon bag belonged to him but then described to investigators the contents of the bag.
During the interview, authorities said, Monarrez admitted to shooting his aunt with a gun he had paid $500 for.
Contact reporter Antonio Planas at aplanas@
reviewjournal.com or 702-383-4638.