Zaon Collins released from jail, joins junior college basketball team
Updated September 8, 2023 - 9:48 pm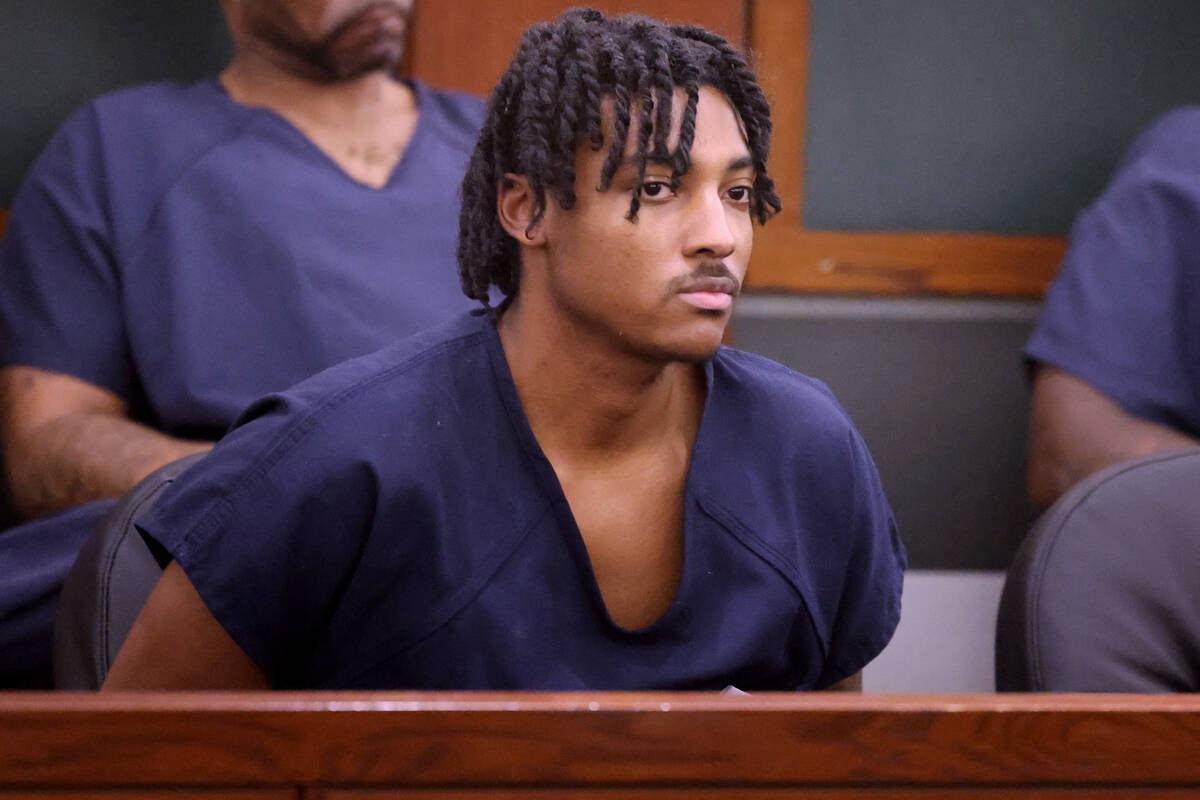 Former Bishop Gorman basketball standout Zaon Collins, who is on probation for a fatal crash that killed a 52-year-old man, has joined Salt Lake Community College's basketball team.
Collins was released from jail Aug. 15, which is 56 days after he turned himself in on June 20 to begin serving his three-month sentence, according to a statement from the Metropolitan Police Department.
"He got good time, but he was not released early," said Collins' defense attorney, Frank Kocka. "He was actually held a couple days later than he should have been released."
The 21-year-old player has been listed on Salt Lake Community College's basketball team roster as a redshirt freshman, according to the school's website. Athletic director Kevin Dustin confirmed to the Review-Journal that Collins is enrolled at the community college and is a member of the men's basketball team.
Collins was sentenced on July 27 to three months in jail, plus three years of probation, after pleading guilty to a felony charge of reckless driving resulting in death or substantial bodily harm. But because Collins started serving jail time before he was sentenced, and because he was given credit for good behavior, he already has been released from the Clark County Detention Center.
Kocka has written in court records that Collins was given six days' credit off of his 90-day sentence.
The length of Collins' sentence at a detention facility means that under Nevada law he was eligible to have five days a month reduced from his sentence for being "obedient, orderly and faithful," plus an additional five days a month for performing "assigned work."
With all the credit Collins received, he was supposed to serve 52 days and be released on Aug. 11, but the jail had not properly recorded the credit for the time he had served, Kocka wrote in court documents.
During a hearing on Aug. 15 in front of District Judge Tara Clark Newberry, the attorney successfully argued for Collins to be released from jail.
When asked about the credit Collins received, Chief Deputy District Attorney Eric Bauman said sentences are determined by the detention center, which is operated by Metro.
Collins was sentenced for a crash in December 2020 that killed 52-year-old Eric Echevarria, an Army and National Guard veteran who worked as a custodian at a local elementary school. Collins initially faced a DUI charge and was accused of being under the influence of marijuana at the time of the crash.
Following Collins' sentencing hearing in July, Bauman said complications in the case, including a changed marijuana impairment law, made it too risky to move forward without reaching a plea deal.
Collins' former criminal defense attorneys have argued that the amount of THC in his system following the crash was so low that he could have consumed the marijuana days prior.
After the crash, a new state law removed a prohibition on specific amounts of marijuana in a driver's blood in misdemeanor cases, which prosecutors said could have affected Collins' case.
The Clark County district attorney's office also had continued to pursue the DUI charge against Collins after a grand jury refused to return an indictment on the DUI count in March 2021.
As part of Collins' probation, the judge ordered him to be placed on alcohol monitoring and to undergo mental health and substance abuse counseling, court records show.
Collins had played point guard at Bishop Gorman High School and had signed a letter of intent to play basketball at UNLV, which was rescinded after the crash.
Contact Katelyn Newberg at knewberg@reviewjournal.com or 702-383-0240.