Ex-teacher arrested in student sex case didn't have Nevada teaching license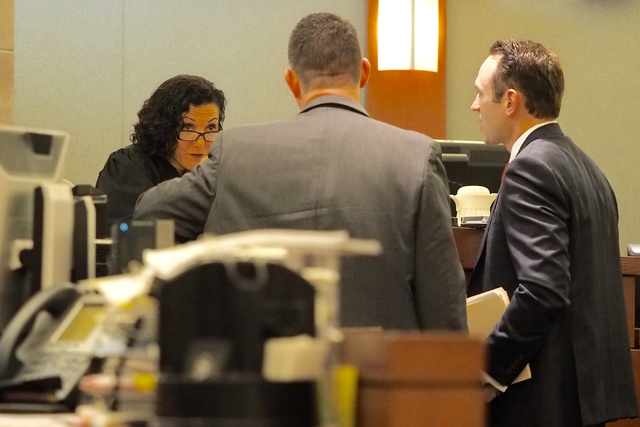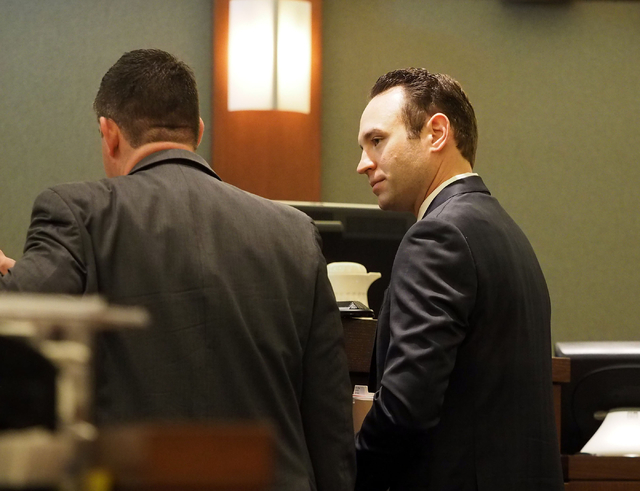 Jillian Lafave, a former Valley High School teacher arrested in January on suspicion of sexual misconduct with a student, never received a license to teach in Nevada.
The Clark County School District, operating under a long-standing practice to address its chronic teacher shortage, hired Lafave without a license on file and allowed her to work under the radar as a special education resource teacher since August.
Lafave moved last year to Las Vegas from Houston, and records from the Texas State Board of Educator Certification show she received authorization to work as a classroom teacher in that state.
However, a search on the Nevada Department of Education's teacher licensure database reveals Lafave never received the proper credentials to work in a classroom here. Records obtained by the Las Vegas Review-Journal also indicate state officials knew as early as November that Lafave was teaching at Valley High without a license.
District officials would not comment on Lafave, citing personnel matters. But Andre Long, co-interim chief human resources officer, confirmed the district hired 300 to 400 teachers for the 2015-16 school year who, like Lafave, did not have a license to work in Nevada.
The district operated on the assumption that the state's thinly staffed office of educator licensure would approve their license applications later.
"In order to fill the critical teacher shortage in CCSD, teachers who have applied for a license with the state, have been reviewed and meet all the qualifications, which includes passing a background check, are temporarily placed in a classroom until their license is processed with the state," the district said in a statement.
Many of the unlicensed teachers hired for the 2015-16 school year received their license as late as December, Long said, adding that he "can't think of anyone" who lacks a license and now works in a classroom.
Lafave has since started a new job in Las Vegas, her attorney said Wednesday.
ARRESTED IN JANUARY
Police arrested Lafave in January after the 25-year-old admitted to kissing a 16- or 17-year-old student on several occasions and touching his private parts once in her classroom. According to a police report, Lafave told investigators that she never had "sexual penetration" with the student.
Lafave quickly hung up when reached by phone early Wednesday.
She faces a felony charge of sexual misconduct with a pupil, punishable by one to five years in prison and a $10,000 fine under state law.
"This district, in my opinion, has been very negligent," said Terri Miller, president of Stop Educator Sexual Abuse, Misconduct & Exploitation, or S.E.S.A.M.E. The Nevada group lobbies lawmakers and agencies to better protect students.
"Their responsibility is to make sure every person placed in a classroom with our children are vetted and deemed safe and appropriate to serve in that capacity," Miller added. "Any kind of shortcuts that they're taking to get a warm body in front of a classroom is a detriment and potential danger."
A communication log obtained from the Nevada Department of Education through a public records request shows a human resources director for the district sent an email about Lafave on Nov. 10 to an educator licensure analyst with the state department.
The department would not release the content of emails between its analyst and the district, citing the confidentiality of Lafave's application for a license. But the communication log shows five separate emails regarding Lafave were exchanged between November and January.
By November, school districts in Nevada must submit an annual list of all licensed teachers and their teaching assignment for the current school year. Districts also must provide a list of the names of teachers who are teaching outside their area of endorsement.
Lafave has a valid certificate to teach special education in Texas but never received a similar credential in Nevada.
Aside from the annual reports, the Nevada Department of Education has little authority when tracking teacher hiring, said Dena Durish, state deputy superintendent for educator effectiveness and family engagement.
She compared the office of educator licensure to the state cosmetology board: It issues licenses but does not maintain a list of every working hairdresser.
"If a salon hires someone without a license, that's their issue," Durish said.
"We have no statutory authority over the district if they hire someone who does not hold a license," she added. "There's nothing really the department can do … it's up to the district to follow the law that applies to them."
RICE: NOTHING NEW
Regardless, hiring unlicensed teachers is nothing new to Clark County schools, said George Ann Rice, who in 2005 retired as the district's associate superintendent of human resources.
"It goes back as far as my memory goes," Rice said.
She noted applicants — which include new teachers, substitute teachers and current teachers who need to renew their license — flood the office of educator licensure with stacks of résumés, college transcripts, background checks and other paperwork that need verification.
The state currently employs four full-time analysts who process all licensure applications, with five additional clerical employees staffing offices in Las Vegas and Carson City. A fifth analyst works only on background checks and reporting.
"It's a matter of staffing and having the resources," Rice said. "If the district hires 2,000 (teachers) — and that's not even counting all the renewals coming in each school year and substitutes being processed — all of those have to be evaluated to meet state requirements, and generally there is a lot of lag time."
On Wednesday, during a relatively slow season for teacher hiring, the state's office of educator licensure was processing applications received more than a month ago. That backlog can span two months or longer over the summer as the office receives hundreds of applications as teachers rush to fill classroom vacancies before school starts in August.
According to Long, the district has started working with the state department to have teacher candidates apply to receive their license as they apply to work in Clark County.
The problem, he said, is that many candidates don't want to pay the license application fee until they get an official job offer from the district.
"It's a double-edged sword," Long said.
"We are grateful that (state department) is working with us to come up with ways to expedite getting teachers licensed and in the classroom," the district added in its statement.
A Las Vegas Justice Court judge will hold a status check hearing on Lafave's case in May.
Contact Neal Morton at nmorton@reviewjournal.com or 702-383-0279. Find @nealtmorton on Twitter.