Famed conservative legal activist asks to join Cliven Bundy's defense team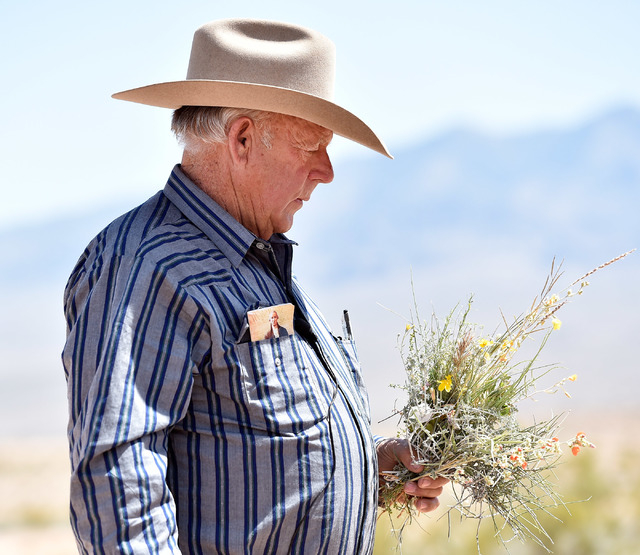 Larry Klayman, a nationally known conservative lawyer, has filed court papers seeking to join Cliven Bundy's defense team.
Klayman, the founder of the Washington-based public interest groups Judicial Watch and Freedom Watch, is known for his tenacious pursuit of litigation, mostly in support of a wide range of conservative and libertarian issues.
He said Wednesday that the Bundy family asked for his legal help. Bundy, 69, who is in federal custody, is facing criminal charges stemming from the April 12, 2014, armed standoff with law enforcement near the family ranch in Bunkerville. The two have met before, near Bunkerville shortly after the standoff.
"Cliven, like all citizens, deserves a full defense and this is a very important case, not just for him and his family but for all citizens in Nevada and the country," Klayman said Wednesday.
Bundy is now represented by Las Vegas attorney Joel Hansen, who is active in the ultraconservative Independent American Party of Nevada.
Klayman, who practices law primarily in Washington, D.C., said he wants to help Hansen defend Bundy as a private lawyer, not on behalf of Freedom Watch. He said he is no longer involved in Judicial Watch.
Though branded by liberal media organizations as a conspiracy theorist and a professional gadfly, Klayman is described on the Freedom Watch website as being known for his "strong public interest advocacy in furtherance of ethics in government and individual freedoms and liberties."
He once obtained a federal court order barring the National Security Agency from conducting telephonic surveillance, and he sued former Secretary of State Hillary Clinton over her private emails. He also questioned the legitimacy of President Barack Obama's citizenship in civil litigation.
Klayman sued former President Bill Clinton so much during his two terms that the media called him Clinton's legal "nemesis."
Several years ago, he had run-ins with the professional bars of Florida and Washington, D.C., but was not found to have acted unethically as a lawyer, he said in his petition for admission to the Bundy case.
Klayman also said in the petition that two federal judges, one in California and the other in New York, "vindictively" banned him from their courtrooms years ago after he accused them of making biased and prejudicial rulings.
Klayman would not comment further Wednesday about his planned representation of Bundy.
Chief U.S. District Judge Gloria Navarro has not yet given him permission to join the case.
Bundy faces an array of criminal charges stemming from the Bunkerville standoff. He and 18 others — including four of his sons — were indicted in Las Vegas earlier this month in connection with the showdown.
The Bundy patriarch faces 16 felony counts, including extortion, obstruction of justice, conspiracy to commit an offense against the United States, conspiracy to impede or injure a federal officer, assault on a federal officer, threatening a federal law enforcement officer, and using and carrying a firearm in a crime of violence.
He refused to enter a plea in court to the charges, prompting a federal judge to enter a not guilty plea on his behalf to all of the charges.
Contact Jeff German at jgerman@reviewjournal.com or 702-380-8135. Find him on Twitter: @JGermanRJ
Previous coverage
See a timeline of events leading up Cliven Bundy's conflict with the Bureau of Land Management in 2014. Also, see the most recent reports involving Bundy and his family.