FBI arrests Las Vegas sports bettor Bill Walters in insider trading scheme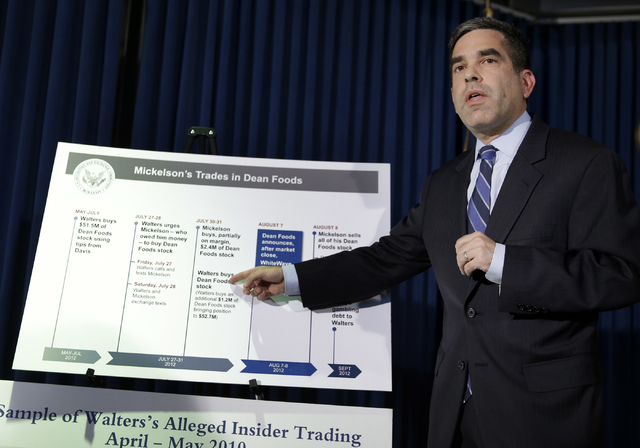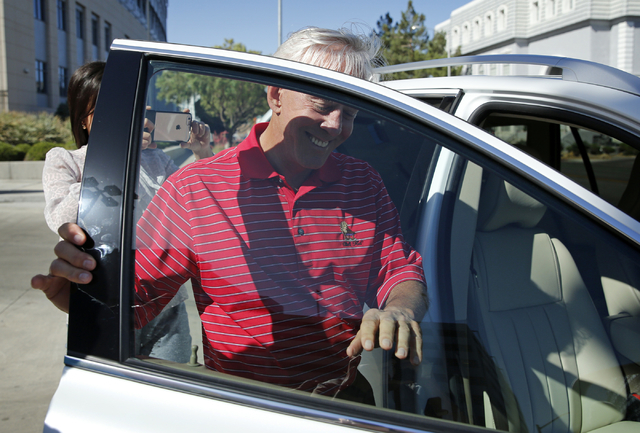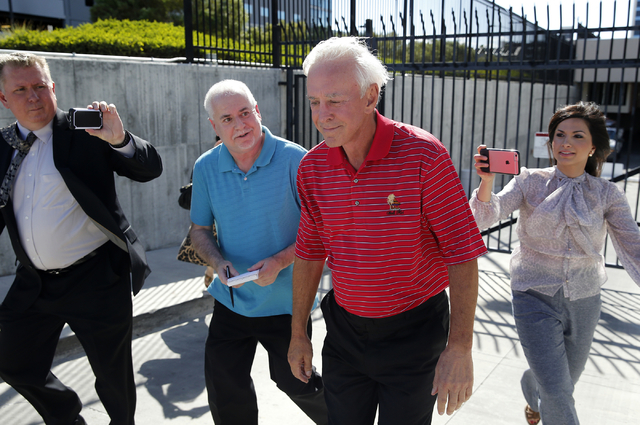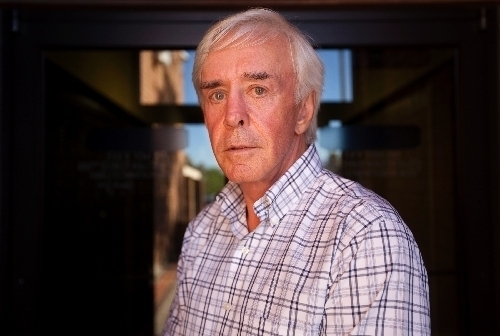 Bill Walters, a politically connected Las Vegas gambler, golf course developer and philanthropist, has been indicted by a federal grand jury in New York in an alleged insider trading scheme.
Walters, 69, who has earned a fortune as a famed sports bettor, and Thomas Davis, the former chairman of Dean Foods Co., were charged in what authorities said was a six-year scheme that included a stock tip that benefited professional golfer Phil Mickelson.
FBI agents assigned to the public corruption squad in Las Vegas, along with IRS criminal investigation agents, arrested Walters on Wednesday afternoon at his Bali Hai Golf Club on the Strip near Mandalay Bay.
After a short hearing Thursday in Las Vegas, U.S. Magistrate Judge George Foley Jr. ordered Walters released on a $1 million bond with a $100,000 cash deposit. Foley also ordered Walters, dressed in a short-sleeved red shirt and black pants, to be transferred back to New York to face the felony charges.
Walters' Las Vegas lawyer, Richard Wright, told Foley that he had come to court with a $100,000 cashier's check from his client.
As part of his release, Walters agreed to surrender his passport and medical marijuana certificate and turn over his firearms to a third party. His travel is restricted to the United States, and he has a tentative June 1 court appearance in New York.
About an hour after the hearing, Walters left through a back entrance of the federal courthouse, politely dodging questions from waiting reporters, as he was whisked away in a white vehicle.
"No comment. Thank you," he said.
Earlier in the day, Walters denied wrongdoing through his New York lawyer.
Davis, 67, who resigned from Dean Foods' board in August, pleaded guilty in the insider trading investigation Monday. Dean Foods is one of the nation's leading dairy companies, best known for its Meadow Gold and Land-o-Lakes products.
Both Walters, once the subject of a flattering "60 Minutes" segment, and Davis were charged with conspiracy, securities fraud and wire fraud. Davis also was charged with perjury and obstruction of justice. In all, Walters faces 10 counts that could draw significant prison time if he is convicted.
Walters, a major campaign donor in Nevada, has tangled over the years with law enforcement and mostly has won. He and others were acquitted in 1992 of federal gambling charges tied to the infamous Computer Group, then a high-tech collection of sports bettors, handicappers and investors adept at high-stakes wagering.
The Nevada attorney general's office later charged Walters with money laundering, but he emerged from that case with no conviction following a long and contentious legal battle.
Known for making seven-figure bets on top sporting events, Walters is generally regarded as one of the most successful gamblers in the country. He has several multimillion-dollar homes and has traveled the world on a $20 million private jet.
Through his holding company, The Walters Group, he has developed several golf courses in Southern Nevada, some with favorable deals from local governments. And he has maintained his high community profile through his philanthropic work, primarily with his favorite charity, Opportunity Village.
The 40-page New York indictment alleges that between 2008 and 2014 Walters "regularly received confidential information" about the financial performance of the publicly traded Dean Foods from Davis, his longtime friend and business partner.
They shared mutual interests in sports, golf and gambling, and Walters extended $1 million in loans during that period to Davis that were mostly not repaid, according to the indictment.
Davis provided "material, nonpublic information" to Walters, who used that information to buy and sell securities, the indictment alleges.
"On certain trading days, Walters' purchases or sales based on inside information amounted to more than 30 percent of the total daily trading volume in Dean Foods stock," the indictment states.
Walters earned roughly $32 million in profits and avoided some $11 million in losses through trading Dean Foods stock, according to the indictment.
To hide the scheme from authorities, Walters gave Davis a prepaid cellphone to use when disclosing inside information to Walters, the indictment alleges. He instructed Davis to use code words, such as "Dallas Cowboys" for Dean Foods.
Diego Rodriguez, FBI assistant director in charge of the New York field office, said in a statement that insider trading for personal gain causes "untold devastation" in the stock and commodities markets.
"This kind of criminal behavior keeps wealth concentrated among the powerful, prevents everyday investors from turning a profit and undermines public confidence in the integrity of the marketplace," Rodriguez said.
At a news conference in Manhattan on Thursday morning, U.S. Attorney Preet Bharara told reporters, "It was all good news for Walters because he had information before everyone else."
Walters sold his 5.3 million shares of Dean Foods stock for $110 million by the end of August 2013, Bharara said.
The Las Vegas icon also provided inside stock tips on Dean Foods to Mickelson, who turned a $900,000-plus profit, Bharara said.
Mickelson, who has won three Masters golf titles, was not criminally charged, but was named as a relief defendant in a lawsuit by the U.S. Securities and Exchange Commission, which said he also traded in Dean Foods stock.
A relief defendant is not accused of wrongdoing but has received ill-gotten gains as a result of others' illegal acts.
"Phil has not been charged with insider trading," his lawyers, Gregory Craig and Pat Swan, said in a statement. "Phil was an innocent bystander to alleged wrongdoing by others that he was unaware of. Phil is innocent of any wrongdoing."
New York attorney Barry Berke, who represents Walters, said his client has done nothing wrong.
"Bill Walters is a true American success story, whose extraordinary accomplishments as a lawful sports gambler have been widely recognized and lauded," Berke said in a statement. "Mr. Walters and his counsel look forward to his day in court, where it will be shown that the prosecutors' accusations are based on erroneous assumptions, speculative theories and false finger-pointing."
Thomas Melsheimer, Davis' lawyer, said his client was "pleased to be cooperating with the government in its investigation."
Led by the FBI and SEC, the investigation became public in 2014.
Reuters contributed to this report. Contact Jeff German at jgerman@reviewjournal.com or 702-380-8135. Find @JGermanRJ on Twitter.
Timeline
1985 A sports betting ring known as the "Computer Group" is raided the day before Super Bowl XIX by the FBI. Walters and his colleagues are acquitted of federal charges of conspiracy and illegal interstate transmission of wagering information in 1992.
December 1996 Authorities raid Walters' sports book business in Las Vegas, seizing $2.4 million, after telephone wiretaps lead authorities to three sites in Las Vegas as part of an investigation that started in New York on mob-run bookmaking operations.
Dec. 26, 1996 Walters opens Desert Pines Golf Course with a 50-year lease from the city of Las Vegas.
September 1998 In a controversial land use bid, Walters wins a county lease to develop 155 acres into the Bali Hai golf course using public land south of Mandalay Bay. The final vote, 3 to 0, has four county commissioners abstaining, citing conflicts of interest.
October 1998 A Clark County grand jury indicts Walters and three others on conspiracy and unlawful transactions involving monetary instruments.
1999 Walters buys 160 acres from the city of Las Vegas to build the Royal Links Golf Club under the stipulation that other development be prohibited as it is located next to a sewage treatment plant. Then Deputy City Attorney Thomas Green wrote a memo that pointed out the sale of the land and the water rebates could be "viewed as the Walters Group receiving the property free from the city, together with additional $900,000 in free water."
2002 Money laundering indictments from the raid in 1996 are thrown out by the lower court due to "defects." The attorney general's office appeals to the Nevada Supreme Court, but the high court agrees with the lower court. Walters settles with law enforcement to get his $2.4 million back and agrees not to sue.
2005 Walters offers the city of Las Vegas $7.2 million to lift the deed restriction on the land where the Royal Links Golf Club is located in order to build about 1,200 homes. Lifting the deed would increase the land value between $24 million and $28 million. The city approves the deal, then rescinds the vote because of an investigation.
2005 Then Attorney General George Chanos hires an independent third-party law firm to research Walters' land deal related to the proposed residential development on the Royal Links Golf Club. The report states Public Works Director Richard Goecke "seemed to place the interests of real estate developer Bill Walters above the interests of the City of Las Vegas and its constituents, in breach of the public purpose doctrine." A Metro police investigation found that "Goecke did commit acts which were likely criminal in nature." But the report said legal action was not possible because the statute of limitations had expired.
July 2010 Walters requests to revise a 99-year lease as the Bali Hai Golf Club, which is not making enough money to pay rent to McCarran International Airport, so it can be developed into a 2 million-square-foot commercial complex.
September 2011 The Clark County Commission agrees to allow Walters to develop 140 acres, which includes the Bali Hai Golf Club, pending approval from the Bureau of Land Management.
2014 The FBI investigates Walters, billionaire Carl Icahn, and professional golfer Phil Mickelson for trading of shares in Clorox in 2011.
2014 Desert Pines Golf Course is sold.
November 2015 Walters Group President Michael Luce submits a letter to the Las Vegas City Council asking for the deed restriction on 128 acres of the Bali Hai Golf to be removed, stating the company plans to seek Clark County's approval for the development of up to eight housing units per acre on the site.