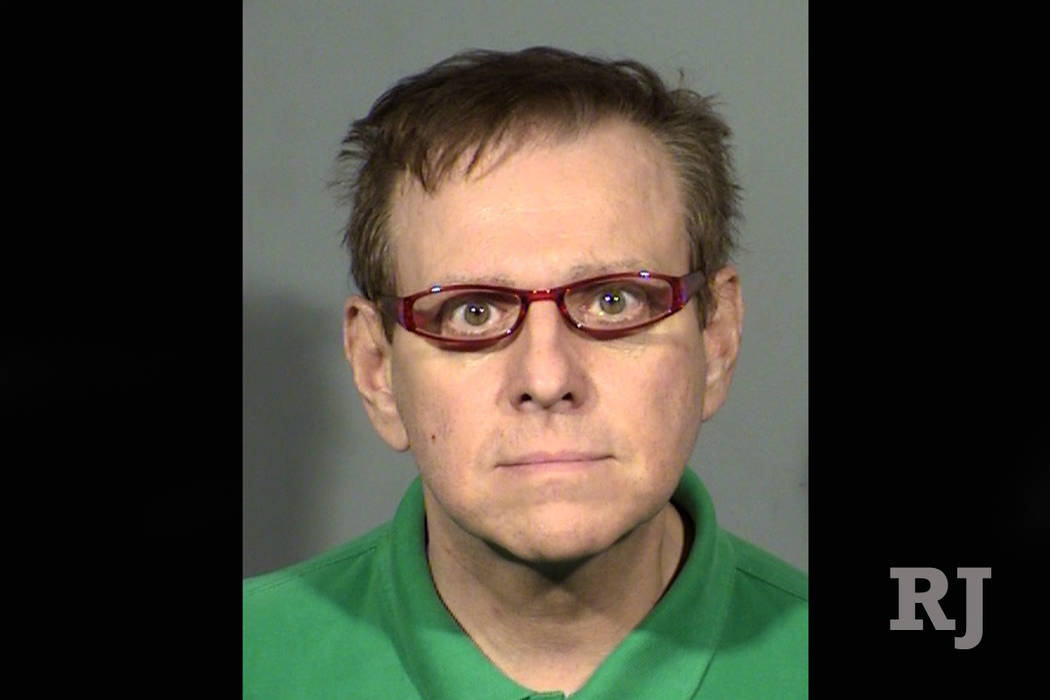 The former teacher's aide arrested this week in connection with battering two students is accused of beating a nonverbal autistic boy who was diagnosed with cerebral palsy, police records show.
Theodore Levrich, 61, was arrested Monday in connection with the April beatings of two students, Clark County School District police said.
Levrich intentionally pushed the 8-year-old boy into a chair, causing him to hit his ribs on a table, according to a police report. He then pushed the boy's head down onto a table for a few seconds, according to the report. A security camera captured much of the exchange.
When the boy walked away, Levrich pulled him off the ground and dropped him, according to report. Levrich pushed the boy in the back, causing him to fall forward, the report says.
A girl was lying on the floor in the room when Levrich grabbed her arm and swung her about 2 feet in front of him, the report said.
"Levrich again violently yanks (the girl) by her arm off the ground and then lets go causing her to fall to the ground," the report said.
He was employed as a special program teacher's aide at French Elementary School from January to April, according to the report and a news release.
Levrich told police he had a "meltdown" during the incident because he was placed in a situation for which he was not prepared. He told police he was assigned to watch the boy one-on-one and that he did not watch a training video relating to restraining children.
Police later determined Levrich did watch a mandatory training video. School district spokeswoman Melinda Malone confirmed Levrich had undergone "aversive intervention training," which include examples of prohibited restraints specifically for students with disabilities.
When a school district police officer asked Levrich if he thought yanking children by the arm could cause injury, he responded: "Not to (the boy) because he doesn't feel pain."
Levrich faces two felony charges of child abuse, according to a criminal complaint.
Contact Blake Apgar at bapgar@reviewjournal.com or 702-387-5298. Follow @blakeapgar on Twitter. Contact Meghin Delaney at 702-383-0281 or mdelaney@reviewjournal.com. Follow @MeghinDelaney on Twitter.
A history of abuse
This is not the first case in Clark County involving abuse of a special education student. Here's a look at some previous cases:
March 2012: Lachelle James, a special education teacher at Variety School, was arrested on allegations she aggressively handled two special education students. District detectives used hidden cameras to monitor James in a classroom after hearing allegations of abuse against children who were nonverbal.
August 2015: James Doran, a special education teacher at Forbuss Elementary School, was arrested in August 2015 on allegations he slapped the hands of a nonverbal, low-functioning autistic boy who tried to reach for him and grabbed the child by his shirt before throwing him into a bean bag.
July 2017: Kathryn Navrides, a special education teacher at Deskin Elementary School, was arrested on allegations she grabbed a 4-year-old student's arms and shook them while he screamed and cried.
Cameras in classrooms
Sen Becky Harris, R-Las Vegas, sponsored a bill this session that would have required school districts to install cameras in certain special education classroom, particularly those where students are nonverbal.
In proposing the bill, Harris said the cameras would protect both students and teachers. The bill, which did not come with any funding for schools to purchase or install the cameras, failed to make it into law.
Clark County officials supported the proposal but had requested a two-year phase-in period. Washoe County officials opposed the proposal because of the lack of funding.