Former Las Vegas bookkeeper gets 4-10 years in prison for theft, forgery
October 25, 2016 - 5:45 pm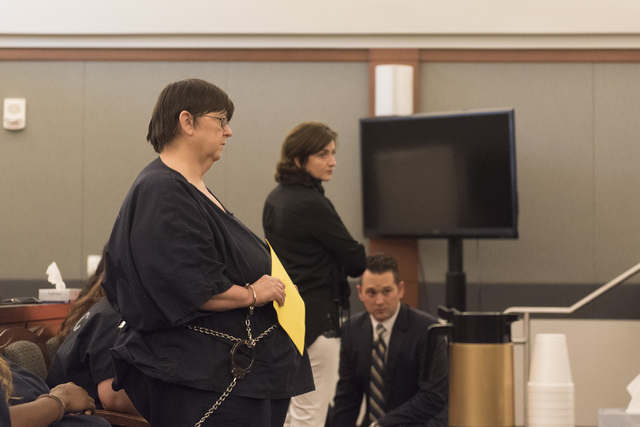 A former Las Vegas bookkeeper was ordered to serve four to 10 years in prison Tuesday for illegally transferring more than $200,000 between two companies, including one owned by the wife of a Nevada Supreme Court justice.
Leslie Parraguirre wept before District Judge Michael Villani as she described how Roxanne "Roxie" Sparks used a credit card for Parraguirre's interior design business and forged statements for more than $20,000, which she claimed resulted in more than $1.5 million worth of "collateral damage."
Sparks, 57, initially faced 49 counts of theft and forgery. In August, as part of an agreement with prosecutors, she pleaded guilty to two counts of theft and one count of forgery.
But a California woman whom prosecutors also consider a victim told the judge that Sparks intended to pay back the money and said the former bookkeeper should be spared from a prison sentence.
Toni Antonacci, who has filed a federal lawsuit against Parraguirre, was interrupted several times by Villani and a prosecutor when she accused Parraguirre of collecting the more than $200,000 that Sparks transferred from Antonacci's business to Colours Inc., owned by Parraguirre and her husband, the high court's Chief Justice Ron Parraguirre.
The justice sat in the back row of the gallery during Tuesday's hearing.
Between January 2010 and December 2014, Sparks was working as a bookkeeper for both the Parraguirres and Antonacci when she transferred money from Antonacci's accounts to Leslie Parraguirre's business accounts without authorization, according to documents in the criminal case.
Records stated that Sparks used Antonacci's signature stamp to write unauthorized checks, made unauthorized cash transfers and used Antonacci's Office Depot card to take $201,096.22 from Antonacci's accounts and move it to Leslie Parraguirre's.
Leslie Parraguirre said she was battling breast cancer and her mother was near death when the theft occurred.
Her mother's condition and her own health complications in 2012 forced her to be distracted from the business she ran for 30 years. She had employed Sparks for the previous six years.
"I was being assassinated financially, in business and personally, and I had no idea," Leslie Parraguirre said. "What human being steals your inheritance on the day of your mother's funeral? I know that I will be in my own private prison for at least 24 years, trying to make up for the criminal acts of Sparks."
Antonacci said Sparks had paid her back a portion of the stolen money.
"All I want is my money back," Antonacci told Villani. "And the Parraguirres have my money. The Parraguirres say they owe me nothing. They say Sparks owes me."
The judge stopped Antonacci and instructed her to speak about how the actions of Sparks had affected her.
"By incarcerating her," Antonacci said, "I get nothing."
Sparks asked Villani for leniency and said, "I've learned my lesson. I'm sorry for what I did."
Antonacci filed her lawsuit in 2014, demanding $180,000 for money traded from her account to Colours. Sparks, Colours and Leslie Parraguirre were named as defendants in the ongoing case, which seeks "the return of monies wrongfully taken" from Antonacci's accounts.
Leslie Parraguirre and Colours filed a separate lawsuit in Clark County District Court, arguing that Sparks admitted to manipulating her company and personal accounts.
That lawsuit does not name Sparks as a defendant but accuses Nyberg and Associates, Colours' accounting firm at the time of the theft; the firm's owner, James Nyberg; and its employee Daniel Geiger of professional negligence, breach of contract, negligent misrepresentation, negligent hiring and supervision and breach of fiduciary duty.
Contact David Ferrara at dferrara@reviewjournal.com or 702-380-1039. Follow @randompoker on Twitter.