Friends, family, officers gather to grieve two killed day of K9 shooting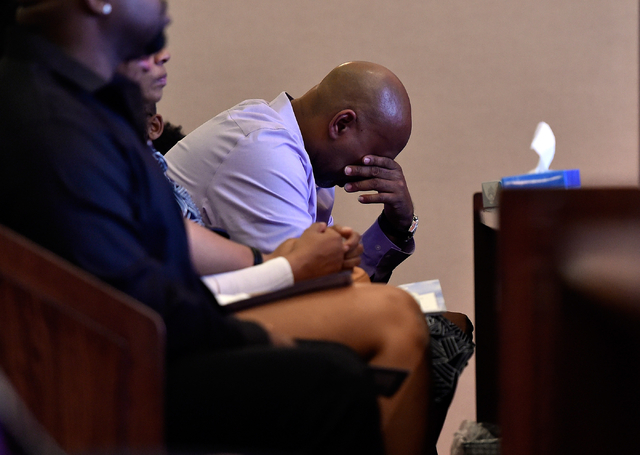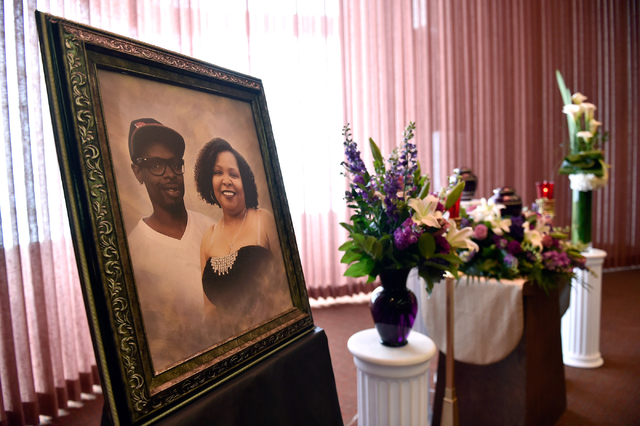 In a quiet, dark chapel in the northwest valley Friday afternoon, about 100 people gathered to grieve for Felecia Hughes-Wimberly.
The 46-year-old woman died March 31 alongside her son, when they were both shot by a man who later engaged police in a running gunbattle that resulted in the death of a police dog. During the shootout, James Craig Simpson, 31, was shot several times and paralyzed, and the Metropolitan Police Department later named him as a suspect in the mother and son's deaths.
But the shooting and the suspect were far from everyone's minds Friday at Palm Cheyenne Mortuary.
Calming music played in the chapel as family, friends and strangers filed into pews to support each other in Hughes-Wimberly's death. Two of them were uniformed Metro officers.
"Why now?" a reverend asked the crowd. "It came too soon. It came too sudden."
He asked everyone to join him in prayer before he spoke about Hughes-Wimberly's life.
"She had a wonderful laugh; she truly lit up a room," he said. "She loved to dance. Loved to. Almost as much as she loved crab legs."
The room filled with brief laughs after that but soon decrescendoed into silence and the occasional sniffle.
Hughes-Wimberly was recalled as a "guardian angel" by one of her sons, who pleaded with everyone there to call their family members and reach out while you still can. As he paused to keep his composure, Hughes-Wimberly's urn sat atop a display of flowers next to a photo of her and her son, Branden Hughes, 31, who will be honored in a service in Michigan next week.
The son mentioned his brother too, saying they were basically the same, "only difference was I know how to work on cars."
Again, laughter.
Tonya Haun, a coworker of Hughes-Wimberly at Encompass Home Health, addressed Hughes-Wimberly's family members from the front of the chapel: "All of us are here for you if you need anything."
Though people bowed their heads and wiped their eyes frequently as stories were shared during the service, it was hard for many to hold back tears when Hughes-Wimberly's youngest daughter, Briaunni Taylor, 25, sang in honor of her mom.
Before she started belting out an emotional ballad, Taylor said her mom was smart, responsible and "wanted to help people." She added her mom asked her to sing one day at her memorial service, and though Taylor joked — saying she thought it was a "creepy" request at the time — she was happy to fulfill her mom's wish.
"I need you now, I need you now," she repeated throughout the song.
Simpson faces two counts of first degree murder, one count of attempted murder with a deadly weapon, three counts of discharging a gun into an occupied structure, one count of first-degree kidnapping, one count of battery with a deadly weapon, one count of mistreating a police animal and one count of killing an animal of another, though police said K-9 Nicky was killed by friendly fire. He is being held without bail at the Clark County Detention Center.
Contact Rachel Crosby at rcrosby@reviewjournal.com or 702-387-5290. Find her on Twitter: @rachelacrosby
RELATED
Suspect acted erratically before killing police dog, 2 people, police report says