Gas station looted after police break up protest in Las Vegas
Updated June 1, 2020 - 6:21 pm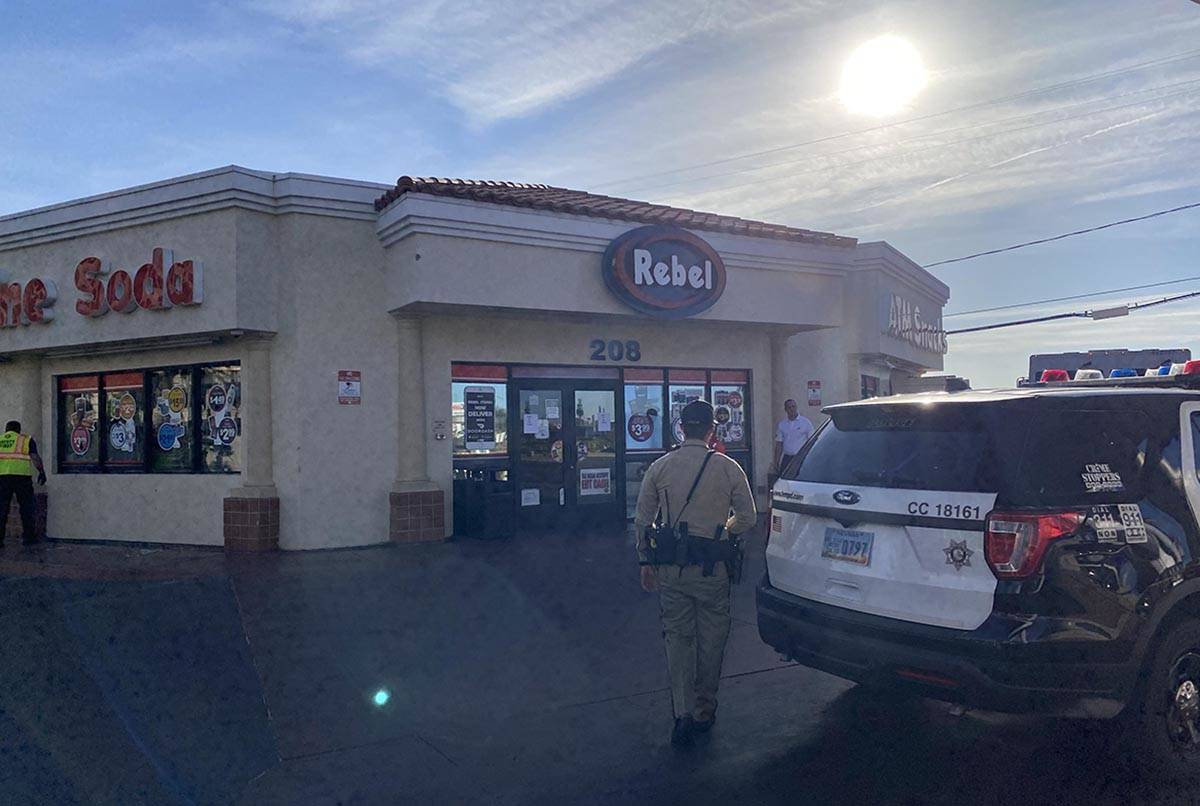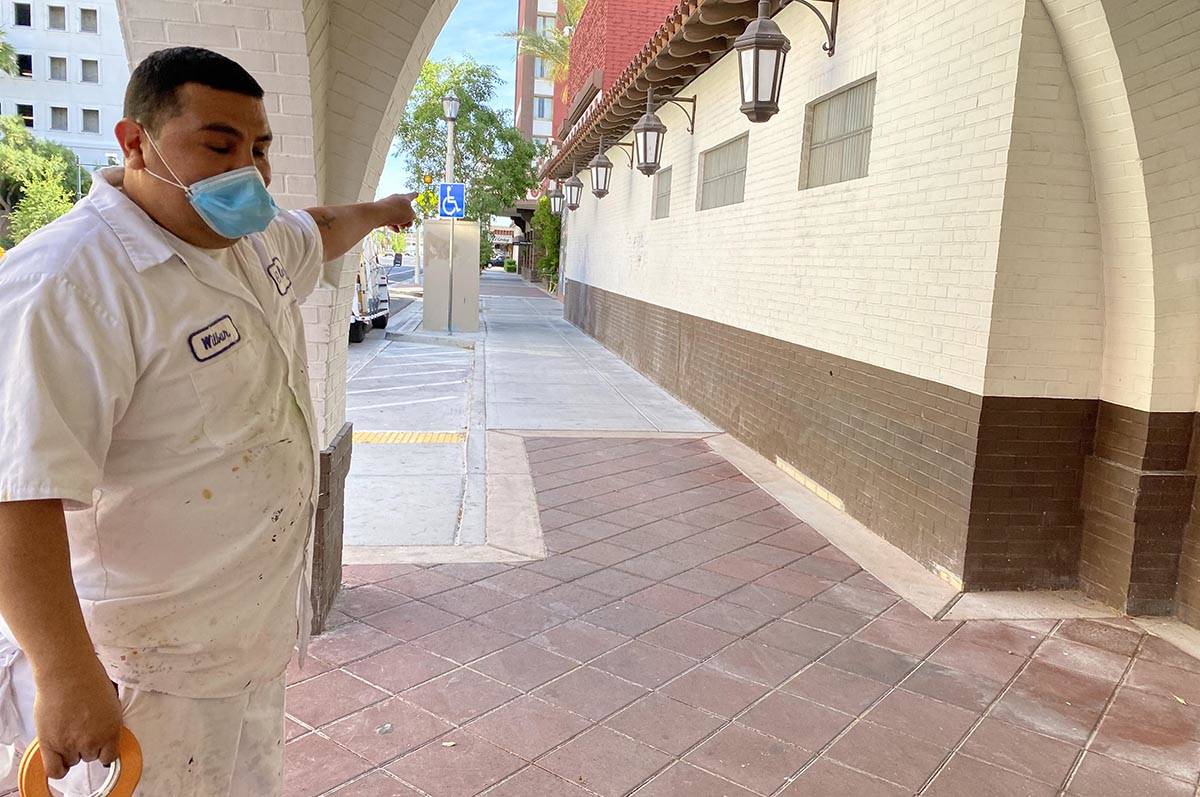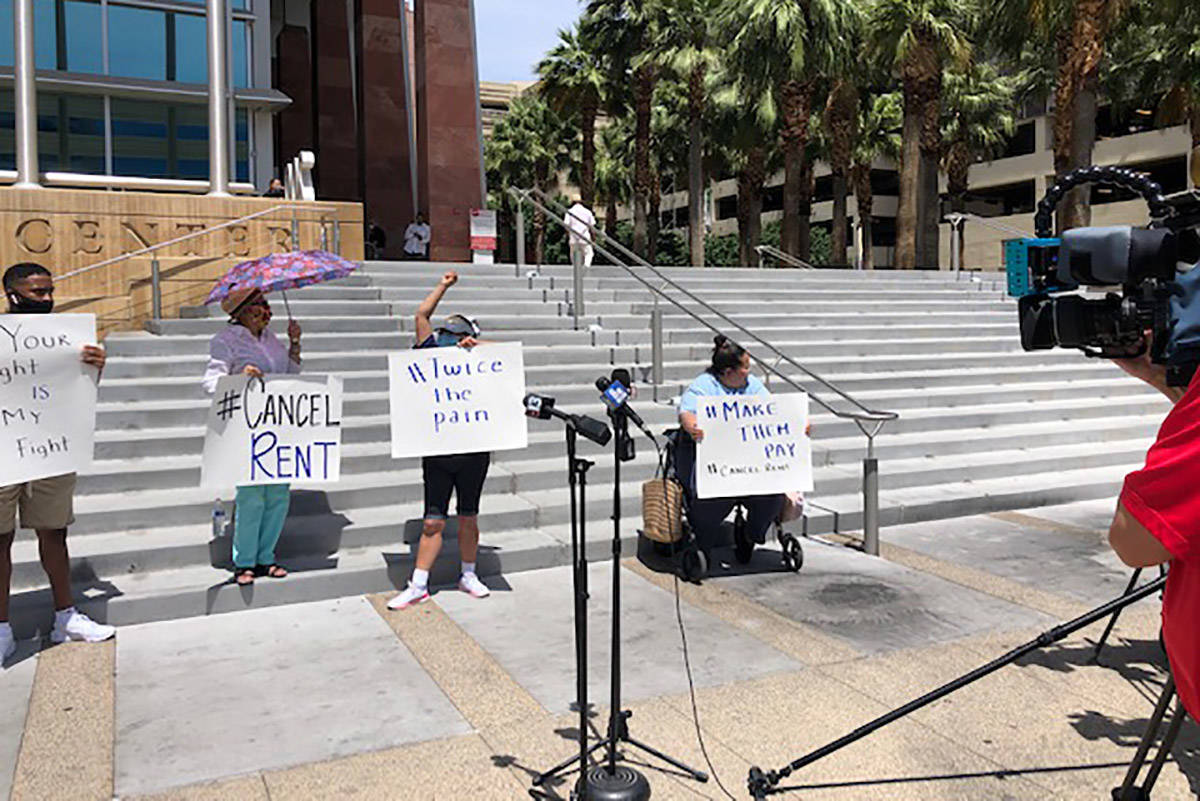 Dozens of cases of vandalism were reported and at least one business was looted after police used projectiles and tear gas to break up a Sunday night protest on the Strip.
Brittany Hone, assistant manager at the Rebel gas station at 208 E. Tropicana Ave. said Monday that bands of people entered the store at approximately 9:45 p.m. and trashed it.
"They were throwing things, broke the windows," Hone said. "There were multiple people who came behind the register. They stole the register, cigarettes. My coworker got hit in the head with a bottle of soda and ended up hiding in the bathroom."
Cases of vandalism also were prevalent in downtown Las Vegas after the Black Lives Matter protest.
The Review-Journal tallied at least 24 downtown businesses, commercial structures and government properties damaged by vandalism.
Meanwhile, scattered protests continued Monday in Las Vegas, including one with about eight people outside the Regional Justice Center on Lewis Avenue. They waved signs with messages such as "Black Lives Matter" and "cancel rent" before moving on.
Felipe Silva, housing justice coordinator for the group Make the Road Nevada, said others were protesting at various locations around the valley.
"We're dealing with the pandemic on top of systems of oppression," he said. "We see the administration very blatantly choosing the ultra rich as the people they want to help through this pandemic."
The group called for a continuation of the ban on evictions and the cancellation of rent during the coronavirus crisis, as well as the release of inmates in the custody of the U.S. Immigration and Customs Enforcement.
Among the business owners repairing damage from Sunday's protest on Monday was Liam Dwyer, owner of the 7th & Carson restaurant on Carson Avenue.
'You take your licks'
"You take your licks and keep on ticking," he said as he painted over a mural vandalized by graffiti on the exterior of the eatery. "The joys of owning a small business."
Other restaurants, the Lloyd George U.S. Courthouse, the Foley Federal Building and the Fremont Street Experience also experienced vandalism.
A group of volunteers joined to clean up the defaced exterior of the Foley building at 300 Las Vegas Blvd. South. They included Justin Day, owner of Detailers of Las Vegas, who shut down his business to help.
"I believe in protesting, but this is not the right way to do it," Day said. "I think this is the wrong way to go about it."
Day's son, J.D., 6, helped, using a power washer to remove graffiti.
As he did, an unidentified law enforcement officer in a police vehicle drove by and said through the vehicle's speaker, "Thank you for what you are doing."
City employee Danny Grance was scrubbing and painting over graffiti on Sixth Street near Fremont Street.
According to a statement Monday from city spokesman Jace Radke, "City of Las Vegas maintenance crews were out in the wee hours of the morning following the demonstrations within the city. With the help of volunteers and members of the community, we are working together as quickly as we can to ensure everything is clean and safe."
El Cortez employee Wilbur Garcia said employees worked all day Sunday to clean up extensive vandalism to the gaming property from earlier protests. They were back at it Monday morning.
"Primer, then you paint a couple coats," Garcia said. "They broke a glass door, too. That has been fixed. They even painted on the ground."
Clark County spokesman Erik Pappa initially said the county was not aware of any damage to public rights of way on the Strip stemming from Sunday night's protest, but he later corrected that, saying there was some modest damage being repaired. This included graffiti on at least two pedestrian bridges on the Strip.
Minor damage on Strip
"A fire was started in a trash can," Pappa said. "Another fire, maybe fireworks, burned on a pedestrian bridge staircase. We had broken escalator glass at the Spring Mountain (Road) bridges. Then we had quite a few flowers in the median trampled and damaged."
The county's Public Works Department also reported crews had repaired a broken window and graffiti at the Regional Justice Center.
At the looted Rebel convenience store on Tropicana, workers also were laboring to repair the damage, cleaning up broken glass in the parking lot. The gas pumps were taped off, and Hone said the store would be closed for the day. She had no immediate estimate of the damage.
Las Vegas police were at the scene but declined to comment.
Police later announced that they had arrested 155 people during Sunday evening's protest, mostly on misdemeanor charges. Police arrested seven people on felony charges and said two officers suffered minor injuries.
Longtime customer Najja Hashim said it is important to honor the memory of George Floyd, the man whose death at the hands of Minneapolis police on May 25 sparked protests across the nation and in Las Vegas. But he said looting and vandalism like what happened at the Rebel store Sunday night is unacceptable.
"There are people who are just ignorant," he said. "All these people (at the store), I've been knowing them for years. This store right here supports this neighborhood. Do what you got to do. Protest all you need to. But do you have to mess up staples of a neighborhood?"
Las Vegas police used projectiles carrying irritant payloads and tear gas to break up the Sunday evening protest on the Strip, which began peacefully but eventually turned violent. At least two Review-Journal reporters were hit by pepper ball projectiles, which the department said were erroneously described in news accounts as rubber bullets, while covering the demonstration.
Police also used tear gas to break up protests on Friday and Saturday nights.
Downtown Summerlin also saw protests late Sunday, but no violence. By Monday, signs of the activity were gone, with police barricades around the shopping mall and at Red Rock Resort removed and no signs of a police presence at either location.
Contact Glenn Puit by email at gpuit@reviewjournal.com. Follow @GlennatRJ on Twitter. Review-Journal staff writers David Ferrara and Aleksandra Appleton contributed to this report.