GOP strategist contacted FBI while under police investigation in extortion case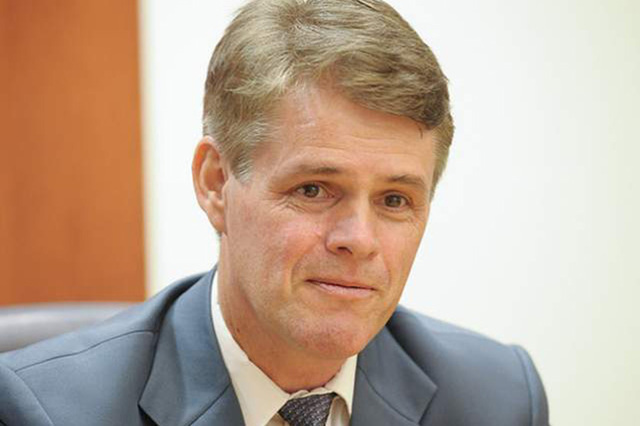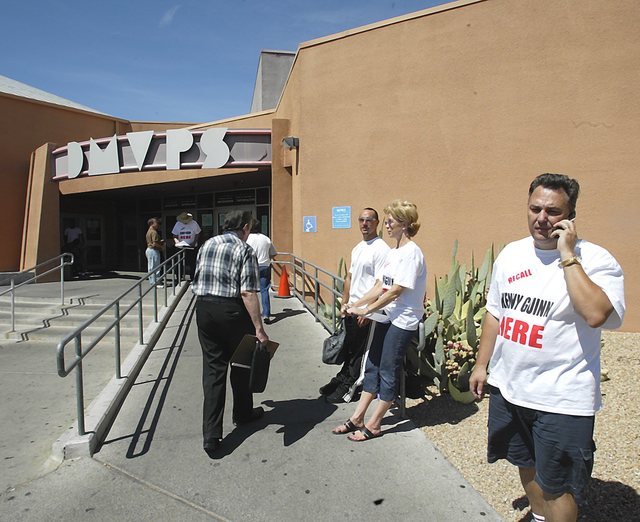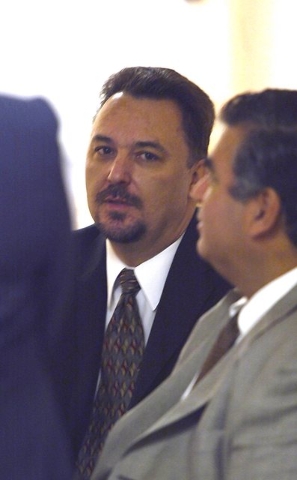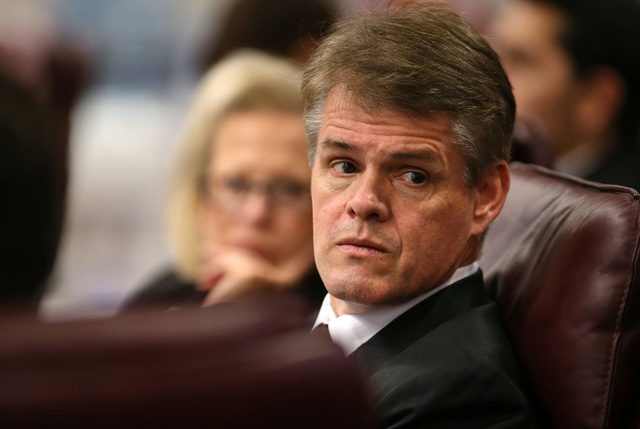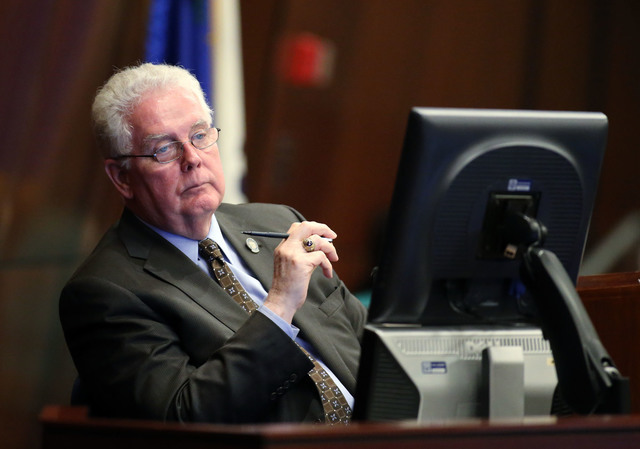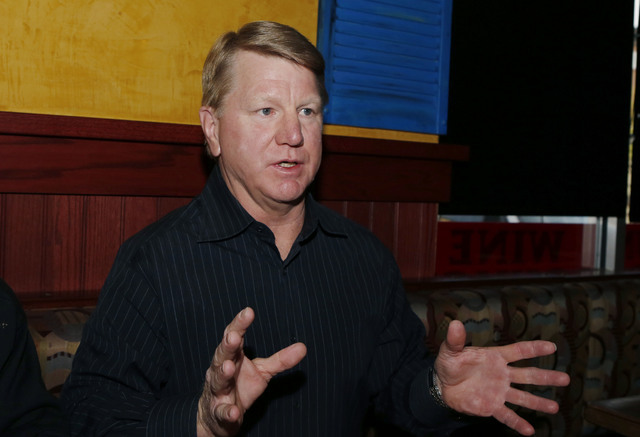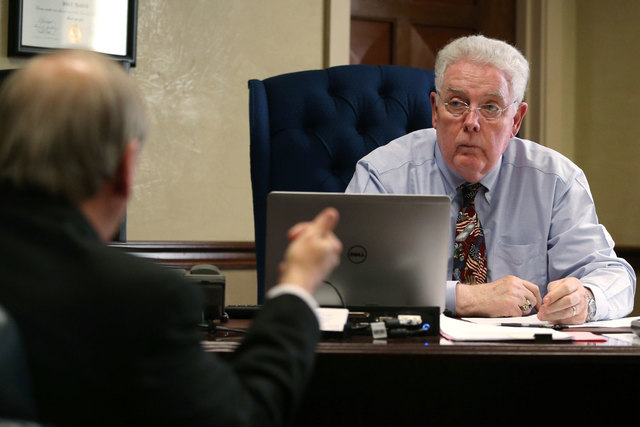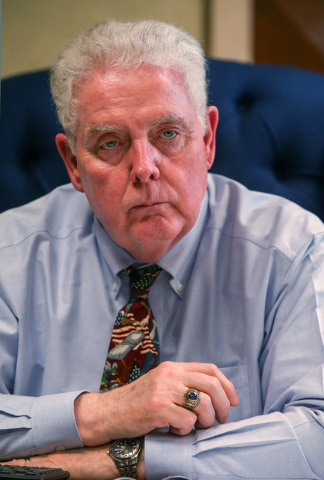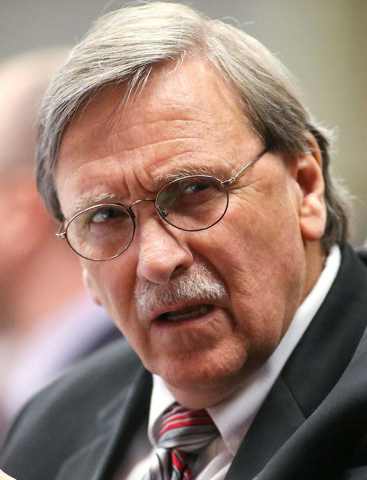 Republican strategist Tony Dane, charged with extorting a Nevada assemblyman, tried to persuade the FBI to investigate the lawmaker for soliciting a bribe, according to grand jury transcripts.
As the extortion scheme faltered in February 2015, Dane made two phone calls to the FBI in a bid to turn the tables on the assemblyman, Republican Chris Edwards of Las Vegas, a police detective testified.
"Dane essentially said that Chris Edwards tried to sell his vote to him and that he has text messages to back that up," Detective William Schoen told the grand jury.
At the time, Las Vegas police were deep into the extortion investigation of Dane, whom they had secretly recorded pressuring Edwards to change his Republican caucus vote for speaker of the Assembly. Police had instructed Edwards on how to deal with Dane, mostly through phone calls and text messages, as they monitored the conversations.
Dane, a conservative political strategist and anti-tax advocate, had vowed to lead a campaign to publicly disparage Edwards and recall him from office if he didn't change his vote from Assemblyman John Hambrick of Las Vegas to the more conservative Assemblyman John Ellison of Elko, Schoen testified.
But Edwards, while cooperating with police, refused to change his vote. Hambrick was elected speaker on Feb. 2, 2015, the day the legislative session began.
Dane's first call to the FBI was made the next day, according to a transcript of the call obtained by the Las Vegas Review-Journal.
"Uh, I'm a political consultant and … there's an assemblyman that, uh, tried to solicit a bribe … from me for campaign contributions, paying off his debt and setting up a fund for, um, future elections," Dane told the FBI operator.
When the operator asked what kind of proof he had, Dane responded, "I've got text messages and, um, plus we've had … one meeting at a Starbucks, uh, on Charleston."
Dane didn't know at the time that the Starbucks meeting was secretly recorded by Edwards, as detectives trying to obtain evidence of the extortion scheme watched nearby, grand jury transcripts show.
A week later on Feb. 10, 2015, Dane telephoned the FBI again after Virginia State Police had executed search warrants at his home in that state at the request of Las Vegas police.
On that second call, Dane told the FBI that he couldn't provide agents with text messages between him and Edwards because the police had seized his cellphone in the Feb. 5 Virginia raid.
The transcript of the call shows that Dane, after being told by police in Virginia that his conversations with Edwards were monitored in the extortion investigation, tried to portray himself as a victim of police harassment. He said he was targeted because he was working against a proposed tax increase Gov. Brian Sandoval was pushing that would have benefited police.
"They shut me down," he told the FBI operator. "They're making it hard for me to make … a living, which is what I think the intent is."
Dane said "a lot of elected officials" wanted to reach out to the FBI.
"Um, you know, I can give you names. I can give you phone numbers of them," he said. "Uh, they're aware that I'm talking to you now.
"And so, um … I'm keeping everything public because I want people to know that I'm talking to you … so they know that .. I was never involved in, you know, 'cause they're looking at accusing me of extortion."
Dane insisted that the recordings of his dealings with Edwards would show that he "wasn't interested in buying" the lawmaker's vote.
The political consultant also told the FBI operator that he hoped there were recordings of his calls in case he needed to prove that he had contacted the FBI, according to the transcript.
"You know, uh, I had knowledge of a crime and I reported that with the knowledge that I had early on before my name was ever mentioned in anything," he said.
The FBI ended up turning over recordings of Dane's phone calls to Las Vegas police, and the recordings were played to the grand jury.
Dane, who is free on $42,000 bail, pleaded not guilty Friday in Clark County District Court to 11 felony charges, including extortion, illegal wiretapping, perjury and filing a false document.
Schoen's testimony was among more than 660 pages of grand jury transcripts obtained by the Review-Journal.
Edwards, who spent a lot of time before the grand jury, testified that he reported the scheme against him directly to Sheriff Joe Lombardo in late December 2015. Lombardo then told him to call the criminal intelligence section.
Throughout his testimony, Edwards made it clear that he believed Dane was putting immense pressure on him to change his vote.
Dane used his robocalling business to wiretap phone conversations during that period between Edwards and four other moderate Republican assemblymen from the Las Vegas area — Hambrick, Paul Anderson, Derek Armstrong and Stephen Silberkraus — and their constituents, the indictment alleged.
All four assemblymen testified before the grand jury that they were not informed the calls were being recorded.
Schoen testified that when he questioned Dane in Virginia the day of the police raid, Dane denied using his robocalling system to record calls that went to Edwards and the other assemblymen. Dane indicated that he was "bluffing" when he told Edwards that he had roborecordings, Schoen said.
Dane also wasn't candid about the extent of his alleged efforts to get Edwards to change his vote for speaker, the detective said.
When Dane was told that police had overheard him playing two roborecordings to Edwards, he changed his tune and admitted that he might have made some recordings, Schoen told the grand jury.
"Did you ask Mr. Dane if he felt that his own actions were extortive to Mr. Edwards?" Chief Deputy District Attorney J.P. Raman asked Schoen.
"Yes, and I think … my question was do you understand how what you did looked like it's extortive? And he said, 'Yes.' He answered in the affirmative, but he said that he hoped us, the police, would see it from his perspective," Schoen responded.
"And he also said, 'I'm sorry.' He was trying to 'do what I feel is right by the state of Nevada,' which was trying to block any sort of tax increase enacted by the Legislature or the governor."
Dane also is charged with submitting a finance report to the Nevada secretary of state's office that falsely claimed he had received $245,000 in contributions in 2014 for his CRC Political Action Committee.
The phony January 2015 report was part of his effort to show Edwards that he had the financial backing to move forward with a recall campaign against him if he didn't vote for Dane's candidate for Assembly speaker, Schoen testified.
Dane told Schoen that was a bluff, too, and that contrary to what he conveyed to Edwards, he did not have any wealthy backers such as Las Vegas Sands Chairman Sheldon Adelson, whose family owns the Review-Journal, grand jury transcripts show.
The political strategist contended that he funded the PAC himself by liquidating some precious metals and an IRA and never intended to spend any of the PAC's money, Schoen said.
A police analyst testified that there was never $245,000 in the CRC PAC.
He told the grand jury that Dane and his wife had only done roughly $53,000 in banking transactions during the time Dane was supposed to have poured money into the PAC.
Contact Jeff German at jgerman@reviewjournal.com or 702-380-8135. Find @JGermanRJ on Twitter.