Government defends secrecy in Bundy-Bunkerville case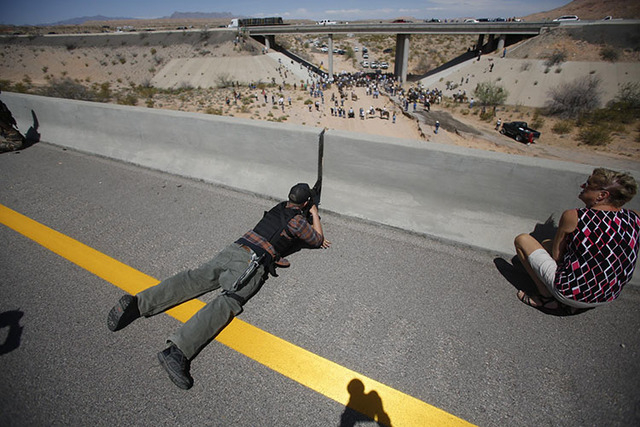 Federal prosecutors are defending their push for secrecy in the criminal case tied to the 2014 armed standoff with law enforcement near Bunkerville.
In court papers late last week, prosecutors said Bundy family supporters have used social media to threaten, intimidate and harass victims, witnesses and law enforcement officers associated with the case over the past two years.
Prosecutors cited some examples in their papers and argued that a court order is needed to protect the witnesses.
They seek to prohibit defense lawyers from giving copies of critical trial evidence — including sworn search warrant affidavits and FBI investigative reports — to the public and media.
Defense lawyers oppose the government's effort to keep secret the trial evidence. So do the Las Vegas Review-Journal and Battle Born Media, which publishes weekly newspapers in rural Nevada. The two news organizations have filed court papers to intervene in the case and oppose the order on grounds it is too broad.
Review-Journal lawyer Maggie McLetchie said Monday the government's refusal to specifically explain which documents would be harmful if made public "completely disregards the First Amendment interests at stake."
Barry Smith, executive director of the Nevada Press Association, added that the government's "blanket request" seems to have gone too far.
"You don't want to put people in danger, but there is certainly plenty of information that can be released without identifying people," Smith said. "At some point, their witnesses are going to have to come forward in court."
Prosecutors argued in their court papers that the threats — primarily on YouTube, Twitter and Facebook — could influence the outcome of the highly contested criminal proceedings.
Even the four government attorneys prosecuting the case have received mail and other communications containing "language designed and intended to threaten and intimidate," according to the court papers.
Prosecutors said secrecy also is needed because the investigation into the April 12, 2014, Bunkerville confrontation is ongoing and more people may be charged separately.
The majority of the lawyers for the 19 defendants in the high-profile case, including Nevada rancher Cliven Bundy, filed court papers last week opposing the government's proposed protective order.
Attorney Joel Hansen, who is defending Bundy, argued that the proposed order "is nothing but an attempted cover-up — a gross violation of the people's right to know what is happening in the case by drastically curtailing the freedom of the press."
Bundy, 70, and 18 other defendants, all of whom are in federal custody, are facing an array of felony charges, including conspiracy, obstruction, extortion, threats and assault, in the armed showdown.
Contact Jeff German at jgerman@reviewjournal.com or 702-380-8135. Find @JGermanRJ on Twitter.
Previous coverage
Full coverage of the feud between the Bundy family and the BLM