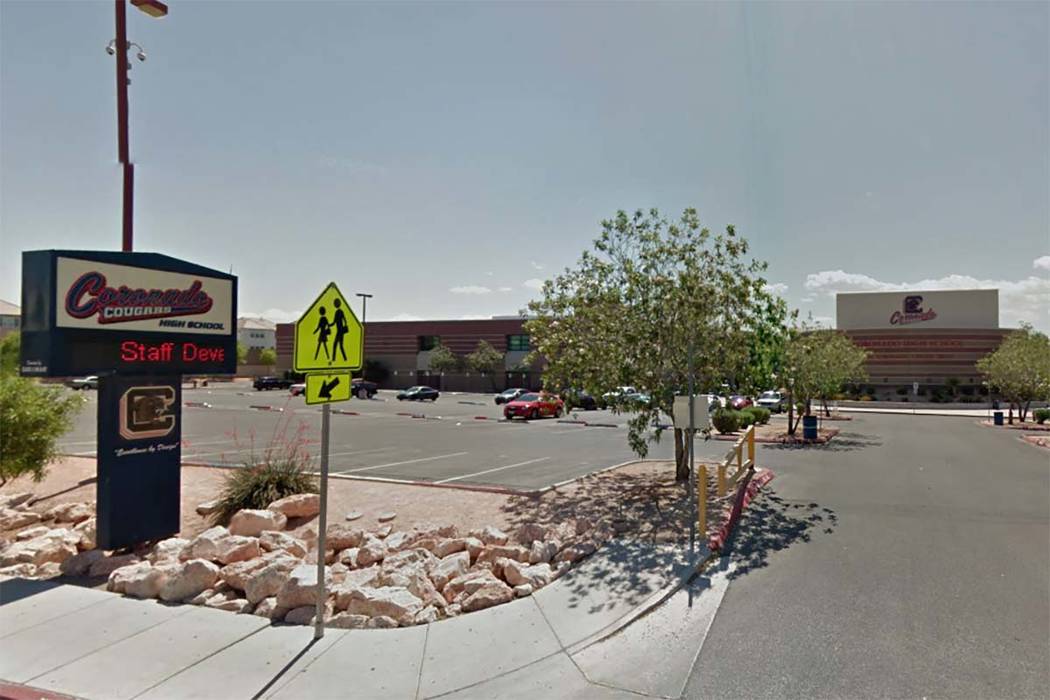 A 48-year-old Coronado High School custodian has been arrested on suspicion of multiple thefts, the Clark County School District confirmed Thursday.
The investigation began at the end of July when items from the high school were discovered missing, according to school district police. Betty Irene Seward was arrested Wednesday and faces 11 theft-related charges. She was booked into the Clark County Detention Center, with bail set at $22,600.
According to an arrest report, school police received a tip in late July that Seward had taken property from the high school. Police learned she had pawned several items, including three cameras, a tablet, a floor buffer, a flute and some jewelry.
Officers tracked a pawned camera's serial number to a camera belonging to Coronado High School, the arrest report said. A ticket from the pawn shop indicated Seward sold the camera at a Henderson shop on March 28.
During a police interview Wednesday at the high school, Seward told detectives she took the camera, the buffer and a tablet from the school.
She also mentioned she had borrowed a vacuum, a floor machine and a carpet extractor from the school. She told police she had permission from a building supervisor, the report said, but the supervisor denied the equipment was loaned.
Seward was hired by the district in April 2000, officials said Thursday. Her employment status is pending the completion of the investigation, officials said. Seward's total pay in 2016 was $25,794, according to Transparent Nevada.
In a message sent home to parents, Principal Mike Piccininni said the individual was no longer on campus and the arrest should not affect the children's education.
"Our school is committed to providing quality instruction and we will work to ensure that our students continue receiving excellent programs and services," he said in the message.
In 2009, John Mannion, a teacher and football coach at the Henderson school, was arrested and accused of stealing $17,000 in booster donations. Those charges were dropped in 2011, and he returned to work in the school district.
But soon after, he was arrested again after police said he sold prescription painkillers to an undercover Las Vegas police officer.
Mannion died by suicide in the Henderson Detention Center in 2014.
Contact Meghin Delaney at 702-383-0281 or mdelaney@reviewjournal.com. Follow @MeghinDelaney on Twitter. Contact Mike Shoro at mshoro@reviewjournal.com or 702-387-5290. Follow @mike_shoro on Twitter.
Charges
Betty Seward faces 11 total counts. She is being held at the Clark County Detention Center on the following counts:
•Two of burglary.
•Three of grand larceny of property valued under $3,500.
•Two of obtaining money, property or labor valued under $650 with false pretenses.
•Buying, possessing or receiving stolen property valued under $650.
•Petit larceny.