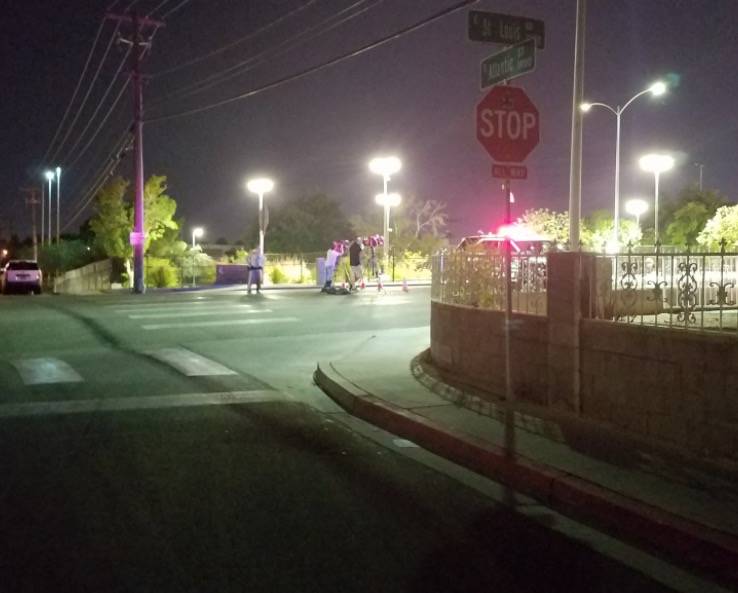 A man is dead after a shooting Tuesday night near downtown Las Vegas.
He was shot at least four times about 9:20 p.m. on the 2100 block of St. Louis Avenue, near Eastern and Sahara avenues, according to Metropolitan Police Department.
Police initially received several calls of gunshots, Lt. Dan McGrath said. Arriving officers found the man, who died at the scene.
McGrath, with Metro's homicide unit, said there were multiple witnesses from a nearby park. They heard five or six shots and saw several vehicles leave the area of St. Louis and Euclid avenues after the shooting.
One vehicle was a silver four-door sedan, Metro said later in a press release.
The shooting victim lived in the area. Family and friends gathered and mourned in the neighborhood at the corner of Hoyt and Euclid avenues.
"Which is really sad because he's only 20, maybe a 23-, 24-year-old," McGrath said.
Family declined to comment.
The man might have been chased near a car before he was shot. Police weren't sure whether the chase began at the nearby park, where officers found some gang graffiti. It wasn't clear whether the tags were fresh, McGrath said.
He said the shooting was "more than likely" the result of a fight between gang members. Police were working to determine if the killing was an act of retaliation.
"It appears somebody saw him, had a problem with him and got out of a car and fired," McGrath said.
The man had criminal and gang history, he said. McGrath said a gun was found next to his body. It wasn't known if he shot the gun.
Police weren't sure whether there was more than one shooter. Detectives were looking at nearby surveillance footage.
The Clark County coroner's office will identify the deceased.
McGrath encouraged anybody with information about the shooting to contact Metro.
Reporter Rachel Hershkovitz contributed to this article. Contact Mike Shoro at mshoro@reviewjournal.com. Follow @mike_shoro on Twitter.