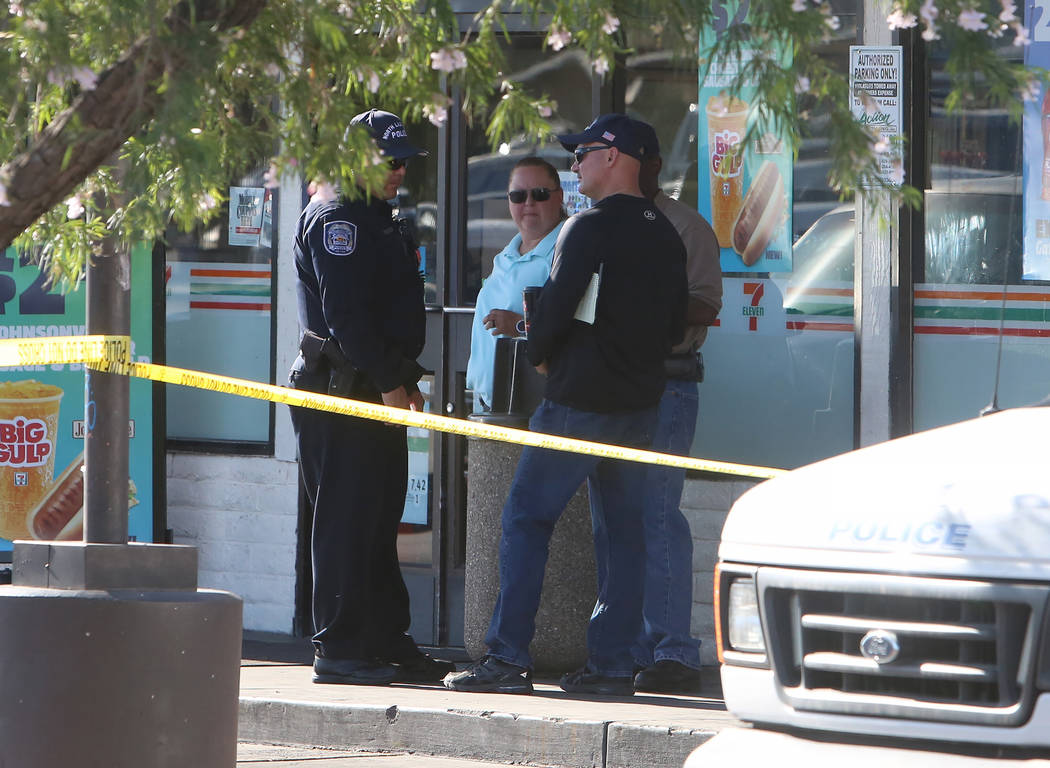 A man was shot and killed Monday morning by a security guard at a North Las Vegas 7-Eleven after entering the convenience store and firing multiple rounds.
The shooting happened just before 5 a.m. at 3575 E. Lake Mead Blvd., near Pecos Road, North Las Vegas police spokeswoman Ann Cavaricci said. The man died at the scene.
The man walked into 7-Eleven with a gun and began firing rounds. Detectives do not believe the man who was killed was committing a robbery, Cavaricci said.
Kimberly Garjeda said she believes her cousin was the man killed, and the man might have gone there looking for payback.
Her family gathered at the scene, fearing it was their relative. They were seen speaking with homicide detectives.
The man went to the hospital after a fight last night inside the store, Garjeda said. After his release, he grabbed something from home and headed back to the store.
"His brother came after him trying to stop him," Garjeda said.
She did not give his name and said officials had not yet confirmed it was him Monday morning.
"He's changed a lot since his father's death," she said. "I guess he's with his father now. He's in better hands."
The security guard is an employee of an outside agency and not employed by 7-Eleven. But he was functioning in a work capacity at the time of the shooting, police said.
There were a few employees inside the store when the man started firing, and no one was injured, Cavaricci said.
The Clark County coroner will release his identity once it has been confirmed and his next of kin has been notified.
Contact Wesley Juhl at wjuhl@reviewjournal.com or at 702-383-0391. Contact Lawren Linehan at llinehan@reviewjournal.com or at 702-383-0381. Follow @WesJuhl and @lawrenlinehan on Twitter.