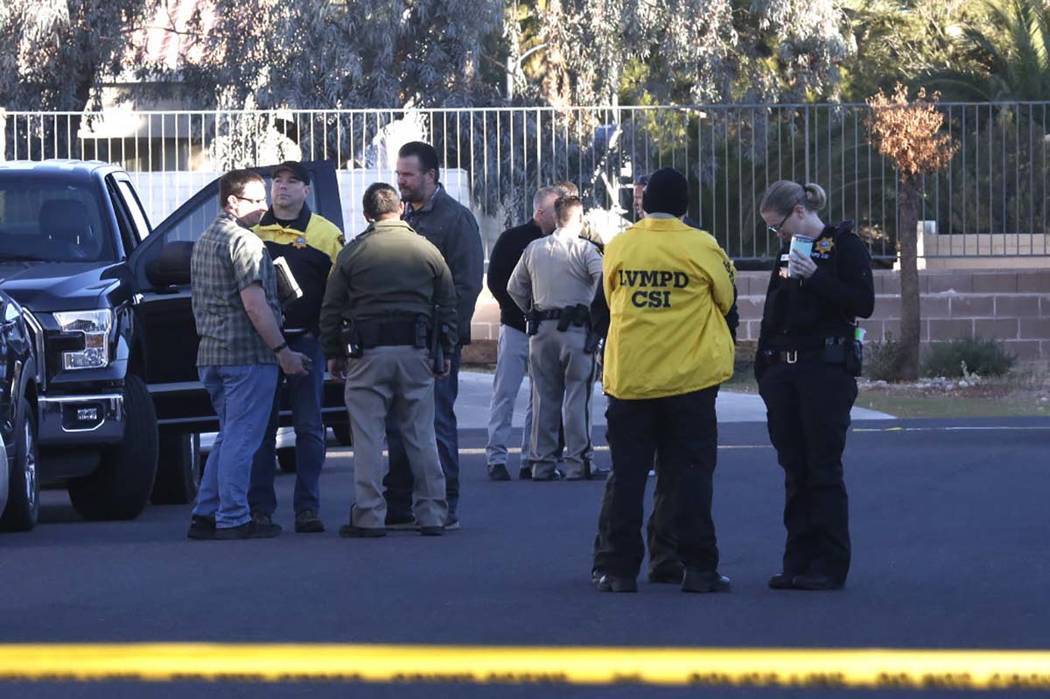 Officers identified a second suspect in a deadly shooting and abduction Wednesday in the west valley, police said.
Jessica Tolentino-Arciga, 26, was booked into the Clark County Detention Center on Wednesday in connection with the incident, according to police. Officers previously accused Joseph L. Fernandez Jr., 27, of breaking into his ex-girlfriend's home just before 4 a.m. on the 3300 block of Robin Nest Court near Desert Inn Road and Hualapai Way, Las Vegas police said.
He is suspected of abducting his ex-girlfriend, Mandy Hernandez, in a gray BMW sedan and shooting her friend, according to the Metropolitan Police Department.
The man who was shot was hospitalized, but later died at the hospital.
An arrest report for Fernandez identified the deceased as Terrell Thomas Jones.
Prosecutors charged Fernandez with murder, conspiracy to commit murder, kidnapping, burglary, battery and home invasion. They charged Tolentino-Arciga with conspiracy to commit murder, kidnapping and conspiracy to commit kidnapping.
Fernandez dragged Hernandez by the hair to the sedan and hit her in the head as she attempted to escape the car, the report said.
"Fernandez pointed a black handgun at Hernandez and told her she was going to be killed next if she didn't stop screaming," the report said.
Police said Fernandez drove Hernandez to an apartment near the 5100 block of Torrey Pines Drive, where he met up with Tolentino-Arciga. Metro said she helped Fernandez in restraining Hernandez inside the apartment.
Tolentino-Arciga left the apartment shortly after to check for police in the area. As she did, Hernandez escaped and called 911 from a pharmacy near Tropicana Avenue and Jones Boulevard.
A Metro helicopter noticed the gray sedan driving recklessly about 4:30 a.m. near Jones and Russell Road, police said. Officers chased the gray sedan to Interstate 15 near Tropicana Avenue until a patrol car clipped the sedan, causing it to stop. Police arrested Fernandez and then arrested Tolentino-Arciga inside the apartment where she helped hold Hernandez, Metro said.
The shooting unfolded about six hours before Hernandez was due in court for a hearing regarding a restraining order against Fernandez.
Contact Max Michor at 702-383-0336 or mmichor@reviewjournal.com. Follow @MaxMichor on Twitter. Review-Journal staff writer Mike Shoro contributed to this story.