3 Las Vegas men get decades behind bars for home invasion and killing
November 28, 2016 - 5:15 pm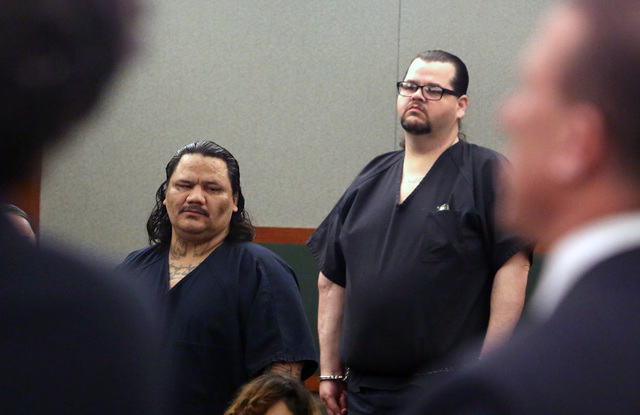 Three men were sentenced to decades behind bars Monday for their roles in the robbery and slaying of a 48-year-old man.
Thirty-four-year-old Jorge Mendoza, the convicted gunman, was ordered to serve 23 years to life in prison for the killing of Monty Gibson.
David Murphy, 38, who prosecutors said plotted the September 2014 home invasion-turned-killing, received the same sentence.
"There's no question in anybody's mind that but for Mr. Murphy this crime doesn't occur ever," said Chief Deputy District Attorney Marc DiGiacomo.
A third defendant, 39-year-old Joey Laguna, was given a sentence of 27 years to life in prison. District Judge Carolyn Ellsworth gave Laguna, whom the prosecutor called "a very hard-core violent felon," additional time because of his lengthy criminal past.
Mendoza was found guilty last month of first-degree murder with use of a deadly weapon, while the same Clark County jury convicted Murphy and Laguna of second-degree murder and six other counts.
Family and friends of Gibson gathered in the courtroom for the sentencing but did not speak.
Prosecutors said at trial that the robbers broke down the door of a home at 1661 Broadmere St., near West Charleston Boulevard and South Hualapai Way, in search of cash and marijuana.
An unarmed Gibson was killed after a gun battle broke out between the robbers and another resident of the home, prosecutors said.
Police responded to the area and followed a trail of blood to an abandoned 9 mm rifle and to Mendoza, who was hiding in a car about 100 yards from the scene of the shooting. He'd been shot in his left leg.
Thirty-three-year-old Summer Rice, also known as Summer Larsen, testified at the trial about her role in plotting the robbery of Gibson and her estranged husband, Joey Larsen.
Rice, the only defendant who spoke to the judge on Monday, said she was addicted to drugs at the time, and asked for a chance at rehabilitation. She was ordered to serve five years probation.
Robert Figueroa, 30, also pleaded guilty in the case and is awaiting sentencing next month.
Contact David Ferrara at dferrara@reviewjournal.com or 702-380-1039. Follow @randompoker on Twitter.
RELATED
Trio convicted in 2014 slaying in west Las Vegas Valley
Man warned of robbery waits, roommate shot dead