After 11 months of silence, murder charge sought in Nevada prison killing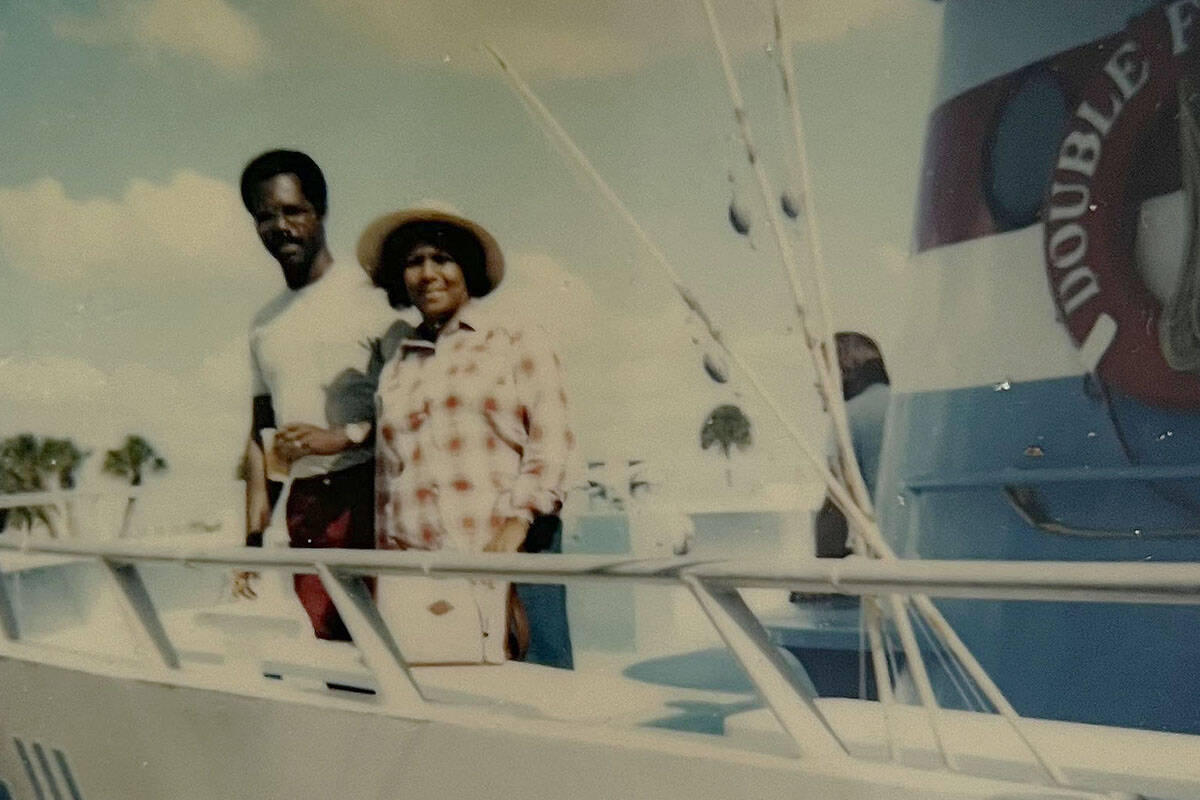 Nearly a year after Mitchell Harris was killed while serving a life sentence at High Desert State Prison, his family said they still have not been told exactly what happened.
The 70-year-old's death on Sept. 28 was disclosed in records that the Las Vegas Review-Journal obtained in January from the coroner's office, showing Harris died of blunt force injuries of the head and neck after a fight inside his cell.
But the Nevada Department of Corrections website, which publicizes inmate deaths, offers no indication that Harris died, and prison officials have yet to disclose any details about the slaying.
Neither prison officials nor authorities with the state's Office of the Inspector General, which is tasked with investigating homicides inside state penitentiaries, responded to Las Vegas Review-Journal inquiries on Harris' killing.
Harris' sister, Rose Hughes, learned of her brother's death the night he was killed after a prison chaplain called to ask her where to send his belongings. The family assumed he had some books, the clothes he was jailed in and perhaps photos, but they never received his items.
The chaplain said a warden would call her, but the warden, attorney general's office, governor's office and an NDOC spokesperson never returned the family's calls or letters. The chaplain offered no information after that first call.
"What was the point of incarcerating him for almost 34 years, even if you're the person that believes in an eye for an eye, then why waste all the taxpayer money and do all this under guise of justice?" said Harris' granddaughter, Aura Harris. "Why even have him serve this life sentence so he can get murdered?"
He was honorably discharged from the military, so now Hughes keeps the urn of his ashes with an American flag given to her by the federal government. They sold most of Harris' things in the 1990s to cover legal fees in his case.
Left in the dark
Aura Harris said the Clark County coroner's office told her that her grandfather died at University Medical Center, but her family never received a call telling them to come say goodbye while he was taken to the Las Vegas hospital, 40 miles south of the prison.
It wasn't until Tuesday, almost exactly 11 months after Harris died, that the Nevada attorney general's office filed a request for an arrest warrant against Darius Sorrells, a 39-year-old convicted killer and fellow High Desert inmate. The office did not comment on why it had taken so long to file a criminal complaint.
Travis Barrick, a Las Vegas attorney who has represented inmates for decades, said he believes the family's calls for information led prosecutors to seek a warrant. There is no statute of limitations for murder.
"In my opinion, the AG's office would not have ever prosecuted Sorrells but for the pressure from the family," Barrick said.
Barrick represented the family of Andrew Thurgood, a man stabbed dozens of times inside a High Desert prison cell in 2016. It took three years for prosecutors to bring charges against two fellow inmates suspected in the killing.
Other inmates told the Harris family in letters that Mitchell Harris was a mentor who worked in the law library. The family said he had a clean record while in prison, but he had requested a cell change and was denied.
"We have the right to find out about what happened to him," Harris' younger sister, Rose Hughes, said this week from her Chicago home. "Those people that didn't protect him are not being held accountable."
Complicated feelings
Harris and his ex-wife, Nancy, had divorced in November 1988, according to court records. They were still going out together, and in January 1989 they got into a fight at the Texaco gas station at Sahara and Eastern avenues.
Harris chased his ex-wife through the parking lot and stabbed her to death with an ice pick, witnesses told police.
Prosecutors argued that Harris, a former Nevada Test Site employee, had beaten his ex-wife before because of money disputes. In the months leading up to the killing, Harris was charged with domestic battery and kidnapping the woman.
Deputy District Attorney William Henry told reporters at the time that prosecutors would seek the death penalty in the case, but a jury later convicted Harris of murder and gave him a life sentence without parole.
Harris' last cellmate, Sorrells, plead guilty in 2019 to killing his mother and sister, cutting off the second woman's legs with a chainsaw. He underwent five years of mental testing and psychiatric evaluations before he was sentenced to a maximum of 50 years in prison.
Now, almost a year after Harris' death, Rose Hughes said she is still seeking answers for her 88-year-old mother. She said she feels angry, depressed and worried for her.
"He deserved to be protected in that prison," Rose Hughes said.
Aura Harris said she grew up in Chicago, where her grandfather was from, but she and her mother visited Harris in prison annually. Unlike other family members, she never believed her grandfather should be released from prison, but her family's love for him was complicated.
"My mom was 15 when she had me," Aura Harris said. "This happened in January '89. I was born in August of '89. I never met grandma. It informed my life in so many ways. It's hard to reconcile that with me going to bat for my grandfather."
Mitchell Harris was a Vietnam War veteran who met his wife while serving in the war. He brought her to America, along with her family, but Harris' family said their relationship was volatile and that both parties started fights.
Aura Harris said she'll always remember grandpa Mitchell, who played Scrabble with her as early as 6 years old when he was at Ely State Prison fighting over words that only some dictionaries recognized, like "qat," an Arabian shrub leaf.
"My grandpa definitely did a terrible thing, but he was also just a regular, goofy grandpa and that's mostly how I'll remember him," she said.
Contact Sabrina Schnur at sschnur@reviewjournal.com or 702-383-0278. Follow @sabrina_schnur on Twitter.