'Amazing' man fatally shot at Las Vegas tunnel; 2 others found dead
Updated February 22, 2023 - 8:54 pm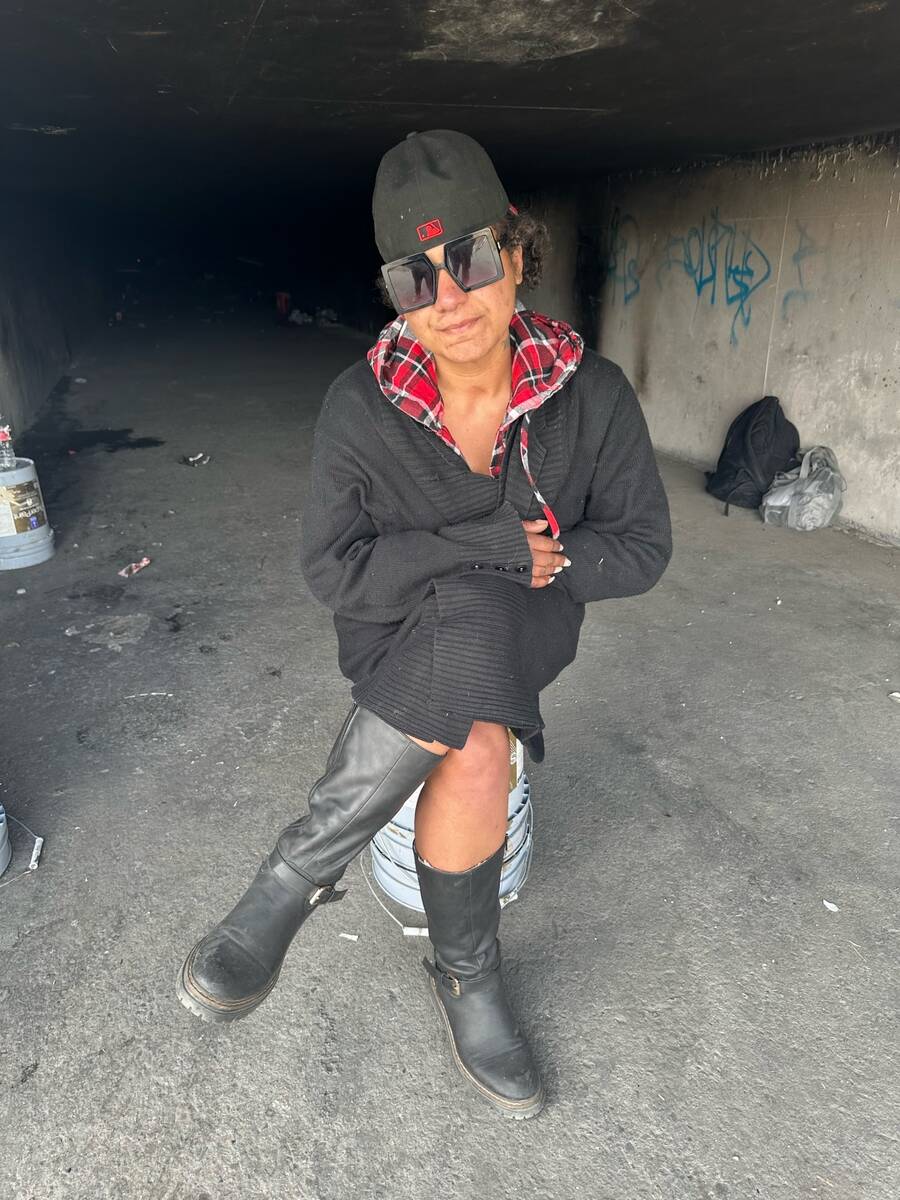 Steps away from where her boyfriend fell after he was fatally shot, Jecenia Grant was sweeping the trash out of the drainage tunnel that they called home. Far back in the darkness was their makeshift bedroom with the mattress they shared.
"Right now I'm just mourning and going with the flow," she said on Tuesday. "You're talking about somebody I wanted to spend the rest of my life with, and now they're gone."
Neither police nor the Clark County coroner's office have officially identified the victim, who was pronounced dead after police were sent to a report of an unresponsive man at 2:40 a.m. Monday near one of the tunnels in a drainage canal near Arville Street and Harmon Avenue.
'Terrific friend'
Grant, who goes by the nickname Queen in the community of homeless people who live in the tunnels, identified him as Mark Deandre Grant, 29. Jecenia Grant said she was using that last name because she said he had asked him to marry her.
"A terrific friend, a great boyfriend," said Jecenia Grant, who was wearing his New York Yankees cap.
The early morning killing was one of two homicide cases on Monday that left at least one homeless person and two other possibly homeless people dead.
There is nothing to suggest the two cases are related, a Metropolitan Police Department spokesman said.
"They're all being investigated as individual homicides," officer Aden OcampoGomez said.
With the drainage tunnel shooting, a man and a woman were found dead near a makeshift shelter behind a business 10 miles across town at South Nellis Boulevard and East Desert Inn Road.
On Wednesday, the Clark County coroner's office identified the man and woman. Vincent Spoto, 65, was found with a gunshot wound to the head. Shella Huey, 46, was found with a gunshot wound to the neck and head, the coroner's office said.
Foul play suspected
Police would only say the man and woman, who have not been identified, were found behind a business in the 3200 block of Nellis. In that case, police said officers responded about 4:50 p.m. Monday to a report of two people found unresponsive.
"Officers arrived and located an adult male and female, who were unresponsive near a makeshift shelter," Metro police said in a news release. "Medical personnel responded and pronounced both victims deceased at the scene. Foul play is suspected in the death of both victims."
The coroner said Wednesday their deaths were homicides.
Efforts to confirm reports that they were found behind a AutoZone store at Nellis and Desert Inn were unsuccessful. But behind the AutoZone were indications that people had been living there. Clothes, footwear, batteries, a shopping cart, wood pallets and other items were strewn across a grassy patch behind the store.
OcampoGomez said it was too early to confirm that each of the victims was homeless or the circumstances surrounding their killing. Because of that, he declined to comment on whether the victims' apparent homelessness had anything to do with their deaths.
Jecenia Grant said she and the her boyfriend had been living in the tunnel for seven and a half months. Two other people lived in it as well.
She pointed to a small hill that leads up to the parking lot of a hookah lounge and said that's where he died. She said she doesn't feel safe where she lives, for obvious reasons, and feels even less safe now.
According to Metro police, the victim "lived inside the drainage canal where the shooting took place. After being shot, the victim exited the canal and collapsed."
Jecenia Grant said he had kids. She said her boyfriend was originally from San Diego, and had told her he loved BMX bikes and used to compete in the sport when he was younger. Asked how he had come to live in the tunnels, she declined to get specific but said he was "damn near a felon."
"Don't get me wrong, he had his issues, but he was an amazing person," she said.
There have been several high-profile investigations into the slayings of homeless people in Las Vegas in the past few years. Killings of the homeless are the most difficult to solve, Metro homicide Lt. Jason Johansson said in late 2022.
In early January, police announced that Christopher Martell, 33, would face a third open murder charge in connection with the stabbing deaths of three homeless people near UNLV.
In 2017, Shane Schindler was sentenced to eight to 20 years in prison after he attacked a mannequin with a hammer. Metro police had staged the dummy in the same area where two homeless men were fatally bludgeoned while sleeping.
Advocates for the homeless in Las Vegas were saddened to hear about the Monday slayings.
'Just sad and shameful'
There are as many different causes as there are homeless people, said Merideth Spriggs, chief kindness officer for Caridad, a nonprofit charity that works to help homeless people. West Juhl of the ACLU of Nevada echoed a similar sentiment, that the homelessness situation in Las Vegas and Nevada is bad and is the result of many factors.
As such, so many different things need to happen to combat homelessness in Las Vegas and Nevada. These include affordable housing, supportive services, better access to health care including mental health care, among many other things, both Spriggs and Juhl said.
"It's definitely upsetting," Spriggs said, adding that in her experience, the drainage tunnels are home to some "very violent" and chronically homeless people who struggle with various issues and live in a "wild west" environment.
"I don't know if there's a population that's more vulnerable to violence and abuse," said Juhl, who director of communications and campaigns for the ACLU of Nevada.
"It's just sad and shameful," Juhl added. "It's really depressing to think that this is such an ongoing problem."
Contact Brett Clarkson at bclarkson@reviewjournal.com. Follow @BrettClarkson_ on Twitter.