Armed robber shot, killed at North Las Vegas 7-Eleven
November 10, 2016 - 12:36 pm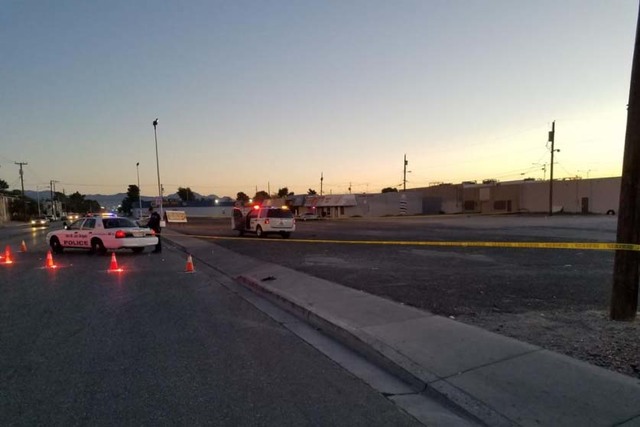 The North Las Vegas convenience store where a man was shot and killed Thursday morning also was the scene of a fatal shooting in 2010.
A 38-year-old store clerk, Suchinna Revtissamaharamaye, was shot to death in the earlier incident at the 7-Eleven at 2100 E. Cheyenne Ave., near Civic Center Drive. .
On Thursday, a man was shot and killed at about 3:30 a.m. while attempting an armed robbery at the same store. He has not been identified.
North Las Vegas police responded to the store because a silent hold-up alarm was activated. Police said an armed person, who was working in the store but is not a 7-Eleven employee, fatally shot the man.
Police spokeswoman Ann Cavaricci said the person realized the man was attempting an armed robbery of the store before pulling out a gun and shooting him. It was not immediately clear how many times the man was shot. He died at University Medical Center.
Other people were inside the store during the attempted robbery, but nobody else was injured, Cavaricci said.
She said police had not determined whether the shooter was authorized to carry a gun or whether police would pursue charges.
In 2010, two men entered the same convenience store with the intention of committing an armed robbery.
"They were after the money," then-North Las Vegas police spokeswoman Chrissie Coon said at the time. "And during that robbery, at some point, they decided to murder the clerk."
Jason Miller later pleaded guilty to first-degree murder with a deadly weapon and was sentenced to life in prison without the possibility of parole. Jerome Bolton pleaded guilty to second-degree murder and was sentenced to 10 to 25 years in prison.
Review-Journal reporter Lawren Linehan contributed to this story. Contact Mike Shoro at mshoro@reviewjournal.com. Follow @mike_shoro on Twitter.