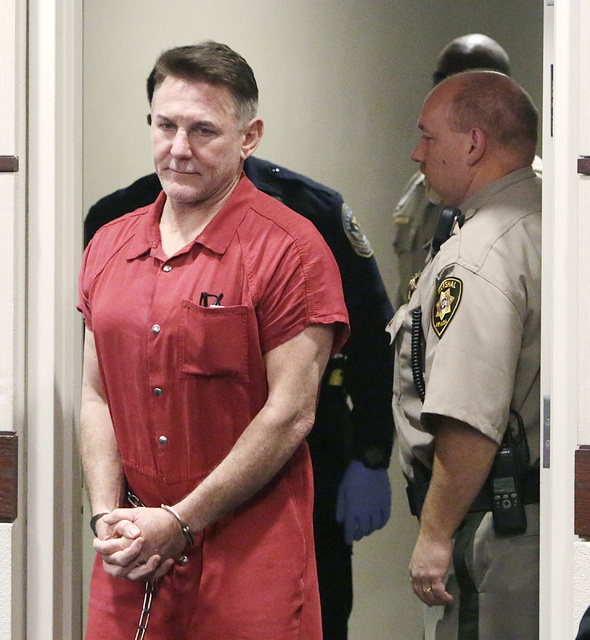 Psychologist Gregory "Brent" Dennis has been released from custody on $250,000 bail stemming from a murder charge in the 2015 death of his wife, attorney Susan Winters.
Dennis was freed after 9 p.m. Monday from the Henderson Detention Center after his lawyers posted the bail earlier in the day. Prosecutors and defense lawyers agreed to the bail amount.
Henderson Justice of the Peace Sam Bateman ordered Dennis to surrender his passport and told him he may not leave the state without court permission.
Dennis, 54, who runs a Boulder City mental health clinic, was arrested last week and charged with open murder with a deadly weapon.
Based mainly on information provided by Dennis, the Clark County coroner's office concluded that Winters, a part-time North Las Vegas judge, killed herself by consuming a lethal amount of prescription painkillers and antifreeze at the Henderson home she shared with Dennis and their two daughters.
But in a 27-page declaration of arrest obtained by the Las Vegas Review-Journal, Henderson police Detective Ryan Adams alleged that Dennis originally lied to police about his wife's death and had a financial motive to kill her.
Dennis stood to inherit roughly $2 million, including a $1 million life insurance policy, upon his wife's death and was dealing with a cocaine addiction that was draining his finances, according to the report.
Adams concluded in the arrest report that Dennis contacted the couple's bank more than 9½ hours before he called 911 on the morning of Jan. 3, 2015, to report his wife was unresponsive in bed.
He inquired about the balance in the joint account and later wrote a check for more than $180,000 to ensure that he would get the money before his wife's parents prevented him from gaining access to the account, according to the report.
Dennis also was concerned that his wife would divorce him over his addiction and harm his professional livelihood by making it public, Adams wrote.
In another development, a Family Court hearing Tuesday centered on custody of the couple's two teenage daughters.
After his arrest, Dennis lost custody of the daughters, 17 and 14, who have been placed with the longtime office manager of his Boulder City clinic.
The girls are reportedly living with Sue Berg, who has worked with Dennis since he started his practice in 1995.
Lawyers for the Winters family appeared in court on Tuesday and indicated that the family is willing to take custody of the girls.
Neither Dennis nor a lawyer representing him showed up for the hearing, which was not open to the public.
Meredith Weiner represents Susan Winters' brother and sister-in-law, Chris and Julie Winters, who live in Oklahoma. Weiner said Family Court Judge Cynthia Giuliani ruled that the girls should remain with Berg until another hearing next month.
Dennis is required to attend the next proceeding, should he seek to regain custody of his children, Weiner said.
Contact Jeff German at jgerman@reviewjournal.com or 702-380-4564. Follow @JGermanRJ on Twitter. Contact David Ferrara at dferrara@reviewjournal.com or 702-380-1039. Follow @randompoker on Twitter.
RELATED
Henderson police detail drug allegations against psychologist charged in wife's murder
Psychologist booked on murder charge at Henderson jail in wife's death
Grand jury targets husband in lawyer's 2015 death
After waffling, Henderson police say they have reopened investigation into lawyer's 2015 death
Coroner fired investigator months after Henderson attorney's death
Prosecutor tells judge investigation into Henderson lawyer's death winding down
Complaint filed with Nevada psychology board against husband of late attorney
Husband wants to stop Clark County lawsuit over death of wife, attorney Susan Winters