Boyfriend arrested in North Las Vegas teen's fatal shooting
Updated November 21, 2018 - 2:31 pm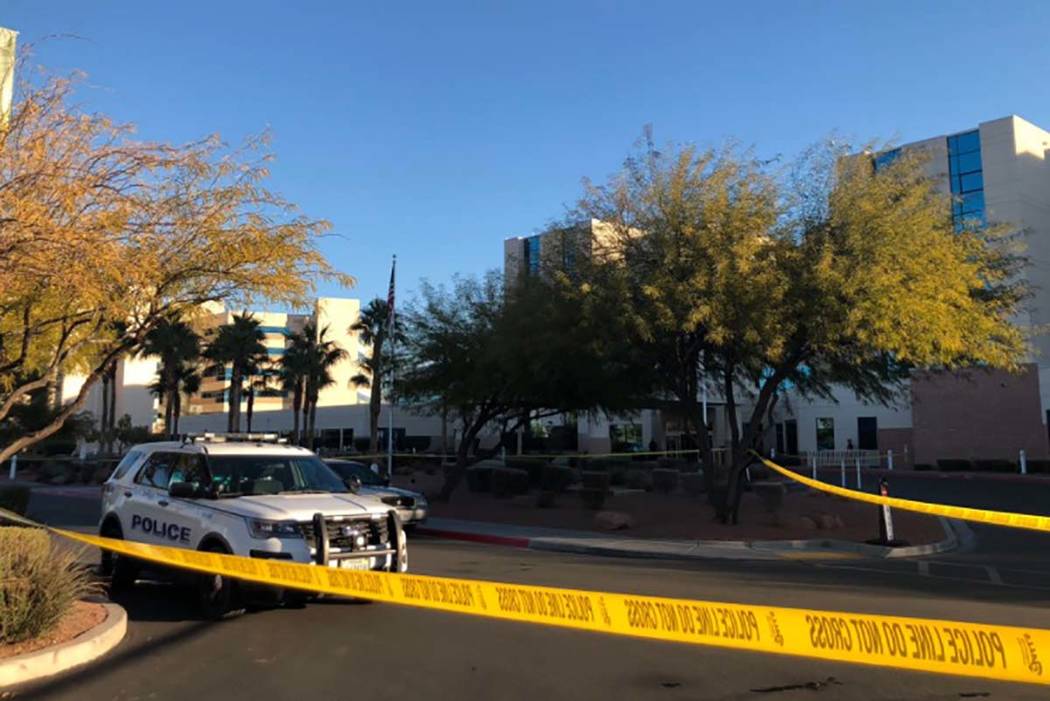 A 17-year-old girl's boyfriend faces a murder count in her death after she was dropped off at a hospital early Wednesday with a gunshot wound.
A friend took the girl to MountainView Hospital, 3100 N. Tenaya Way, and stayed at the hospital during the investigation, according to North Las Vegas police spokesman Aaron Patty.
Police call logs show that just before 2:45 a.m., North Las Vegas and Metropolitan Police Department officers were requested at the hospital, but North Las Vegas police took over the investigation after having determined the shooting occurred in a home in the 1100 block of Gary Carmena Avenue, near East Centennial Parkway and Losee Road.
Seneca Carey, 21, was taken into custody and booked Wednesday into the Las Vegas Detention Center, where he faces one count of murder with a deadly weapon.
Police have not said what led up to the shooting.
On Wednesday morning, about five hours after the girl had been dropped off at MountainView, the hospital's emergency room entrance was still marked by yellow crime tape. A group of officers surrounded a red four-door sedan parked at the entrance, its doors left wide open.
Patty said the girl's death did not appear to be related to a recent spate of shootings in North Las Vegas that, as of Wednesday, has left five dead and three injured.
The youngest victim was 3 and the oldest was 19, according to Las Vegas Review-Journal records.
Of the six shootings between Oct. 30 and Wednesday, one involved gang violence, two were targeted attacks, two were domestic-related and one appeared to be accidental, happening after a 3-year-old boy on Nov. 10 found a firearm that was not properly locked away, police have said.
North Las Vegas police have stepped up patrols in some "hot spots," Patty told the newspaper on Sunday. Three of the recent shootings, for example, including Wednesday's domestic-related shooting, happened within 3 miles of one another.
"Officers make it a point to patrol those areas and to be a deterrent, if anything else, to let folks know that we're there in the community," Patty said, also noting that detectives could not identify a reason behind the uptick in shootings involving young people.
Police Chief Pamela Ojeda issued a statement Wednesday announcing Carey's arrest.
"Speaking as a mother, police officer and public servant, I agree with the community that this sort of violence is unacceptable, which is why we have put all of our resources toward making these arrests and working with leaders across the valley to address the root social causes that are creating this uptick in crime," Ojeda said. "The recent cases involving young people are unrelated to one another and almost exclusively involve family violence or out-of-town perpetrators, but I want to be very clear: We do not accept people coming into our community to commit crimes, and we are working diligently to put an end to this."
The Clark County coroner's office will identify the 17-year-old girl after her family has been notified. Her death was 193rd homicide in Clark County this year and the 32nd investigated by North Las Vegas police.
Contact Rio Lacanlale at rlacanlale@reviewjournal.com or 702-383-0381. Follow @riolacanlale on Twitter.