Christmas Eve vigil remembers man found shot inside burning North Las Vegas home
December 24, 2016 - 7:21 pm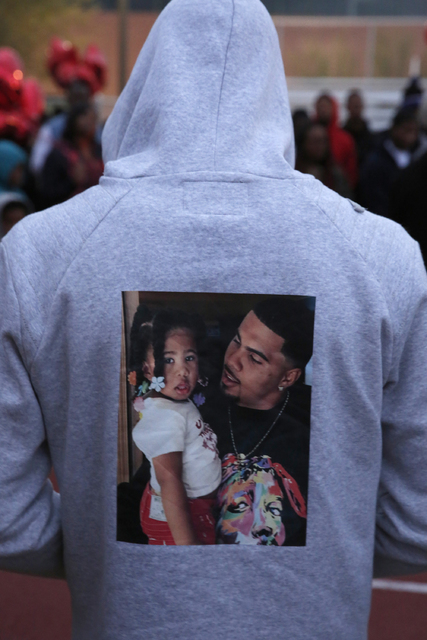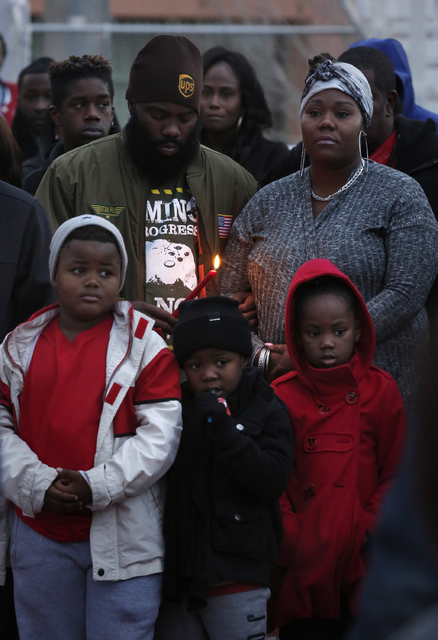 Family and friends spent Christmas Eve mourning the death of a man found dead Thursday inside a North Las Vegas home police believe may have been intentionally set on fire.
The Clark County Coroner identified the 26-year-old man as Jesse Lee Swan of Las Vegas. While fighting a fire in the 300 block of Princess Avenue, firefighters found Swan's body inside the home.
But Swan, a father of four children, died from a gunshot wound to the chest, and the coroner's office ruled his death a homicide. North Las Vegas police said a preliminary investigation indicates the cause of the fire was arson.
Nearly 100 family members and friends showed up with balloons and candles to the vigil Saturday night at the Pearson Community Center, 1625 W. Carey Ave. "Look at all the people he touched," Swan's father, Bobby Henderson, said looking around at the crowd of people. "Look at the people he touched in just 26 years."
Bobby Henderson led the vigil with a prayer while his grandchild, Swan's only son, clung onto him. "Everyone who knew Jesse, they are hurting right now," he said.
Bobby Henderson met his son for the first time when Swan was eight months old. "When I looked at him for the first time, it was electrifying," he recalled. "I looked in his eyes and he looked in mine, and he just smiled at me."
At least 10 others spoke in Swan's memory, including older sister Shiobhan Henderson. The last time she spoke to him, Swan told her he was proud about the direction he was heading in life. "He turned out to be a great father," she said. "He was excited about becoming the man he wanted to be."
Shiobhan Henderson told the teary-eyed crowd to try to move on and keep dreaming. "I don't think he would want us to stop living his dream that he didn't get to finish," she added.
Each person who shared a memory of Swan celebrated his character.
"I have no ill-will towards those who hurt him and I have to forgive them, but I won't forget," Bobby Henderson said just before people in the crowd released red and gold balloons into the night.
Swan leaves behind one son and three daughters. Police have not yet identified a suspect or released the details preceding Swan's slaying.
Contact Rio Lacanlale at rlacanlale@reviewjournal.com or at 702-383-0381. Follow @riolacanlale on Twitter.