Clark County DA details decision to throw out murder case
December 26, 2017 - 11:41 am
Updated December 26, 2017 - 6:53 pm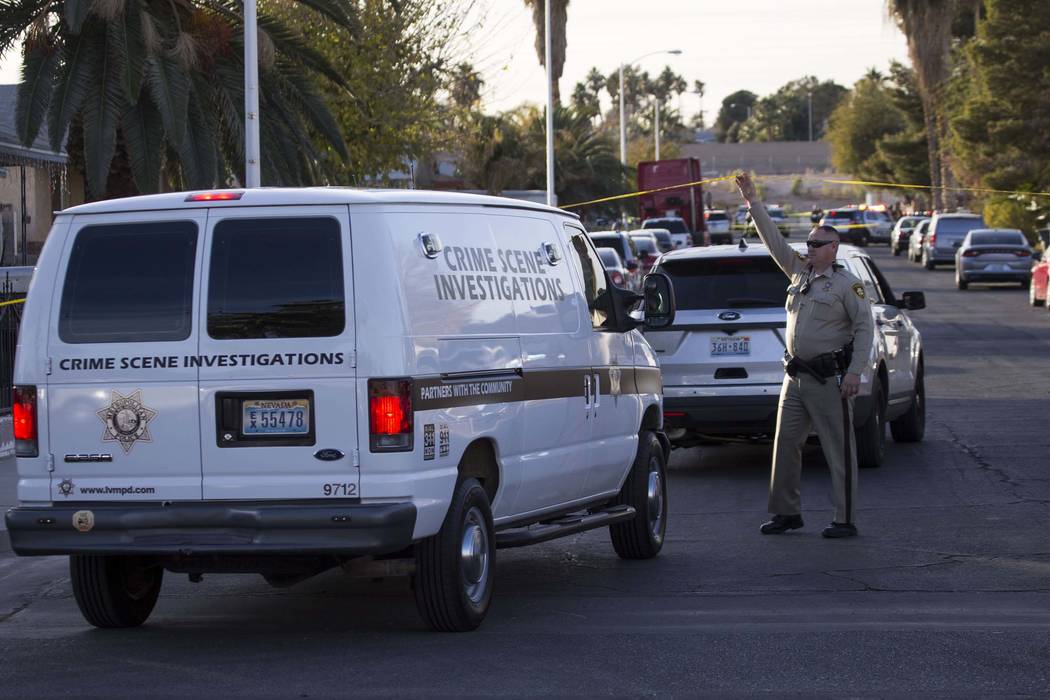 The Clark County district attorney's office on Tuesday released a timeline detailing its decision to throw out a murder case against Christine Sanchez — the same woman now accused of killing her three roommates.
Bonnie Marie Rice was found dead inside her North Las Vegas apartment on Sept. 13, 2014. Five days later, Sanchez was arrested and booked into the Las Vegas City Jail.
District Attorney Steve Wolfson on Tuesday told the Las Vegas Review-Journal that his office charged Sanchez in October 2014 with one count of murder with a deadly weapon based on evidence and presumptive forensic tests. But weeks later, Sanchez, accused of stabbing and shooting Rice multiple times, was released from custody "pending further investigation" after Wolfson said blood tests failed to link her to the slaying.
It would be nine more months — July 2015 — before Sanchez's indictment, which came after witnesses in February 2015 came forward with information on Rice's death.
In the timeline released to the Review-Journal, Wolfson did not detail any possible negotiations between the state and Sanchez. But in a Facebook post on Sept. 16, 2016, the 47-year-old woman wrote, "It's official I'm not taking a deal so trial is January 23rd 1 o'clock."
Court records show the Jan. 23, 2017, jury trial was canceled for reasons that remained unclear Tuesday.
After more than two years of negotiations and at least one failed attempt at a deal, the state voluntarily dismissed the case on June 14 because, according to Wolfson, further investigation failed to develop any additional evidence.
"After a complete review of all the available evidence, the district attorney's office did not believe there was sufficient evidence to prove the case beyond a reasonable doubt," Wolfson said. "As such, consistent with our obligation, we chose to dismiss the case voluntarily in June 2017."
When asked on Tuesday whether Wolfson stood by his office's decision to throw out Sanchez's murder charge, the district attorney did not respond.
On Saturday, the recently cleared murder suspect was booked and charged with three counts of murder with a deadly weapon after her three roommates were found dead Friday afternoon from multiple gunshot wounds inside the eastern valley home they shared.
One of her roommates, identified by the Clark County coroner as 43-year-old Natasha Henry, was found dead inside a bedroom at the 4323 Del Santos Drive home. Her death was ruled a homicide. The identities of the other two victims, who police said were found in another bedroom, remain pending with the coroner's office.
As of Tuesday, the lead attorney representing the state of Nevada in the triple homicide case had not yet been listed in court records. But Robert Langford, Sanchez's attorney in the 2014 case, confirmed that he will again represent Sanchez. Langford declined to comment further Tuesday.
Sanchez is being held at the Clark County Detention Center without bail. She is due in court Wednesday morning.
Contact Rio Lacanlale at rlacanlale@reviewjournal.com or 702-383-0381. Follow @riolacanlale on Twitter.
Timeline of Christine Sanchez's 2014 murder case
— Sept. 13, 2014: Bonnie Marie Rice, 52, is found dead inside her North LasVegas apartment.
— Sept. 18, 2014: Sanchez is arrested by North Las Vegas police.
— Early October 2014: The district attorney's office charges Sanchez with onecount of murder with a deadly weapon.
— Mid-October 2014: Sanchez is released from custody pending furtherinvestigation after forensic blood tests failed to link her to the murder.
— February 2015: Witnesses come forward with information regarding killing,and the district attorney's office began presenting evidence to a grand jury.
— July 2015: A grand jury indicts Sanchez.
— Sept. 16, 2015: According to a Facebook post, Sanchez does not take a dealwith the state.
— June 14: The state voluntarily dismisses case against Sanchez.