Clark County sheriff announces arrests in 10 homicides tied to MS-13 gang
Updated March 26, 2018 - 11:04 pm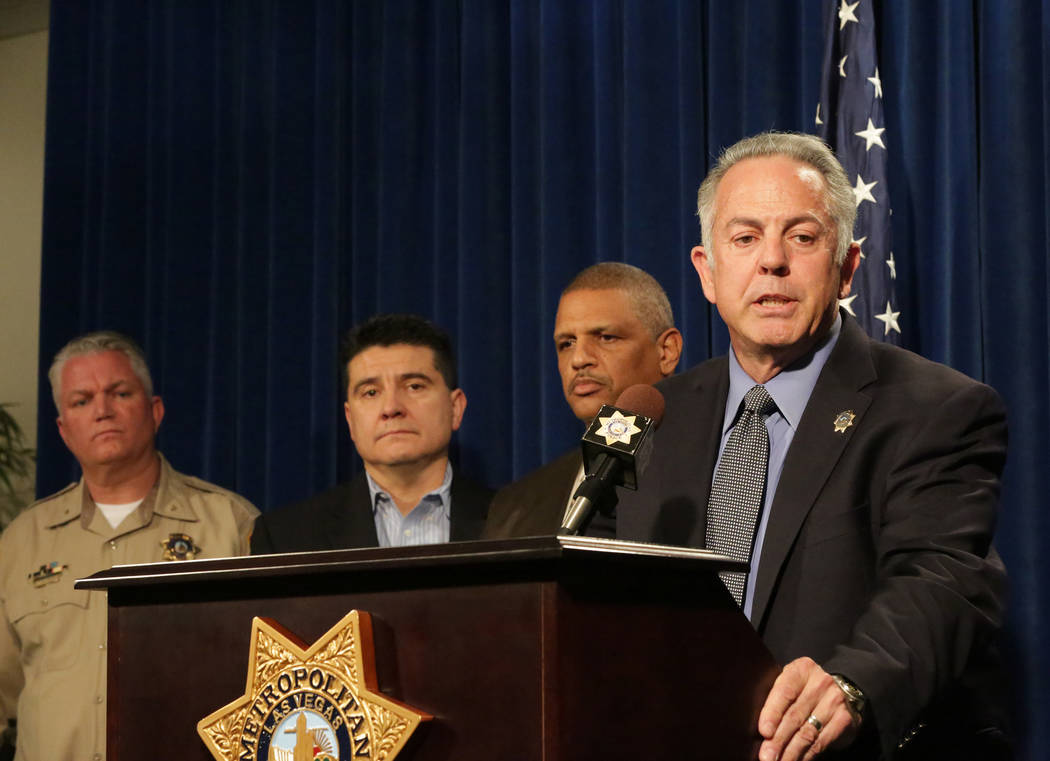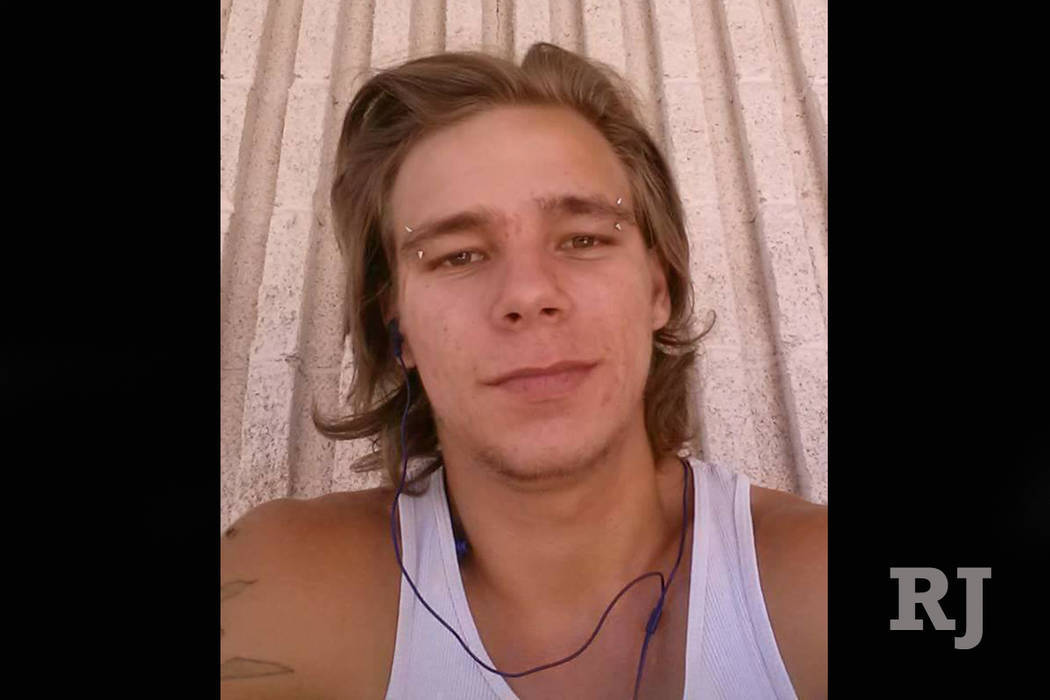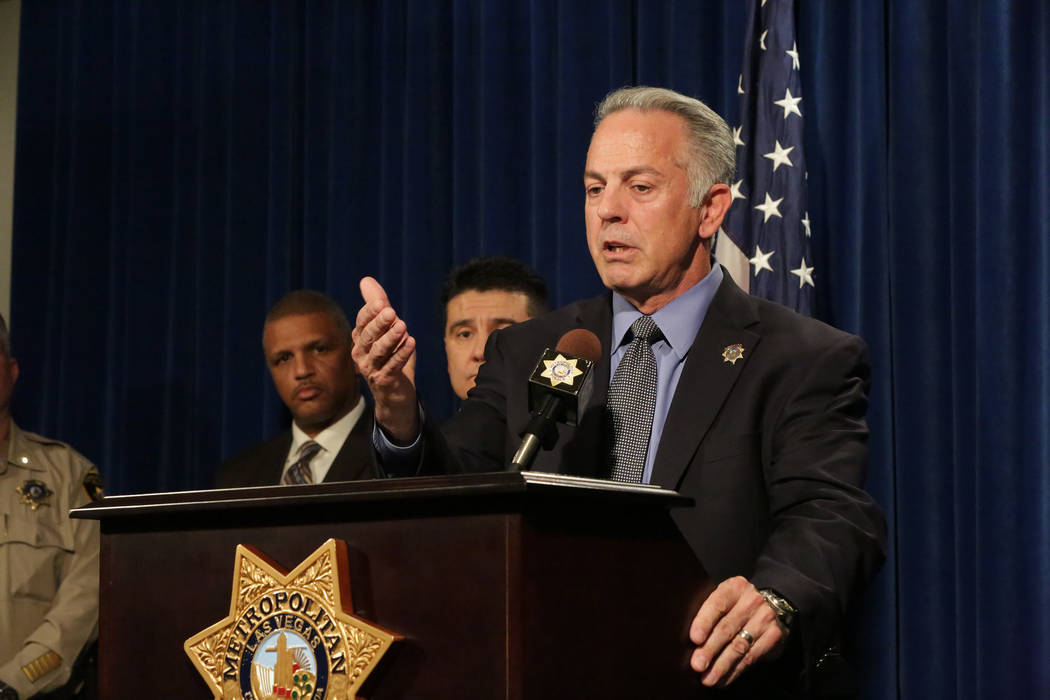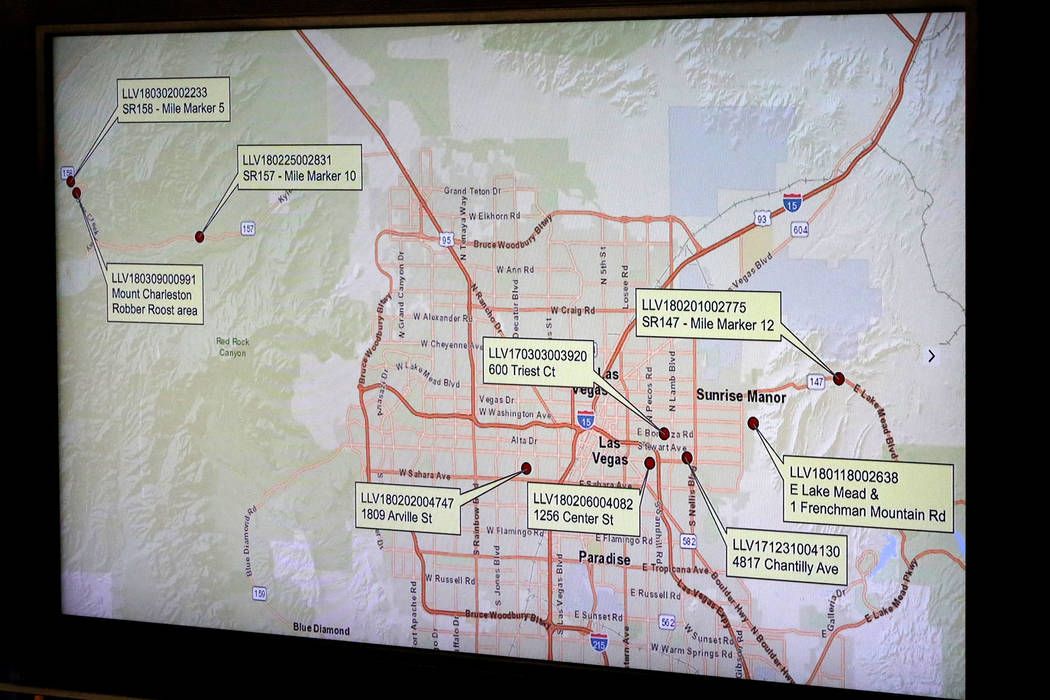 Five members of the MS-13 gang were arrested in connection with a string of killings that left 10 people dead in Clark County in the past year, Las Vegas police announced Monday.
News of the arrests brought relief to Terry Towery, whose grandson Izaak Paul Towery, 23, was one of the 10 killed since March 2017.
"Now me and my wife can finally sleep at night," the 63-year-old Michigan man told the Las Vegas Review-Journal on Monday.
His grandson left a friend's house Feb. 9 to walk home and was never seen alive again.
It would be weeks before his body was found by a hiker near Mount Charleston on Kyle Canyon Road. Like several others, Izaak Towery was dumped in a remote area and had injuries that indicated a violent death. At least six of them were kidnapped before they were killed, police said.
Towery died of multiple sharp force wounds, according to the Clark County coroner.
On Saturday, Cindy Towery told the Review-Journal that she had spent the weeks since her grandson's death questioning whether she would ever find out who killed him.
"We are anxious to hear of an arrest," she said.
Her answer came two days later.
Towery's suspected killers are being held on immigration-related charges. The case has been turned over to the U.S. attorney's office, and other charges recommended by police include kidnapping, assault with the intent to commit murder and first-degree murder.
MS-13 has ties to Central American countries and the California prison system. Lt. John Leon of Metro's gang unit said it isn't unusual for MS-13 members to be in Clark County, because "transnational gangs go from city to city."
One of the five suspects in federal custody is a juvenile, police said at Monday's news conference. Three are from El Salvador, and one is from Honduras. Metro did not release their names.
Metro originally identified eight suspects, but three were cleared and have provided "vital information" to the investigation, Sheriff Joe Lombardo said.
Under the radar
For nine months, MS-13 operated quietly under Metro's radar, killing two in 2017, police said.
The case was opened after detectives linked two January homicides that happened "in close proximity with many similarities," homicide Capt. Robert Plummer said.
On Jan. 18, officers with Metro's search and rescue team were looking for hikers on Frenchman Mountain. They instead found 21-year-old Carlos Anton Pashaca-Rodriguez, a former member of MS-13. He died of multiple gunshot wounds to his head and multiple stab wounds.
Arquimidez Sandoval-Martinez, who knew Pashaca-Rodriguez, was interviewed by homicide detectives in connection with his death. A few days later, police said, Sandoval-Martinez went missing.
Two weeks later, on Feb. 1, his body turned up in a desert area east of Las Vegas, near Lake Mead Boulevard and Pabco Road. The circumstances of his death mirrored Pashaca-Rodriguez's.
"I do want the public to know that this investigation has been a priority for this agency for the last several months as we made connections between the victims and their killers," Lombardo said.
Forensic evidence helps case
"Sometimes a weapon isn't used again for a long period of time, so the connection might not be as obvious," Metro spokeswoman Carla Alston said.
In Metro's case, MS-13 didn't reuse the same weapon from the 2017 homicides until Earl Ryan, 26, and Rony Pashaca-Fuentes, 18, were killed. Their bodies were found this month dumped at Mount Charleston.
Forensic evidence collected during the investigation of their disappearances showed that the gun used in the killings was related to the gang and the 2017 cases, Plummer said.
Detectives arrested the five suspects while they were driving on Jones Boulevard on March 2.
"Our homicide detectives later learned that when the suspects were stopped, they were on their way to commit another murder," Plummer said.
During the investigation's warranted searches, Plummer said, police found an AR-15, semiautomatic pistols and shotguns.
All but one of the 18 recovered weapons were stolen in Metro's jurisdiction, police said. The other was stolen in Henderson.
MS-13 in Clark County
There are fewer than 50 documented members of MS-13 in Clark County, said Leon, the gang unit lieutenant.
Metro's gang unit will continue to support the homicide team and investigations into MS-13, Leon said.
"The suspects involved in these crimes are extremely violent and killed their victims over as little as identifying with another gang or participating in street-level narcotics sales," Lombardo said.
On Monday, police were confident that the case is closed, all victims have been identified and all the "suspects involved have been located and arrested," Lombardo said.
Between January and March, Metro worked with the FBI, the U.S. attorney's office and law enforcement agencies in Los Angeles and Fresno, California, to build their case against the gang members.
"This has required immense dedication and hard work by our homicide detail and our gang unit," Lombardo said.
"They were able to piece together a case in three months, which is a short period of time with an investigation of this magnitude."
A kind heart with a sense of humor
Terry Towery said he spent a lot of summers taking care of his grandson.
As a kid, Izaak Towery loved fishing and playing pranks. He had a great sense of humor, and he was a flirt, his grandfather said.
"He had long blond hair and blue eyes, and he knew how to bat those eyes," his grandfather said Monday, laughing. "Even waitresses loved him when I would take him to restaurants."
At that memory, Terry Towery laughed a little harder before letting out a long sigh.
"I'm just glad the case is closed," he said.
Contact Rio Lacanlale at rlacanlale@reviewjournal.com or 702-383-0381. Follow @riolacanlale on Twitter.
The victims and where they were killed. pic.twitter.com/53xH2cz3Gk

— Rio Lacanlale (@riolacanlale) March 26, 2018
Crime scenes
1. March 3, 2017: Daniel Clark, 29, is shot to death on the 600 block of Triest Court, near Bonanza and Sandhill roads. Police believed at the time that the shooting was drug-related.
2. Dec. 31, 2017: Richard Gaudio, 38, is killed in a drive-by shooting as he sets off fireworks in his driveway at 4817 Chantilly Ave., near Charleston and Nellis boulevards.
3. Jan. 18, 2018: A search and rescue helicopter looking for lost hikers spots the body of Carlos Anton Pashaca-Rodriguez near Frenchman Mountain. Police said was stabbed several times and shot in the head twice.
4. Feb. 1, 2018: A Nevada Wildlife Department game warden finds the body of Arquimidez Sandoval-Martinez near Pabco Road and East Lake Mead Boulevard. Sandoval-Martinez appeared to have been stabbed to death.
5. Feb. 2, 2018: Juan Carlos Raya, 34, is gunned down as he walks on the 4200 block of El Parque Drive, near Arville Street.
6. Feb. 6, 2018: Jose Hernandez, 50, and Ricardo Olivas, 46, are shot to death and another is wounded in a neighborhood near Charleston and Pecos Road.
7. Feb. 25, 2018: A hiker finds 23-year-old Izaak Paul Towery's body near Kyle Canyon Road. Investigators believe he was stabbed to death about a month earlier.
8. March 2, 2018: Earl Ryan, 26, is found stabbed to death in an area near Hilltop Campground at Mount Charleston.
9. March 9, 2018: Rony Pashaca-Fuentes, 18, is found shot to death near Robber's Roost trail at Mount Charleston.
Blake Apgar/Las Vegas Review-Journal