Desert Pines football star mourned after Halloween killing
Updated November 3, 2023 - 10:06 am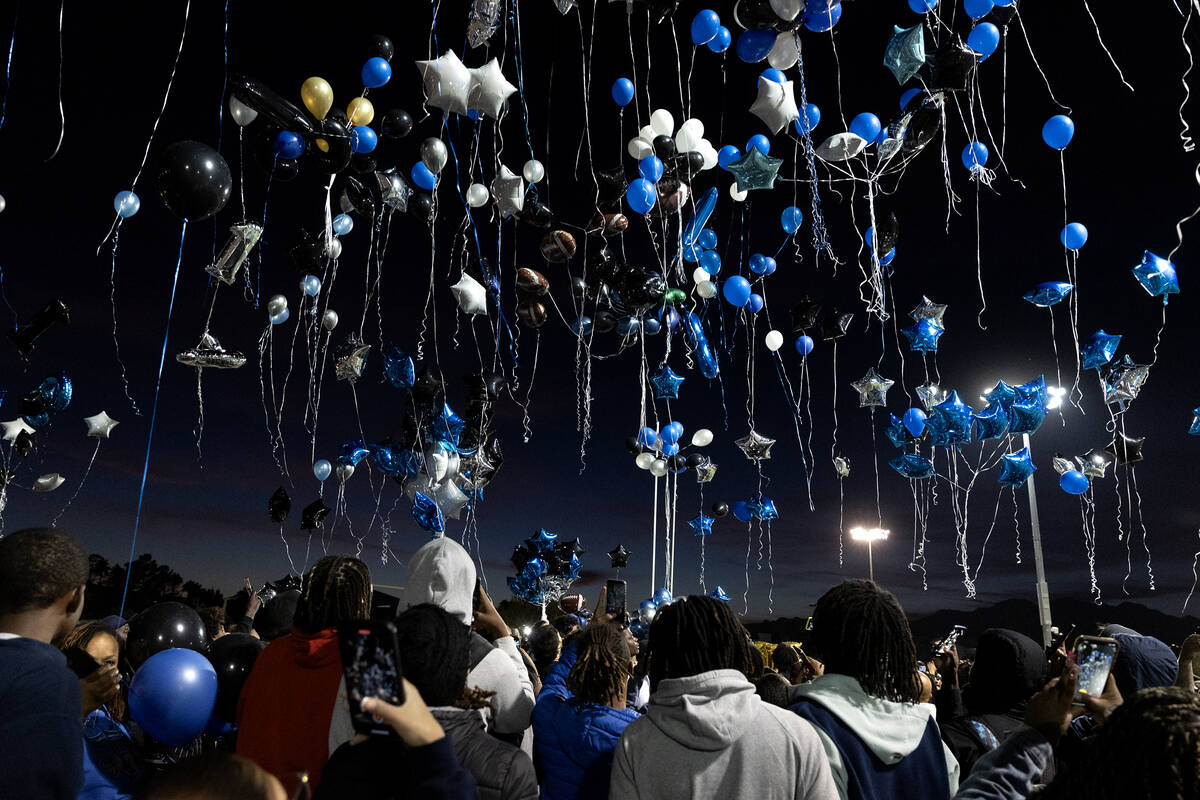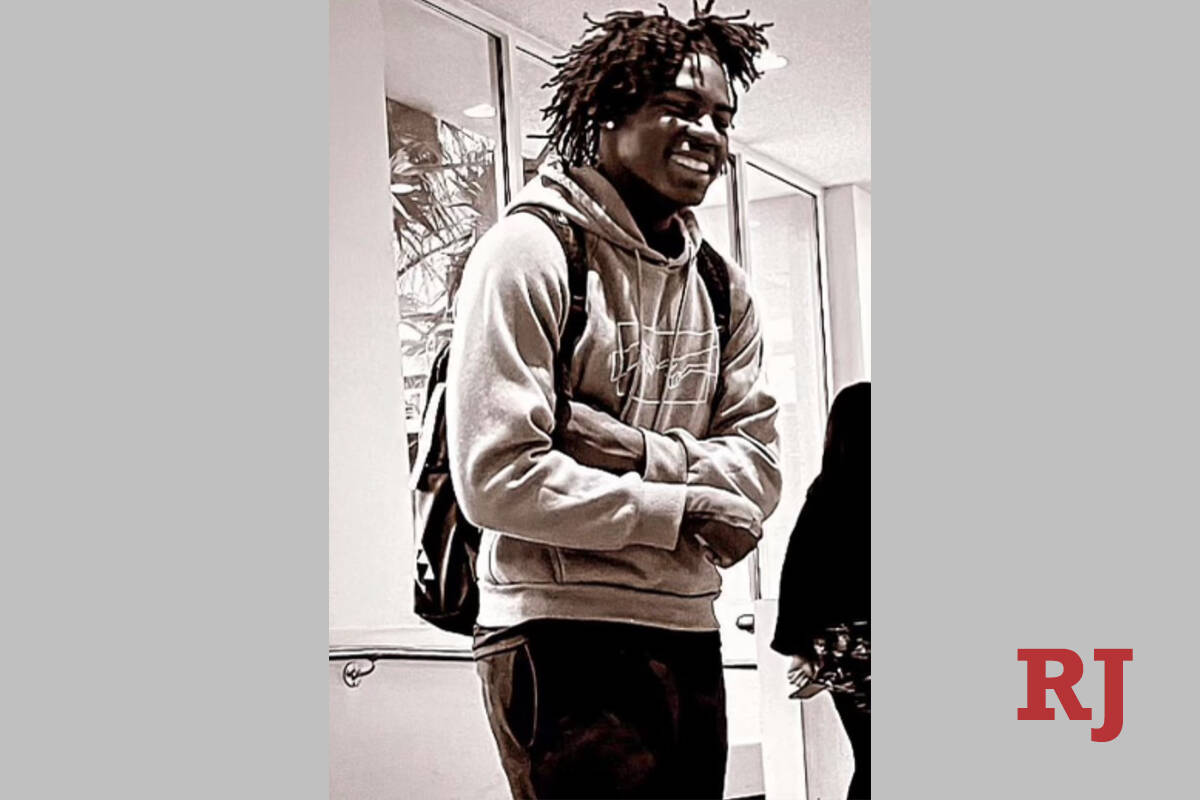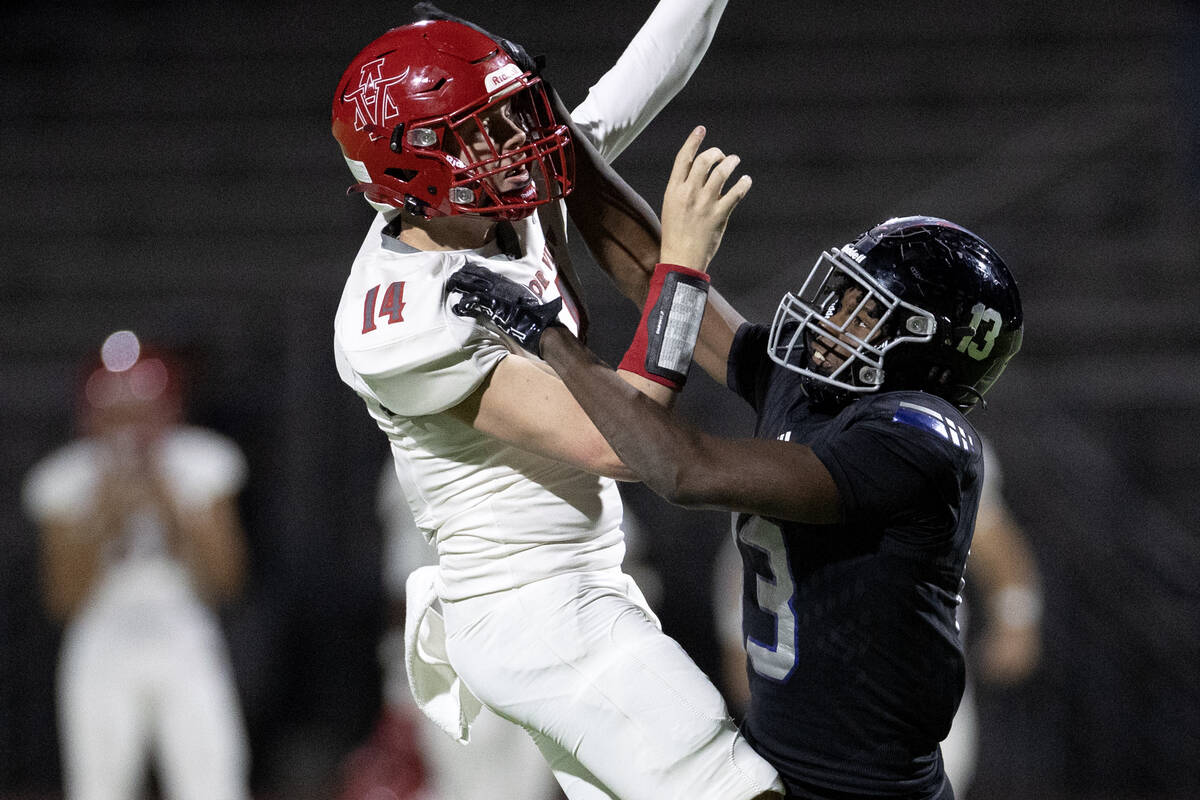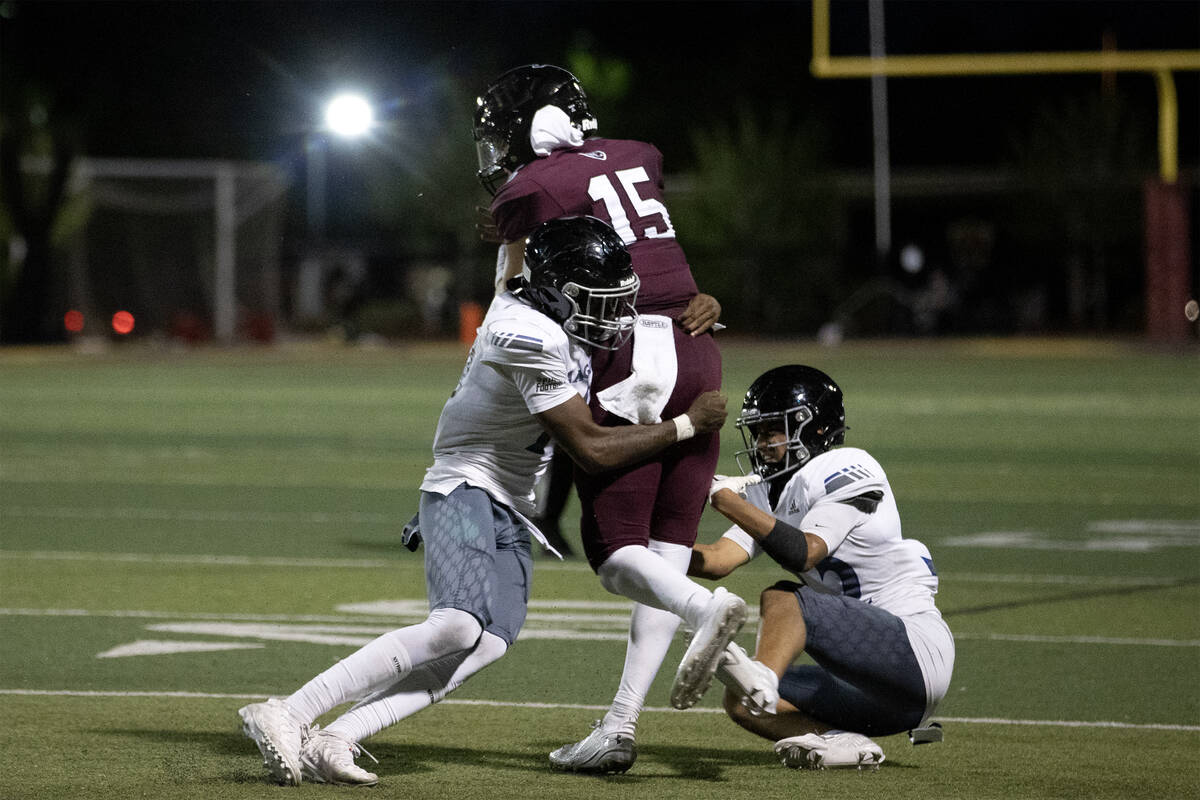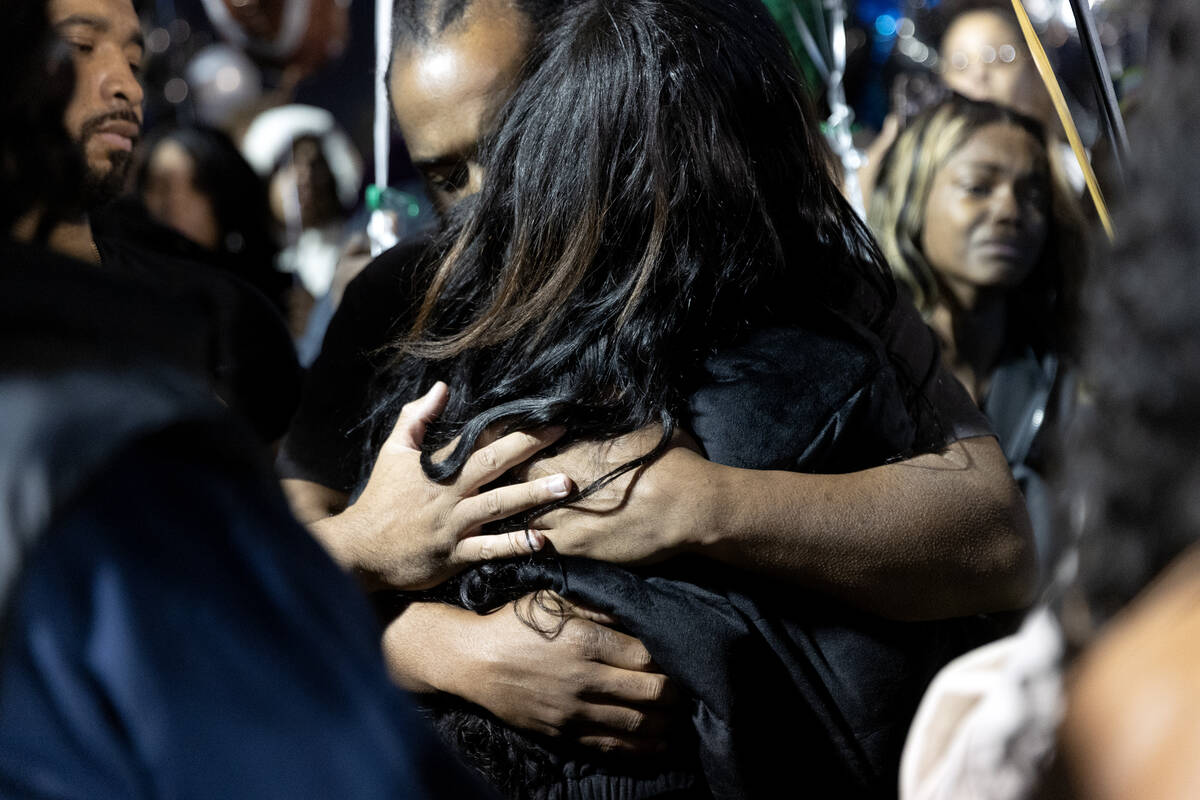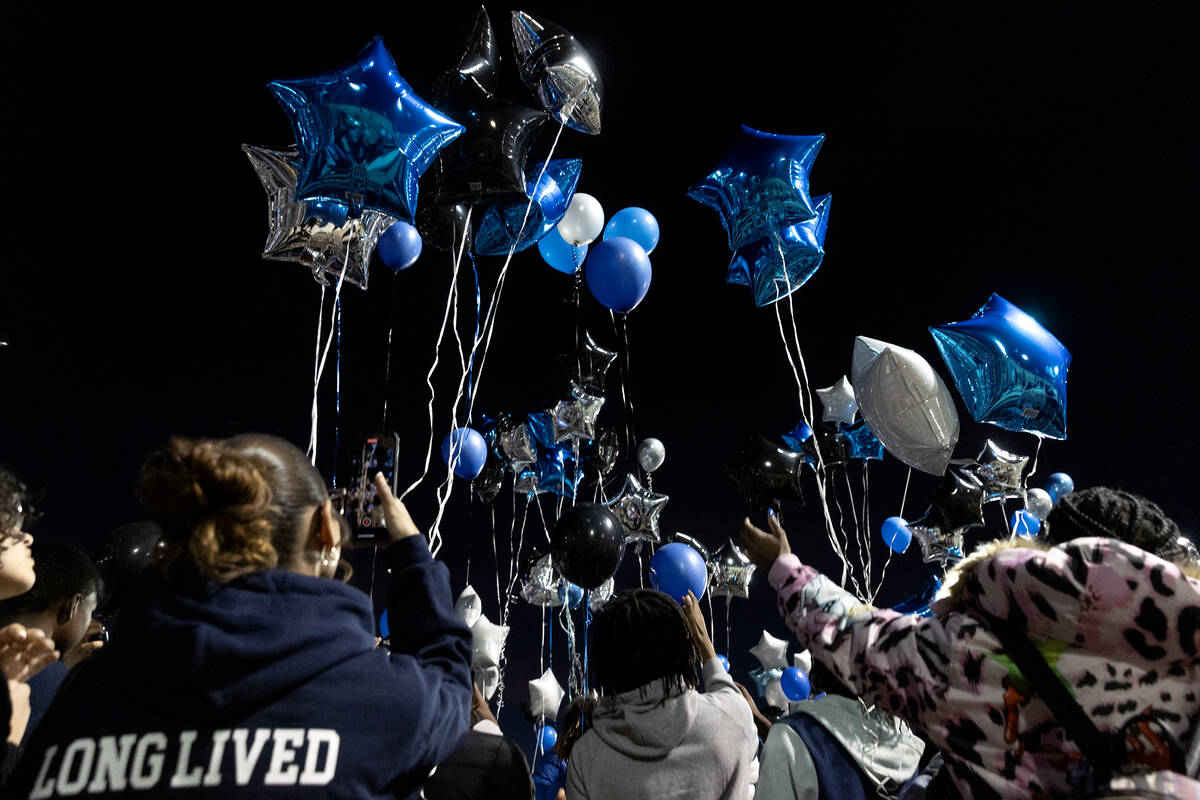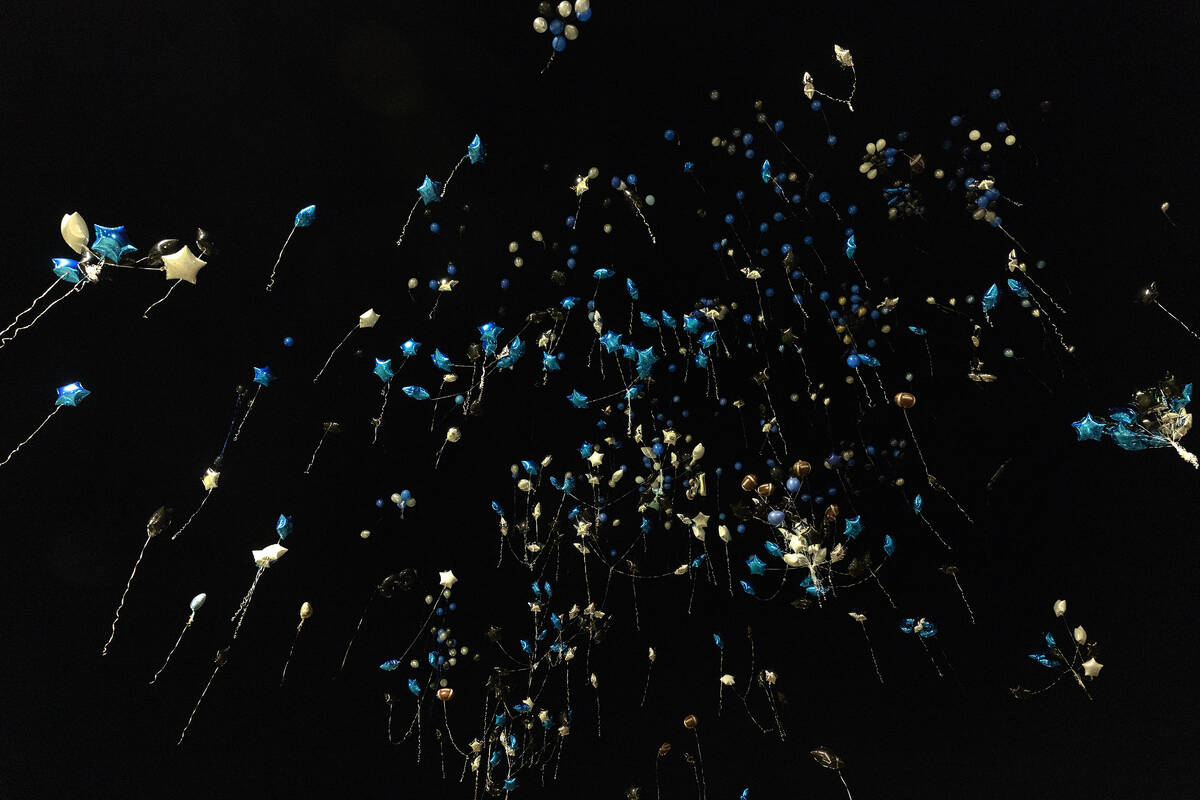 Hours before the shooting death of Se'Mauri Norris-Johnson on Halloween night in North Las Vegas, his high school football coach was talking about him with a coach of the University of Georgia football program.
Tico Rodriguez, head coach for the Desert Pines Jaguars, spoke about how Norris-Johnson, a linebacker who just completed the 2023 season as a junior, could be a great prospect for Georgia with another year of development as a senior.
"He had all the traits and the skill set they were looking for," said Rodriguez, 50, who is in his 10th year as head coach at the school. "This was his breakout year, where he put it all together."
On Wednesday, a day after the 17-year-old Norris-Johnson was killed, "a lot of the kids were in shock" after hearing about it, and Desert Pines brought in crisis managers to assist them in dealing with the tragedy, Rodriguez said.
"As an individual, this kid was beloved," the coach said. "In the three years I have seen him, I have never seen him upset. All of the teammates rallied behind him. He was always the positive guy on the sideline."
— Tico Rodriguez (@ticorod39) November 2, 2023
The North Las Vegas Police Department said Norris-Johnson was among several teenagers wearing ski masks who quickly exited a vehicle at about 9:45 p.m. Tuesday in the 6100 block of Shadow Oak Drive and approached two other teens who were trick-or-treating.
One of the trick-or-treaters then fired a gun at the group, hitting the football star, who died soon after emergency crews arrived, according to police.
The trick-or-treaters fled the scene and remain at large, according to North Las Vegas police Officer Brian Thomas.
It is still unclear why Norris-Johnson and the other masked juveniles approached the trick-or-treaters or if anything was done or said before the shooting.
Detectives have asked residents in the area of the shooting, near the intersection of Shadow Oak and Spotted Pony drives, to provide any information about the trick-or-treaters, including home security camera footage of them at houses or walking in the neighborhood.
The two were described as male juveniles. Police said one wore all black clothing and a black ski mask and carried a red backpack, while the other wore a white "Scream" mask. Both also wore blinking lights while roaming the streets that night.
At Desert Pines, Norris-Johnson grew into an accomplished athlete in football and track. As an inside and outside linebacker for the Jaguars, he was second on the team in tackles and was selected to the second team all-division, Rodriguez said.
In his final game last week against Coronado High, he logged 10 tackles and one sack, according to MaxPreps.
"He was our field linebacker, and he had safety skills," Rodriguez said. "He was a very versatile player."
The teen also excelled at track, competing in the 100- and 200-meter dashes and 400-meter relay races this year. He came in second place in the 400-meter dash at the Richard Lewis Invitational meet at Moapa Valley High School in Overton on March 31, according to MileSplit NV.
"Things don't make sense sometimes," the Jaguars team posted on X, formerly known as Twitter. "Gone too young but never forgotten. Our love to friends, family and loved ones hurt by this tragedy. Rest in love kid."
The official X accounts of Las Vegas Valley high school football teams, including Durango, Centennial and Legacy, all posted tributes to Norris-Johnson.
"We are with our family at DP this doesn't make sense!!!," wrote Desert Pines' women's basketball team. "We will be playing for you Se'mauri!!! Rest in love!!"
'Turn yourself in'
About 100 people gathered Thursday night at All American Park, near Charleston Boulevard and Buffalo Drive, to release balloons in memory of Norris-Johnson.
The group counted to 13, Norris-Johnson's jersey number, before releasing dozens of blue, silver, white and black balloons into the night sky.
Maureisha Johnson held back tears as she spoke to members of the media about her son.
"He's always been my protector and he always will," she said as her voice broke.
Norris-Johnson's grandmother LaVette Anderson stood by her daughter's side and relayed a clear message.
"Turn yourself in," Anderson said, addressing the shooter.
Family, friends and teammates gathered in a tight circle on the edge of one of the park's football fields. The sounds of nearby youth football teams practicing accompanied the prayers and tears of those gathered.
Young football players in pads and helmets briefly stopped practice to look up at the balloons floating up and out of view.
Roy Otis coached Norris-Johnson at the youth level and recalled his smile, energy and ability to see the good in all things.
"He was smaller, still very raw. New to the game," Otis said of first coaching Norris-Johnson. "We had a very good team at the time and he took his lumps early on."
A few weeks back, Otis marveled at his former player's development as he made several great plays against Bishop Gorman High School, where Otis now works on the coaching staff.
"It's amazing to see his growth," Otis said.
Those with information about the shooting may report it to the North Las Vegas Police Department at 702-633-9111 or, to remain anonymous, contact Crime Stoppers at 702-385-5555 or crimestoppersofnv.com.
Contact Jeff Burbank at jburbank@reviewjournal.com or 702-383-0382. Follow @JeffBurbank2 on X.