Embattled judge boots victims' family, threatens to have RJ reporter arrested
August 16, 2016 - 9:29 pm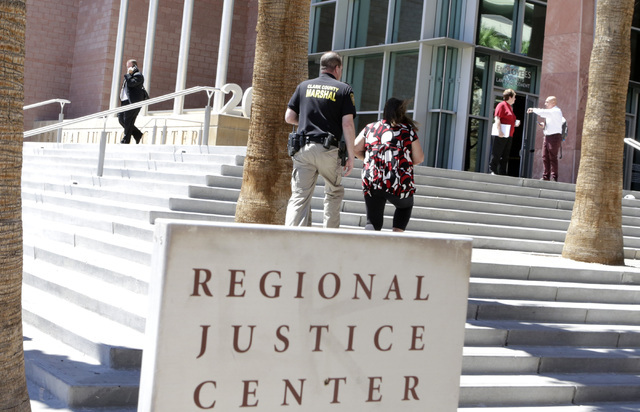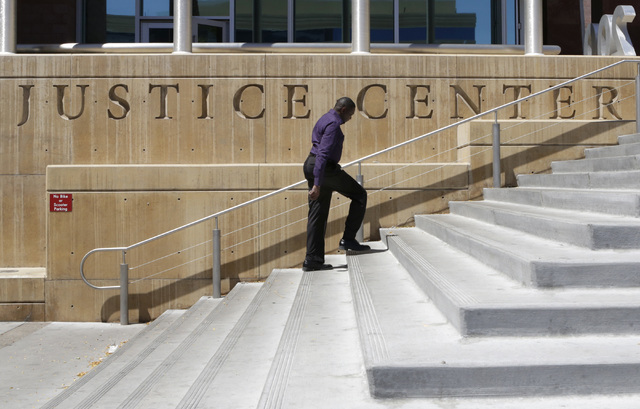 A judge serving his last few months on the bench ejected relatives of murder victims from his courtroom Tuesday and threatened to have a Las Vegas Review-Journal reporter arrested during an otherwise routine hearing.
Las Vegas Justice of the Peace Conrad Hafen, who lost his bid for re-election in June after the newspaper reported a series of stories about his decision to handcuff a deputy public defender in his courtroom, also refused to give a Review-Journal photographer access to the courtroom, even though television news cameras were allowed in.
The judge's marshal specifically instructed the newspaper's reporter not to use a cellphone in the courtroom for any purpose, even audio recording, which is typically permitted throughout the Regional Justice Center. The marshal said the reporter would be handcuffed and taken into custody if he used the phone. Meanwhile, several others in the courtroom continued to operate cellphones.
"Courts are presumed to be open and obligated to be fair," said Review-Journal Editor J. Keith Moyer. "The Review-Journal will aggressively contest any attempt to limit public access to our justice system."
A lawyer for the Review-Journal, Maggie McLetchie, plans to file further court documents asking the judge for camera access at future hearings in the murder case.
"Judge Hafen improperly denied the Review-Journal the ability to take photographs, despite the fact that other people were allowed to take photographs," McLetchie said. "He improperly denied the ability to audio record, and he also improperly denied the public access to open court proceedings. All these issues are at odds with case law and Supreme Court rules, making clear how important the public and media access to courtrooms and court proceedings are. We hope he changes course so the public and the media have full access to the proceedings."
Relatives of the two victims, 45-year-old Mario Jimenez and 27-year-old Angelica Jimenez, stood in the hallway outside the courtroom, unsure why they were prohibited from observing the arraignment.
The victims were left to die in a burning east valley home in November. They were zip-tied, duct-taped, stabbed repeatedly and doused in gasoline before being lit on fire, according to an arrest report.
Defendants Malik Watson, 27, Darrin Rafael Wilder, 26, and Hakim Rydell Blanche-Jones, 26, pleaded not guilty Tuesday to murder, kidnapping, arson, burglary and robbery charges. Las Vegas police said Watson was extradited last week from Philadelphia.
Hafen came under fire from defense attorneys after Deputy Public Defender Zohra Bakhtary was ordered handcuffed while attempting to represent a client in May.
Bakhtary was left to sit silently alongside a jury box in handcuffs while her client was sent to jail for six months on a larceny charge.
In a contempt order that later was thrown out by another judge, Hafen wrote that Bakhtary displayed "disorderly, contemptuous or insolent behavior" and that he had "asked defense counsel on numerous times/occasions to not interrupt" him while he was issuing his decision.
Bakhtary has said she was not trying to argue with the judge. She was released from the handcuffs after about three minutes, after the judge declared that she had "learned a lesson."
On Tuesday, the judge did not give representatives of the Review-Journal a chance to be heard regarding the use of a camera or cellphone at the hearing.
The Nevada Supreme Court Rules on Electronic Coverage of Court Proceedings address cameras inside courtrooms.
"News reporters desiring permission to provide electronic coverage of a proceeding in the courtroom shall file a written request with the judge at least 24 hours before the proceeding commences, however, the judge may grant such a request on shorter notice or waive the requirement for a written request," the rules state.
In addition, the rules state that "there is a presumption that all courtroom proceedings that are open to the public are subject to electronic coverage."
The Review-Journal's reporter submitted camera access papers to the judge shortly before Tuesday's hearing.
In denying the newspaper's request, Hafen wrote that the reporter failed to provide "good cause" for filing the request on short notice.
A Justice Court media request form suggests that the document be filed within 72 hours of a hearing.
The Supreme Court rules also carve out exceptions for the use of cellphones in court.
"It will be understood that these devices will be used only for accurate transcriptions of the court proceedings, and are not to be used for broadcast," the rules state. "Use of an electronic device without permission, other than as described in this rule, may result in the confiscation of the device."
Civil rights lawyer Allen Lichtenstein, who is not involved in the case, said Hafen was "wrong on several counts" and that public access to courtrooms helps guarantee fair hearings.
"Secret justice is no justice at all," Lichtenstein said. "We've learned that through history. When the public has the opportunity to see how our system works, it operates as a check on abuse. … The default position is that in this country, our court system should be open for scrutiny."
Contact David Ferrara at dferrara@reviewjournal.com or 702-380-1039. Find @randompoker on Twitter.