Erich Nowsch gets 14 to life for gunning down Tammy Meyers in Las Vegas
December 22, 2016 - 3:20 pm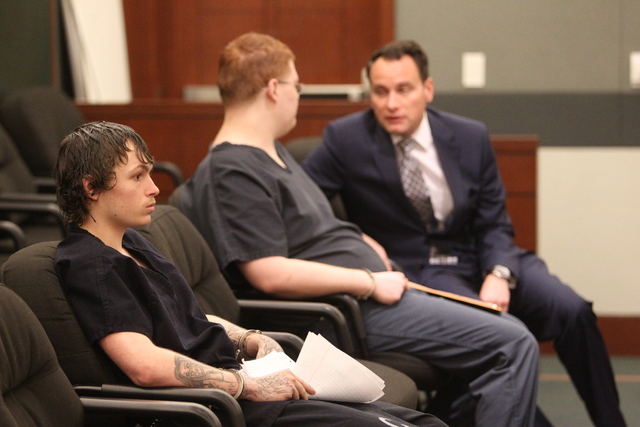 Bob Meyers plans to bury his wife Tammy's ashes in the new year, almost 23 months after the 44-year-old mother of four was gunned down in front of their Las Vegas home.
He and other family members wept Thursday as they watched a judge send admitted killer, 21-year-old Erich Nowsch, to prison for 14 years to life. The getaway driver, 28-year-old Derrick Andrews, was ordered to serve 5 to 15 years behind bars.
"We're going to try to have the best Christmas we can have," Bob Meyers said, following a nearly two-hour hearing. "After this closure, we're going to get a better day every day."
Moments earlier, after Nowsch told District Judge Michael Villani he was "not ready" to be sentenced, marshals led him sobbing and shackled out of the courtroom, with Andrews, also in chains, following silently behind.
"I've never been in trouble my whole life," Nowsch shouted.
Villani said the slaying stemmed from "one of the worst chain of events this community has seen."
Andrews was behind the wheel of a silver 2000 Audi A6 from which Nowsch fired 24 shots, striking Meyers, a mother of four, in the head on Feb. 12, 2015, while she stood in the cul-de-sac in front of her northwest valley home, according to prosecutors. She died two days later.
Chief Deputy District Attorney David Stanton called Nowsch "an active and ongoing threat" with "repeated homicidal ideations."
International media were drawn to the shooting almost immediately because initial reports described a road rage incident that led to Tammy Meyers' death. When the story unfolded, reporters and readers began to question the circumstances. And in some cases, the news reports turned out inaccurate.
Prosecutors have said the woman was the victim of mistaken identity. Nowsch confessed to the killing during a police interrogation about a week after Meyers died. Nowsch told a homicide detective he thought he was shooting at people who had threatened him and his family. He later said he was high at the time of his confession.
Nowsch told police he was in a park across the street from Johnson Junior High School when he noticed a green car that seemed to be following him. He said he thought the car was carrying people who had threatened him and his family.
Nowsch called friends for help, then climbed into the Audi.
Deputy Public Defender Curtis Brown said Nowsch felt he was in danger at the time.
"Fear is the reason we're all in this mess in the first place," Brown told the judge Thursday.
On the fatal night, in her otherwise quiet neighborhood, Meyers was in a green Buick Park Avenue with one of her sons, looking for the driver of a vehicle she believed had cut her off and threatened her.
Nowsch fired at least five shots at the Buick before Meyers drove away, authorities said, and Andrews and Nowsch then gave chase.
Meyers ultimately stopped her car outside her home, where she was caught in a hail of gunfire. Her son returned fire with his own pistol but hit no one.
In court, Andrews apologized to the victim's family, pleading for mercy.
"I'm not going to make excuses for what I did," he said. "I take full responsibility for my actions."
His lawyer, Josh Tomsheck, said the defendants knew each other through a party and were not close.
"There's only one defendant in this case who pulled the trigger," Tomsheck said.
Bob Meyers called both Andrews and Nowsch "animals" and, turning to them in court, said "neither one of you will get my forgiveness."
In a separate incident that happened three days after the shooting, prosecutors said Nowsch held a knife to the neck of a 13-year-old boy on Feb. 15 near Alta Drive and Anatolia Lane.
He is still awaiting sentencing in that case.
Contact David Ferrara at dferrara@reviewjournal.com or 702-380-1039. Find @randompoker on Twitter.
RELATED
Man charged in killing of Las Vegas mother Tammy Meyers may get public defender
Nowsch says he was high when he confessed to Tammy Meyers killing
2 plead guilty in killing Las Vegas mother Tammy Meyers