Family grieves man shot to death near downtown Las Vegas
Updated August 21, 2018 - 11:32 pm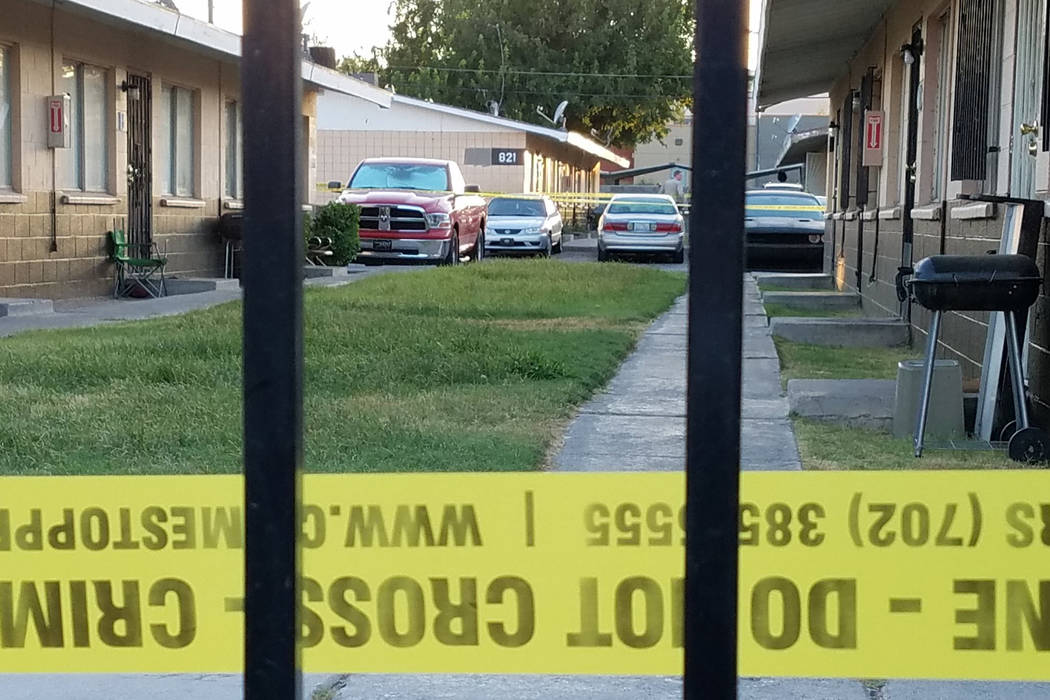 Charles Allen Flowers Jr. told his wife he would be right back home Tuesday evening. He never returned.
Flowers, 29, was shot to death in the parking lot of an apartment complex north of downtown Las Vegas.
Family grieved him late Tuesday outside the yellow tape that cordoned off the complex at 825 W. Lake Mead Blvd., near H Street. Among them were the man's wife and his sister, who identified him.
"He kissed me on my cheek and then he left," said his wife, Kibrea Greenwood, who leaned into her uncle and cried.
Police received a call about gunshots at about 6:15 p.m., Metropolitan Police Department homicide Lt. Ray Spencer said, and authorities found Flowers suffering from gunshot wounds in the parking lot, where he died.
Greenwood, 22, arrived home Tuesday evening at the Sherman Gardens on J Street to find her husband on the phone.
"He was like, 'I'll be back," Greenwood said.
She went outside to smoke a cigarette. A woman Greenwood didn't know approached her and told her that "Chuck" had been shot. Greenwood grabbed her daughter and son, and the woman drove them to the scene on Lake Mead.
Flowers previously lived at the complex and had friends there, Greenwood said.
His oldest sister, Quintanette Sharperson, will miss her brother, who loved cooking and his tattoos, she said.
"He was just a funny cat that wanted to make everybody laugh," his 31-year-old sister said.
Sharperson visited Flowers on his July 14 birthday, when he handed her a cake container and asked for a cake. He sent her a reminder text last weekend saying, "I want my damn cake," Sharperson said.
"I owed him a cake; I know that much," she said. "Now he can't get the cake."
At nearby Doolittle Park, people danced to drumbeats and children played basketball, while family and passersby gathered near the crime scene.
Spencer said police likely will return to the scene Wednesday near the same time of the shooting to identify possible witnesses. Detectives had not identified any witnesses or suspects as of late Tuesday, Spencer said. Police also were looking for security footage.
Spencer urged anybody with information to call the homicide section at 702-828-3521. People who wish to remain anonymous can call Crime Stoppers at 702-385-5555.
"We need the public's help to help us solve (this) and make their community safer," Spencer said.
Flowers' death marked the 134th homicide investigated within Clark County and the 113th investigated by Metro this year, according to Las Vegas Review-Journal records.
Contact Mike Shoro at mshoro@reviewjournal.com or 702-387-5290. Follow @mike_shoro on Twitter.