Friends at East Las Vegas vigil remember man killed in shooting
Updated November 24, 2018 - 9:21 pm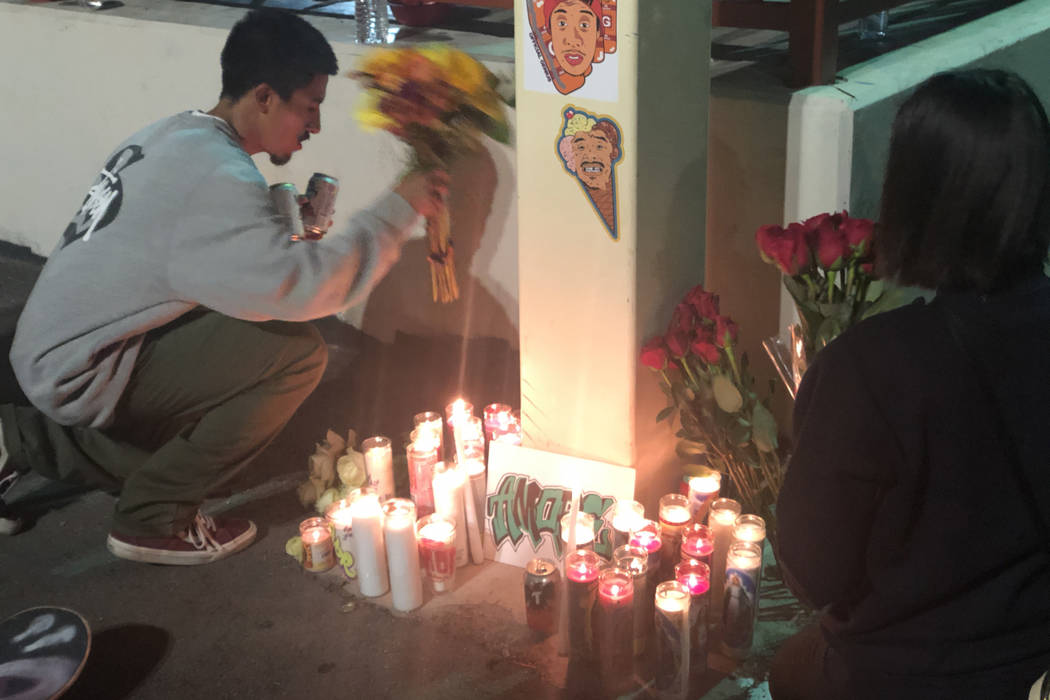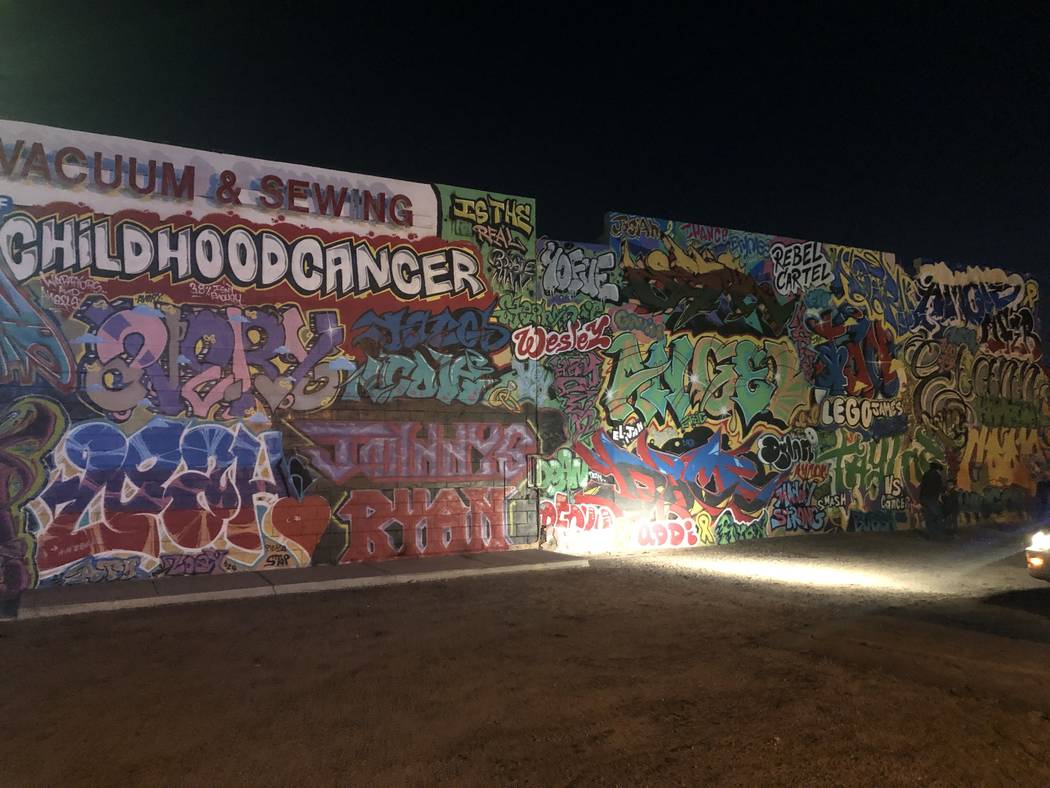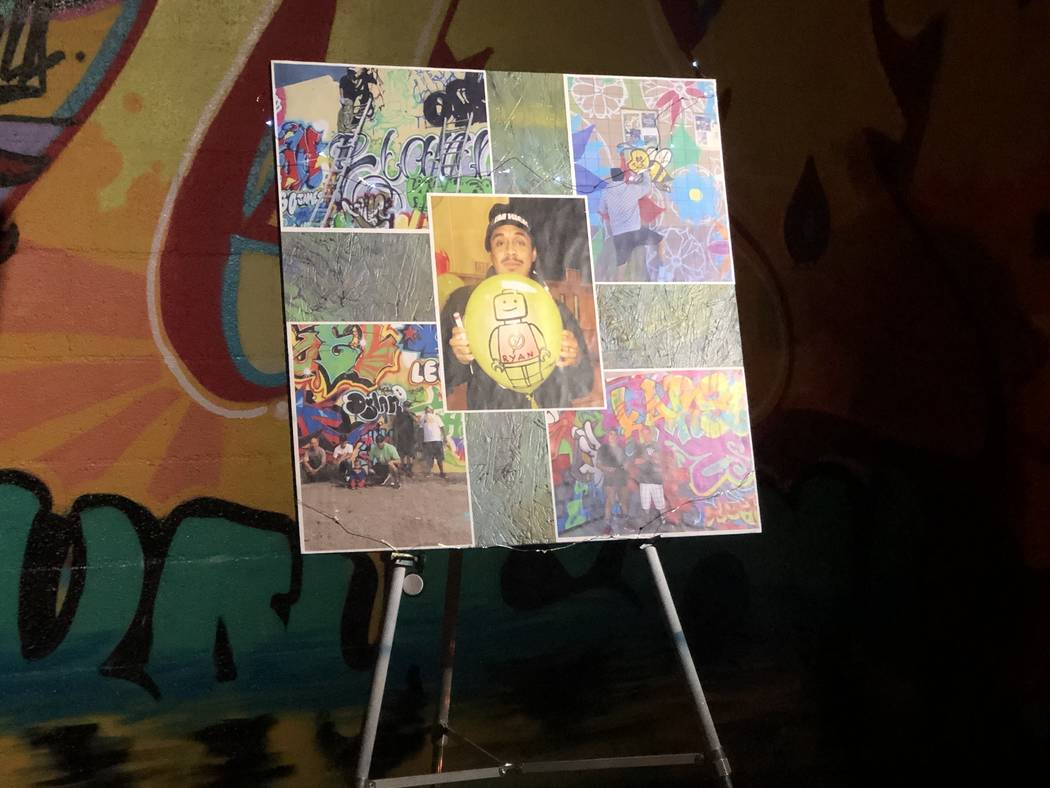 The sounds of skateboard wheels on asphalt echoed through the east Las Vegas parking lot as a circle of people raised beer bottles and plastic cups in remembrance of their friend Friday night.
By 8 p.m. about 200 people gathered in the parking lot of the skateboard park at the Winchester Cultural Center to remember George Campoverde, who died in what police called a "domestic-related" shooting Wednesday night.
"All these people here prove that he wasn't a bad person," Campoverde's 30-year-old brother Juan Valenzuela said. "Yes everyone has their flaws, it's normal. But at the end of the day he meant no harm."
Police were called about 8:20 p.m. to a home on the 5900 block of Belcastro Street, near south Tenaya Way and West Russell Road, after a report of an "altercation" between a man and a woman, Metropolitan Police Department homicide Sgt. Matthew Sandford said Wednesday. Shortly after that report, police received a 911 call from the scene reporting a shooting.
When police arrived, they found Campoverde, 29, lying in the home's driveway suffering from a gunshot wound. He was taken to a hospital, where he later died, Metro Sgt. William Matchko said Wednesday.
Sanford said a man in his 50s was detained for questioning in the shooting and was cooperating with police.
Sanford did not confirm the relationship between the two men Wednesday night but said they had a verbal and physical fight before the shooting. Police had not released additional information about the shooting as of Saturday.
The woman and her family did not immediately return requests for comment Saturday.
On Wednesday night, police said they didn't know if Campoverde was armed. Police have received two domestic violence-related calls to the home in the past year, but the calls didn't involve the shooter, Sanford said.
Valenzuela said Campoverde would do anything for his stepdaughter, Ruby, and 9-month-old daughter, Luna.
On Friday night, a sign with the word "amore" in graffiti lettering was taped on a wall, and a skateboarder spray painted his board with the word.
Valenzuela said that Amore is the middle name of Campoverde's daughter.
"He loved those kids," Valenzuela said. "He stuck it out for them."
On Saturday night, a woman who helped organize a second vigil remembered Campoverde's kindness in helping a childhood cancer group.
That event took place Saturday night at Hinson Street and Charleston Boulevard in the central valley, where Campoverde helped paint a graffiti mural with the names of children with canceron the side of a building.
Azalea Sanchez, who helped organize the vigil, said Campoverde assisted the organization Childhood Cancer is the Real Boogieman, whose members spray-paint the murals, for about three years.
Sanchez, whose 4-year-old son was diagnosed with brain cancer at 9 months, said she considered Campoverde part of her family.
"George came right around that time," the 32-year-old said. "I don't know what made him want to do it, but he was there for everything."
Sanchez said her friends and the parents of the children for whom Campoverde painted murals will miss him. "He made his mark here on a skateboard and with a spray can," she said.
Contact Katelyn Newberg at knewberg@reviewjournal.com or 702-383-0240. Follow @k_newberg on Twitter.