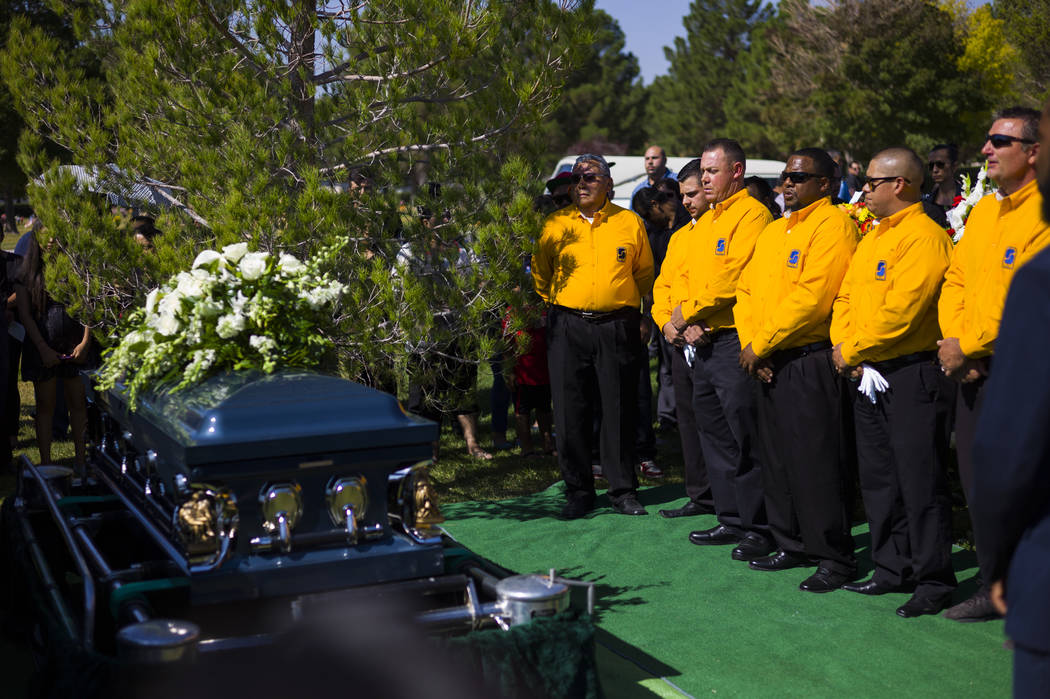 They road-tripped from Southern California, or jetted from as far as Massachusetts or Canada, bound to see their favorite country musicians play on the Las Vegas Strip.
Most of the 58 people whose lives were claimed when a gunman opened fire into a crowd of thousands at a country music festival last week were from outside of the Las Vegas valley.
But before their bodies could be laid to rest in their hometowns, their families had to find a way to get them there.
"It's not something people think about, but in reality, people pass away and they need to go home," said Frank Kaiser, president and co-founder of the Indiana-based Eagle's Wings Air.
In addition to Kaiser's company, funeral homes and airlines have been working to help families get their loved ones' remains home.
Kaiser's company announced last week that after being contacted by the cargo divisions for American, Delta, Southwest and United airlines, it was coordinating efforts to waive all transportation charges for victims of the shooting at the Route 91 Harvest Festival.
The company handles the logistics of booking flights to transport bodies by aircraft, which typically costs at least $500 for flights within the U.S.
Funeral homes certified by the Transportation Security Administration prepare a body for flight and work directly with the air carrier to transport the body.
Once the local funeral home has a signed death certificate from the coroner's office, it can coordinate with the receiving funeral home and schedule a flight with the airline, said Kevin Ferm, a managing partner at Bunkers Mortuary in Las Vegas.
Air transport
Funeral homes bring the body — which flies in the cargo division of commercial flights — to and from the airport. Eagle's Wings Air can usually schedule a flight in under an hour after receiving a case, Kaiser said.
Las Vegas hosts more than 40 million visitors a year, and the valley's population is packed with transplants. Inevitably, people from out of state die while they're here and their bodies or cremated remains need to be sent home.
Eagle's Wings Air assists with transporting bodies from Las Vegas "each and every day," Kaiser said.
Of the 35 to 55 families Bunkers Mortuary works with each month, Ferm estimated three or four need help transporting a body.
TSA allows passengers to bring cremated remains on a flight, but there are special container instructions for carry-on bags. The agency also suggests passengers check with their airline about restrictions for putting cremated remains in checked bags.
"You've don't know it, but you've probably been on 10 different flights where the body of someone's loved one was being flown," said Jim Olson, owner and funeral director of Olson Funeral Home and Cremation Service in Sheboygan, Wisconsin.
Transporting a body abroad usually costs at least $1,000, Kaiser said. Crossing international borders also means much more documentation and coordinating with a consulate, Ferm said.
Bunkers Mortuary worked with families of two shooting victims from the Route 91 Harvest Festival shooting — one local and one from California, Ferm said.
All 58 of the Oct. 1 shooting victims' bodies were released by the Clark County Coroner by Oct. 6.
Ryan Bowen, owner of La Paloma Funeral Services, started a GoFundMe account to raise money for funeral services of shooting victims, no matter what funeral home families use. Simple Cremation, a sister company, is providing cremation services for the victims at no cost to their families.
Bowen was on a plane heading toward Las Vegas when he learned of the shooting. He sent a text message to the coroner, offering his staff to help in any way needed.
"As a local provider, I feel like this community built my business," Bowen said. "We're only 11 years old and we depended on the Vegas community. I needed to do what I could, when something traumatic affected so many people."
Contact Jamie Munks at jmunks@reviewjournal.com or 702-383-0340. Follow @JamieMunksRJ on Twitter. Contact Michael Scott Davidson at sdavidson@reviewjournal.com or 702-477- 3861. Follow @davidsonlvrj on Twitter. Reporter Briana Erickson contributed.