Guard found dead near southwest Las Vegas construction site may have tried to stop robbery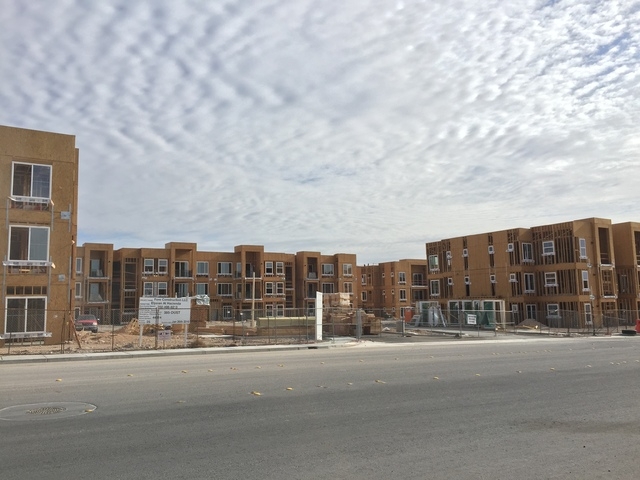 A security guard was found shot several times in the head at a southwest valley construction site early Wednesday, just 4 miles from where a Lee's Discount Liquor cashier was robbed and fatally gunned down about a week earlier.
Police said the guard, Mark Santee, 48, was working the night shift late Tuesday at an under-construction apartment complex on the 5100 block of South Jerry Tarkanian Way, near Russell Road and the 215 Beltway, when he may have tried to thwart a robbery.
Metropolitan Police Department homicide Lt. Dan McGrath said people sometimes scour construction sites for appliances or anything valuable. At least one person — maybe a group — may have been doing so before Santee happened upon them or confronted them.
A fight followed, and McGrath said Santee "tried to fight back," evidenced by his many defensive wounds. But it ended when either one person or a group unloaded rounds into Santee's head.
Officers found his body about 12:30 a.m. after the guard's company called police and reported him missing from the site. Detectives later called the company to say he had been killed.
Santee had been working nights as a security guard for several years, his mother, Alice, 68, said. He had been married for about 30 years and had three daughters, all in their 20s, whom his mother said "were his life."
"It was a shock to all of us," she said. "He was just doing business, just taking care of what he was supposed to be taking care of. He just ended up running into some bad people."
His mother said his loss is especially hard, because about a year ago, the family lost Santee's younger brother, Michael, to an undiagnosed brain tumor. She said Santee took care of her and the family after his loss.
"He was a great kid," she said, her voice breaking. "He had a great personality, always had a smile on his face. He just lived his life."
As of Wednesday afternoon, no suspect or suspects had been identified.
Though Santee's death happened near to the fatal Lee's Liquor shooting — for which police had no updates Wednesday — Metro spokeswoman Laura Meltzer said detectives are not connecting the two.
"The victimology is very similar; these are people that are not engaging in risky behavior," she said of Santee and the Lee's cashier, Matthew Christensen, 24. "You've got people that are simply going to work or supporting their families or supporting themselves."
But on the surface, the offenders are quite different, she said.
"When you go into a place of business where you know where people are present, and you go in there intending to commit a robbery, guns drawn," she said of the liquor store shooting, "that is very different. This is a site that's under construction, where the suspects may or may have not known someone was there."
This was Metro's 62nd homicide this year. Anyone with information on the shooting is urged to contact Metro at 702-828-3521 or Crime Stoppers at 702-385-5555.
Contact Rachel Crosby at rcrosby@reviewjournal.com or 702-387-5290. Follow @rachelacrosby on Twitter.