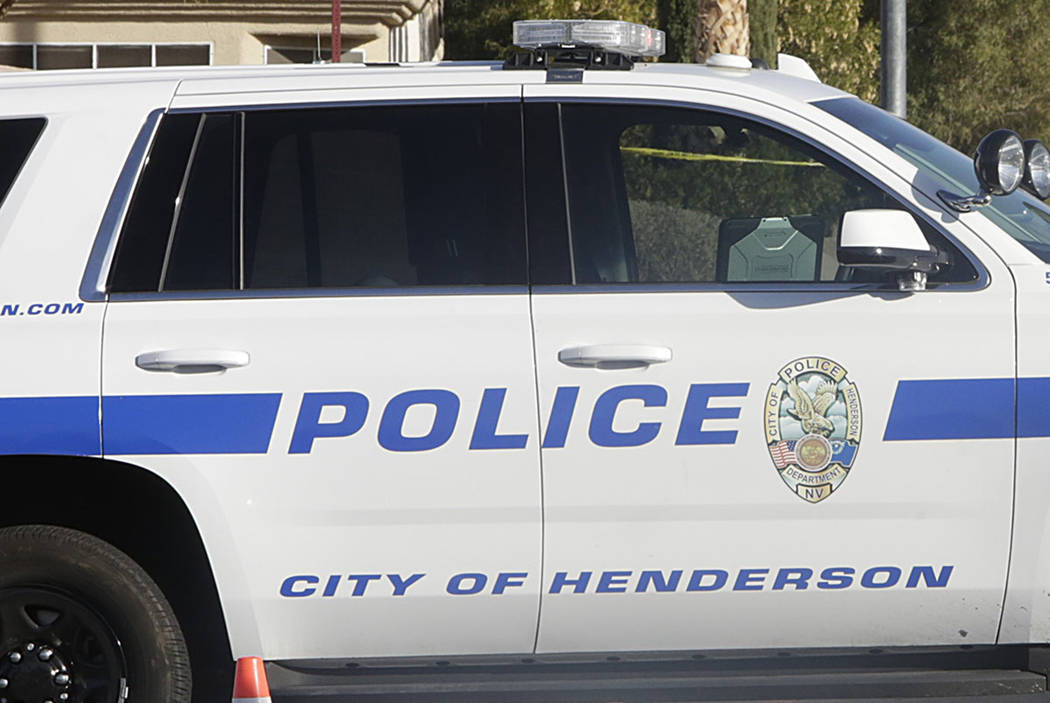 A man's body was rotting inside a woman's Henderson trailer, and police learned of the corpse only after receiving a tip on an unrelated call, police documents show.
Henderson patrol officers who were on the 1300 block of East Warm Springs Road on April 17 on a drug call were alerted of a possible body inside a woman's residence on the 1800 block of Ward Drive, near East Sunset Road and Boulder Highway.
Approaching the motorhome's rear door, officers noted a smell consistent with a decomposing body, arrest documents said.
They entered the trailer and found 49-year-old Dustin Keith Callison's body was in "advanced stages of decomposition," the documents said. It was unclear how long his body had been there.
Henderson Police Department arrest documents indicate the woman living in the trailer had an active arrest warrant out of Henderson Municipal Court. Police arrested her on her warrant, and she told them a man, later identified as Callison, was dead with a stab wound inside her trailer.
Police accused Edward Keane Johnson, 22, of murder in connection with Callison's death. They booked him into Henderson Detention Center, where he remained Thursday night.
The woman told police Callison had been staying at her place and was meeting a man — who police later determined to be Johnson — inside for a drug deal. Johnson, however, later told officers he was there to return two sets of car keys. The two men fought, and she told police she left the trailer in fear of a police response and subsequent arrest for her warrant.
The woman said she later came home to find Callison dead inside and Johnson gone. She then called Johnson, who she said gave "vague and confusing" responses to her questions, the documents show.
Investigators found Callison's body next to a broken wooden table stand with blood on the legs. The Clark County coroner's office determined he had been stabbed to death.
Arrest documents and call records indicate Metropolitan Police Department had stopped Johnson about 12:25 a.m. April 29 for smoking marijuana on the Strip. He gave officers a fake name because he had an active arrest warrant from Indiana for escaping, the documents said. Metro recovered a knife on him during a pat-down; Henderson police are examining the knife.
Officers arrested him on charges of carrying a concealed machete without a permit and lying to an officer, booking records show. However, documents indicate he was released from the Clark County Detention Center later that day.
Two days later, Henderson police arrested Johnson after receiving calls of a suspicious person trying to break into vehicles in the Seven Hills neighborhood.
He confessed to the killing in an interview with detectives, telling them he acted in self-defense, the documents said.
"Although he claimed to have only stabbed the victim after being struck by a wooden nightstand and attacked by Callison, he also conceded that he had let the situation escalate further than it needed to," according to the documents.
Johnson said he didn't call police after the stabbing due to previous "bad experiences with law enforcement," the documents said.
Detectives tracked down Johnson as a suspect in Callison's death through call records. While the woman living in the trailer knew Johnson by the name "Brandon," she was able to identify him as Johnson through photos, the documents show.
Contact Mike Shoro at mshoro@reviewjournal.com or 702-387-5290. Follow @mike_shoro on Twitter. Review-Journal staff writer Blake Apgar contributed to this report.