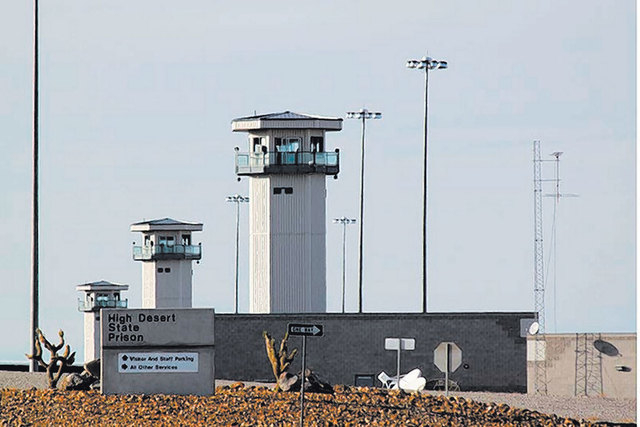 CARSON CITY — State prosecutors Monday charged a former correctional officer trainee at High Desert State Prison with two felony counts in the shooting death of a handcuffed inmate in November 2014.
Raynaldo Ramos was charged in a criminal complaint in the death of Carlos Perez, 28, who was shot and killed while handcuffed behind his back during a fight with another inmate on Nov. 12, 2014.
Ramos, 37, of Las Vegas, was charged with one count each of involuntary manslaughter, a category D felony; and performance of act in reckless disregard of persons or property resulting in death, a category C offense.
"As attorney general, I do not take lightly charging a correctional officer, but based on the available evidence, prosecutors in my office believe criminal charges are warranted," Attorney General Adam Laxalt said in a brief statement.
A summons was issued for Ramos to turn himself in, authorities said. If convicted, he could face two to nine years in prison. An appearance in Las Vegas Justice Court was not immediately set.
Ramos, who was a probationary employee, was terminated in spring 2015. Two other former correctional officers implicated in the shooting, Jeff Castro and Isaiah Smith, resigned in May 2015.
Neither Castro nor Smith were charged criminally, though internal disciplinary documents from the Nevada Department of Corrections released in a civil suit said they were culpable.
Prosecution of prison officers for use of force is rare, though not unheard of. In 2007, Paul Chaffee, a former guard at High Desert State Prison, was acquitted on a charge of battery with a deadly weapon for wounding inmate Donald Hixon during a shooting in December 2006.
The criminal charges come more than a year since the shooting at the prison about 40 miles north of Las Vegas near Indian Springs. Another inmate, Andrew Arevalo, was shot in the face but survived.
The shooting happened in a hallway in a segregation unit known as "the hole," where inmates are supposed to be kept separated because of security or safety issues.
Perez died at the scene, and the Nevada Department of Corrections reported the death the next day. But the fact Perez was shot by staff wasn't revealed until four months later when the Clark County coroner said he died of multiple gunshot wounds to the head, neck and chest and ruled his death a homicide.
Two lawsuits are pending, one filed by Perez's family, the other by Arevalo, now incarcerated at Ely State Prison. The Perez lawsuit, filed by Las Vegas attorney Cal Potter, claims wrongful death and names Ramos, Castro, Smith, the state and other prison administrators as defendants.
Arevalo's case, handled by attorney Alexis Plunkett, claims excessive use of force and negligence.
"I think from the family's standpoint, they're happy to see that something's finally happened," Potter said.
"But the concern is, what about the other two individuals that were involved in this?" he said. He shared Plunkett's question as to why no charges were filed for Arevalo's injuries.
Victor Perez, Carlos' brother, echoed his lawyer's comments.
"The others didn't help my brother when he was on the ground guzzling on his own blood," he said. "Our brother was executed."
The criminal and civil cases have taken different paths, with the attorney general's office pursuing each separately and without consultation between lawyers handling the different aspects.
Prison administration disciplinary reports unsealed last week by U.S. District Judge Andrew Gordon, who is overseeing the Perez lawsuit, put the blame for the shooting on Castro and Smith for failing to follow protocol.
Castro was singled out for allowing the two handcuffed inmates into a hallway between a shower area and their cells at the same time, a violation of segregation procedures.
"His failure to directly escort and his failure to escort one inmate at a time led to the two inmates to engage in a fight by kicking one another and elbowing one another," the report said. "This fight led another officer to fire a blank round and four live birdshot rounds at these fighting inmates which resulted in the hospitalization of inmate Arevalo and the death of inmate Perez."
That report further concluded that had Castro followed regulations "the other officer (Ramos) would not have used the shotgun to quell the fight."
Smith's employee misconduct report said he knew Castro previously moved multiple inmates at a time but failed to report the security breach.
It's unknown what kind of training Ramos underwent before assuming his role at the prison.
Hours after the shooting, Arevalo was charged administratively with murder for the death of Perez, though that charge was eventually overturned by the warden. Still, both families believe that action was an attempt to cover up facts about the shooting.
"It kind of raises more questions than it gives answers at this point," Potter said, adding the Perez family was initially told Carlos Perez died of blunt force trauma.
"But for going down to the mortuary and physically wanting to see the body … the concern is they would have never known what actually occurred," Potter said.
Victor Perez agreed.
"We definitely think it was a cover-up," he said Monday. "They wanted to see these two inmates chicken fight because it was amusing to them. And when it got out of hand they didn't handle it correctly and instead of breaking it up they worried about getting gloves and everything else."
Contact Sandra Chereb at schereb@reviewjournal.com or 775-461-3821. Find @SandraChereb on Twitter.
RELATED
Nevada to pay lawyers defending workers in deadly prison shooting
Family of dead High Desert inmate negotiates with Nevada AG