Homicide suspect escapes North Las Vegas police custody
September 2, 2016 - 5:00 pm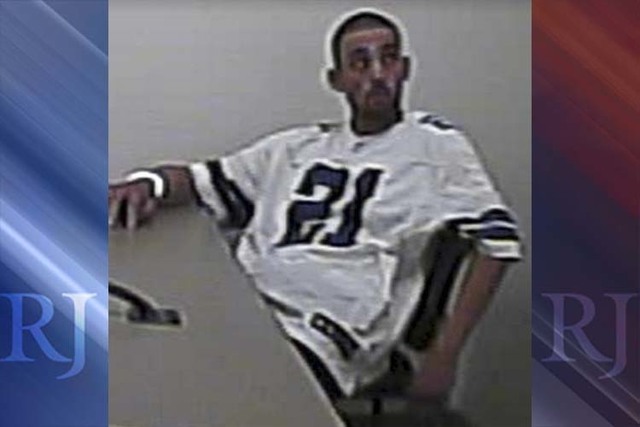 A man North Las Vegas police identified as a homicide suspect in connection with an Aug. 27 slaying escaped police custody Friday afternoon.
North Las Vegas officers arrested Alonso Perez, 25, about 10 a.m. Friday. He was then taken to the department's detective bureau at 3525 W. Cheyenne Ave., near Simmons Street, where he was placed in an interview room, still handcuffed.
About 12:45 p.m., "after the detective stepped out of the room, Perez turned the handcuffs until he broke free and escaped the building," North Las Vegas police spokesman Aaron Patty said.
Perez then stole a white 2016 Ford F-250 pickup truck with Nevada license plate 26C819 from a neighboring business and drove away. No one was injured.
It's unclear how much time passed before police realized Perez had escaped. There is no indication he stole any weapons or firearms from the building, Patty said.
Perez is linked to the shooting death of Mohammed Robinson, 31, who died last Sunday at University Medical Center after an 11:45 p.m. shooting the night before on the 3000 block of Las Vegas Boulevard North. Police did not say Friday what linked Perez to the case.
Patty described Perez as a Hispanic man, about 6-foot-3 and 200 pounds. He has black hair, brown eyes and a goatee, and he was last seen wearing dark shorts, black shoes and a white jersey with two blue stripes on each sleeve and the number 21 printed on the front and back.
Perez also has a 3-inch "Air Jordan" logo tattoo on the left side of his neck, Patty said.
Anyone with information about where Perez may be is urged to call the North Las Vegas police at 702-633-9111 or Crime Stoppers at 702-385-5555.
"If located, do not contact Perez as he is considered armed and dangerous," Patty said.
This is a developing story. Check back for updates.
Contact Rachel Crosby at rcrosby@reviewjournal.com or 702-387-5290. Follow @rachelacrosby on Twitter.