Homicide suspect who had escaped North Las Vegas police custody linked to 2 more slayings
November 23, 2016 - 5:02 pm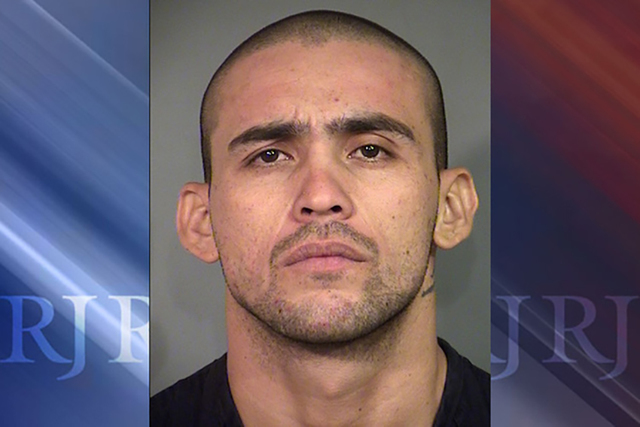 The man who escaped North Las Vegas police custody in September only to be recaptured four days later has been linked to two additional August homicides, ballistics testing shows.
Alonso Perez, 25, was initially arrested in September in connection with the fatal shooting of Mohammed Robinson, 31, just before midnight Aug. 27. While waiting to be interviewed at the North Las Vegas police detective bureau Sept. 2, Perez managed to escape, snapping his handcuffs in half, standing on a chair, shifting a ceiling tile and hoisting himself up.
Once in the ceiling, he dropped back down to the ground in a police hallway, which happened to be empty, then bolted for the door. Outside, about 100 yards away, he happened upon an empty work truck, running with the keys in the ignition and the air conditioning blasting to cool the truck down.
Perez drove away but was recaptured Sept. 6.
Police said they now believe that about three hours after Robinson was killed late Aug. 27, Perez was also involved in the Aug. 28 fatal shooting of Jeffrey Johnson, 50, which happened on the corner of Imperial Avenue and Lamont Street, near Charleston and Nellis boulevards, according to an arrest report.
At least one of the casings collected at the scene of Johnson's shooting matched the casings found in Robinson's shooting, the arrest report reads. The casings also were linked to the fatal shooting of Candelario Duran, 37, near Covey Lane and Irwin Avenue on Aug. 20 and a separate battery with a deadly weapon case on Aug. 15.
As of Wednesday, court records showed Perez was only facing additional charges for Johnson's slaying, though the arrest report in Johnson's case noted the ballistics results linking Perez's gun to the additional cases.
The night Johnson was killed, he had been at a bar with his wife and his friend. The three decided to return to the friend's house; the friend drove his truck home, and Johnson and his wife rode over on Johnson's motorcycle.
As they pulled up, all three spotted a man in the friend's backyard, who took off running once confronted. Johnson told his wife to get off the motorcycle, then drove up to the man who had run away.
The man immediately shot Johnson in the head at least twice. Johnson was still wearing a helmet. He was rushed to a nearby hospital with grave injuries and taken off life support Sept. 10.
A witness told police she had been with Perez the night Johnson was shot. The two had smoked methamphetamine together shortly before she saw Perez shoot a motorcycle rider who was still wearing his helmet because, Perez later told her, he "felt like they were out to get him, that everyone was out to get him."
A McDonald's bag and two drinks were left at the scene, and DNA on them was collected for evidence.
Perez's preliminary hearing for the Johnson case is scheduled Jan. 27.
Contact Rachel Crosby at rcrosby@reviewjournal.com or 702-387-5290. Follow @rachelacrosby on Twitter.
RELATED
'Planets aligned' for homicide suspect who escaped North Las Vegas police custody
North Las Vegas police recover vehicle stolen by man linked to homicide
Shooting victim's girlfriend dealing with double dose of heartache
Homicide suspect escapes North Las Vegas police custody