Husband's frantic 22-hour search to learn wife's fate after Las Vegas shooting
October 27, 2017 - 8:55 pm
Updated October 28, 2017 - 5:25 pm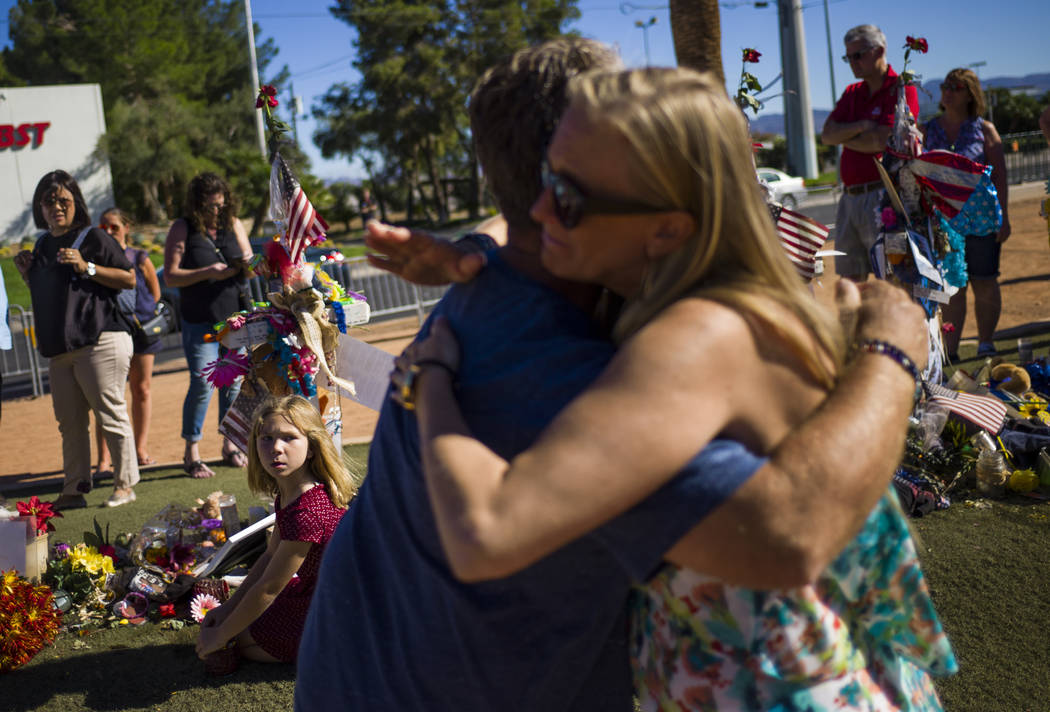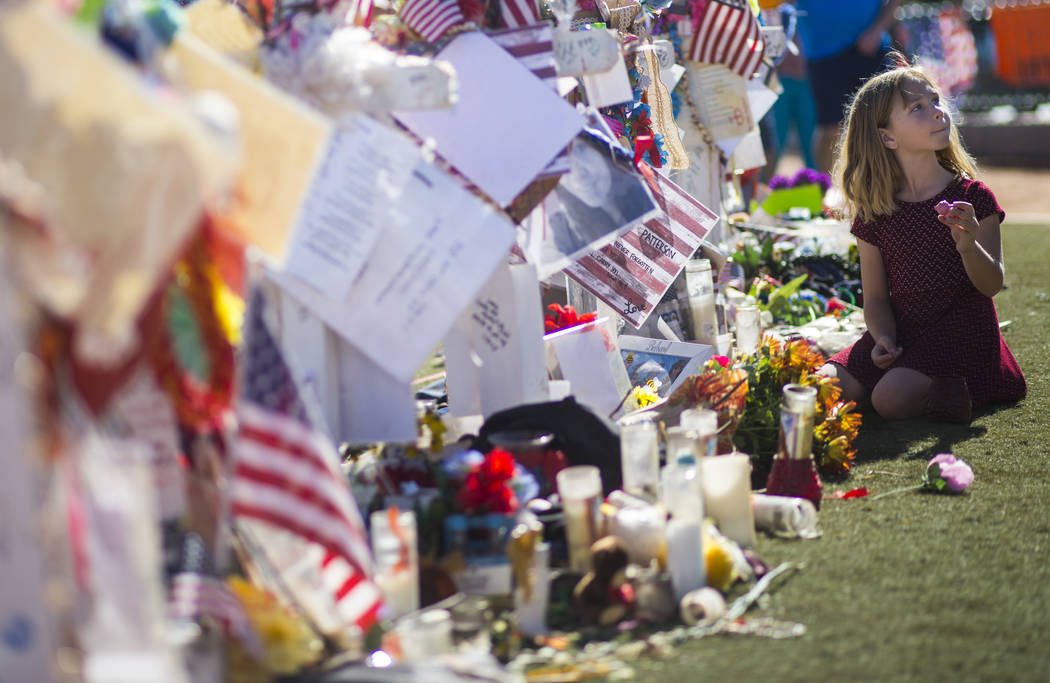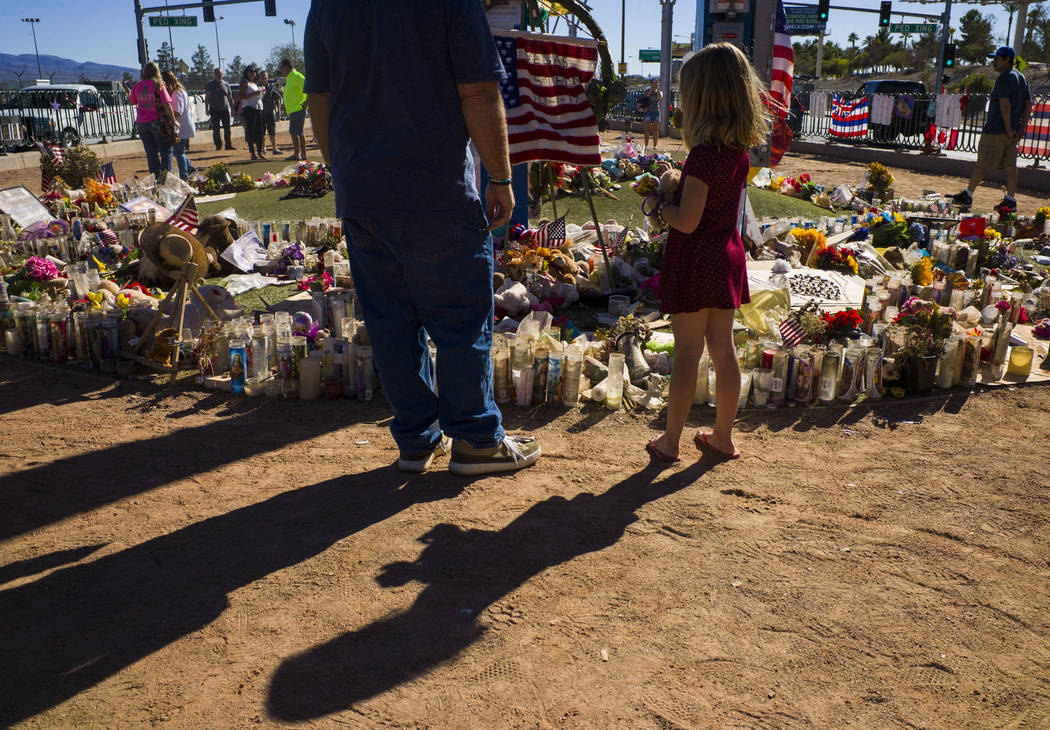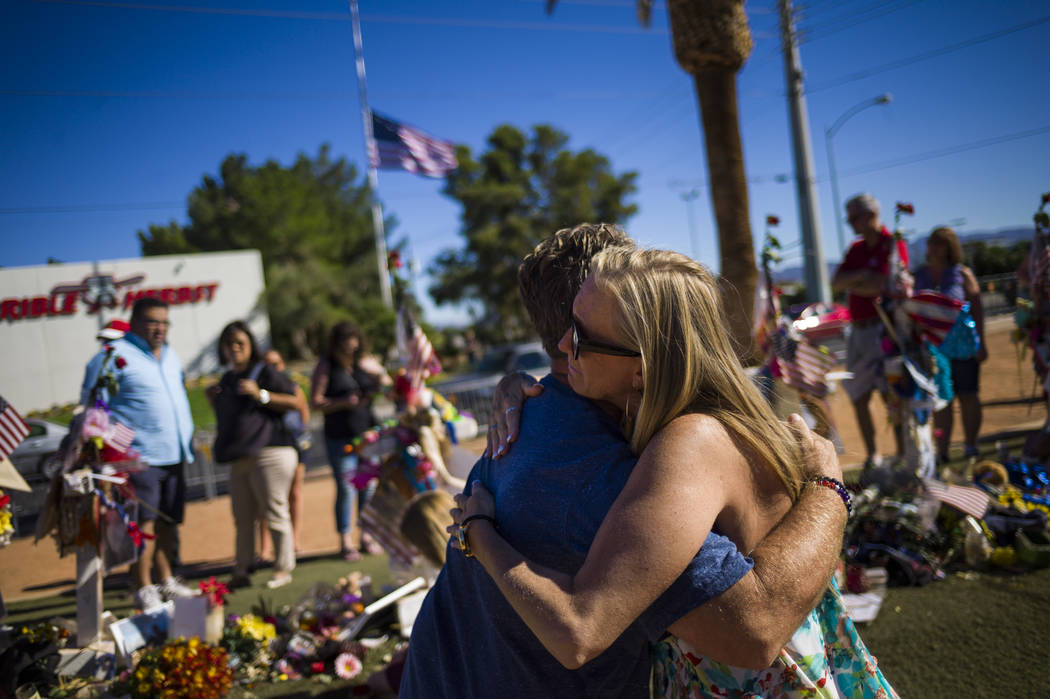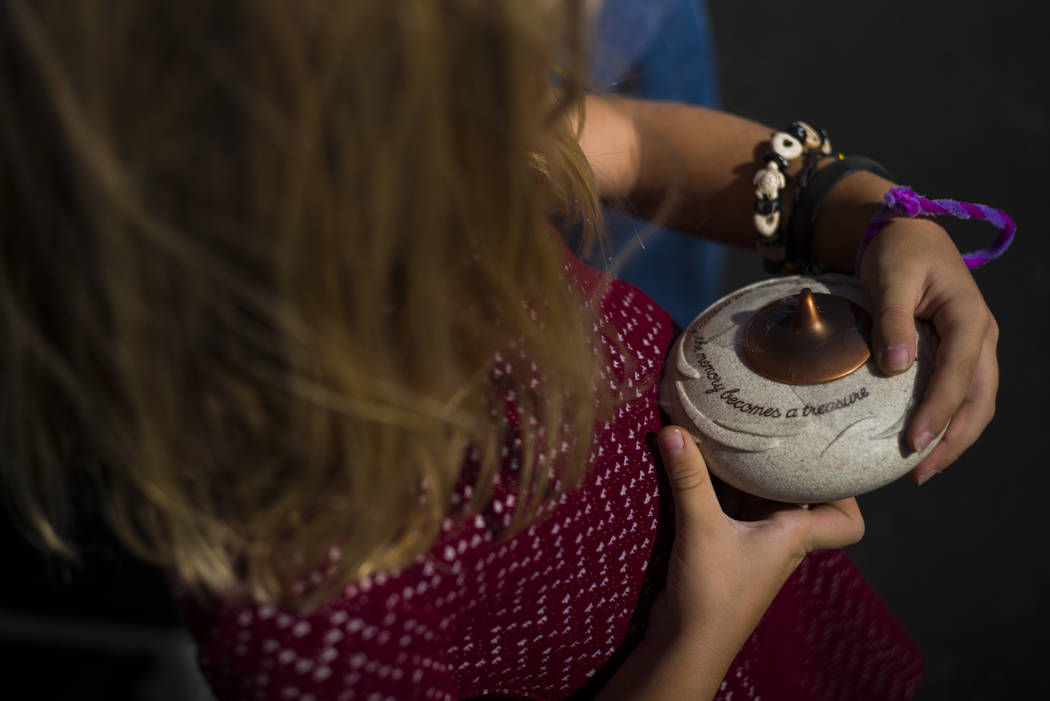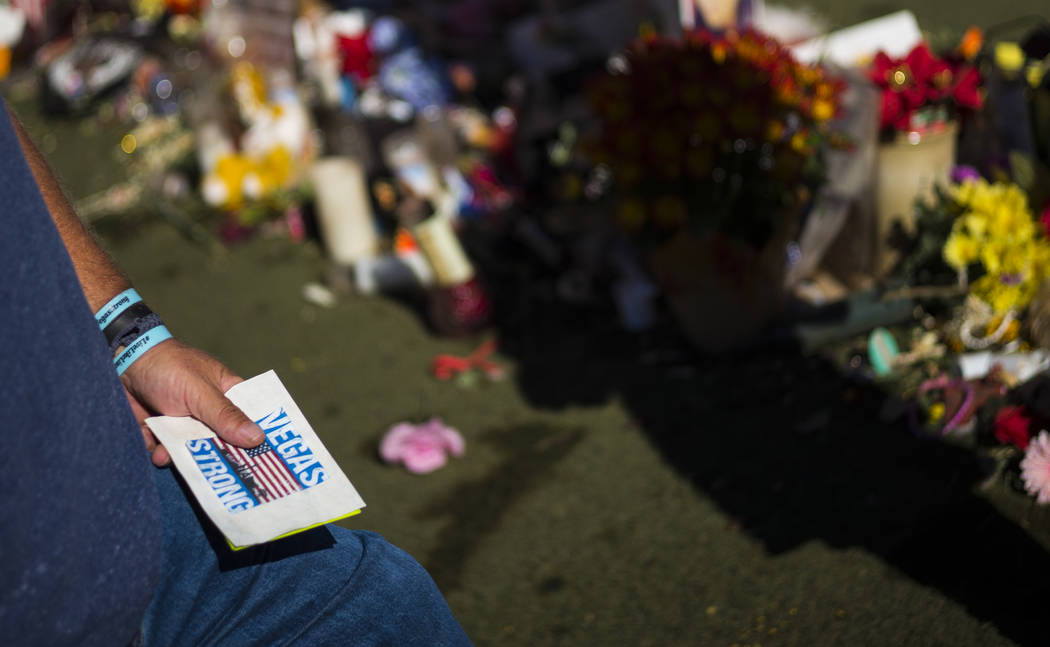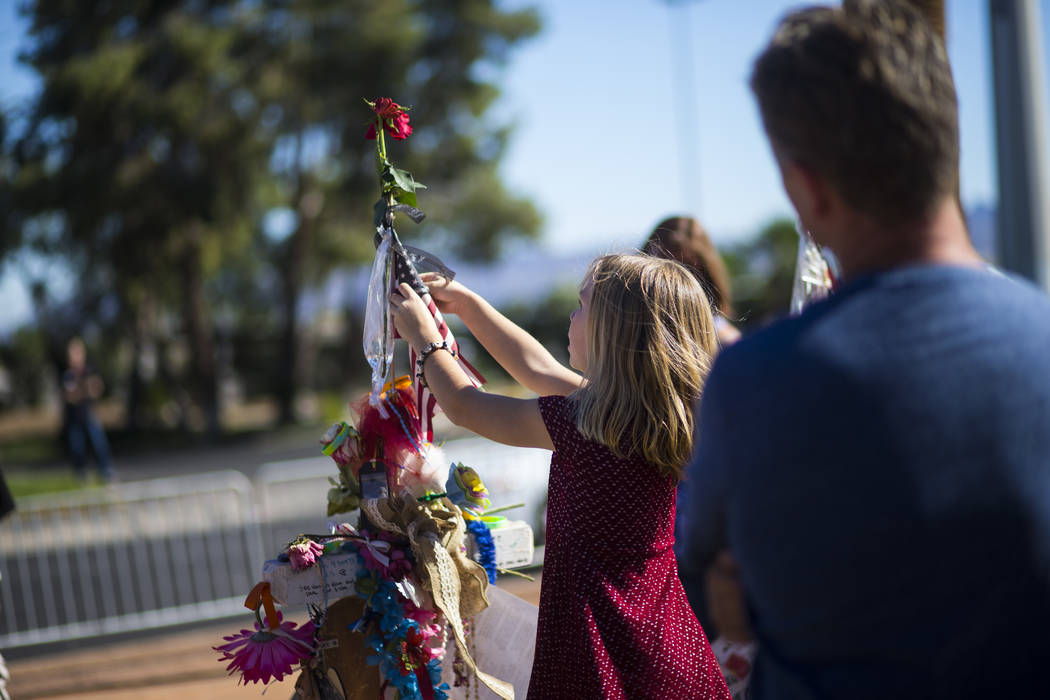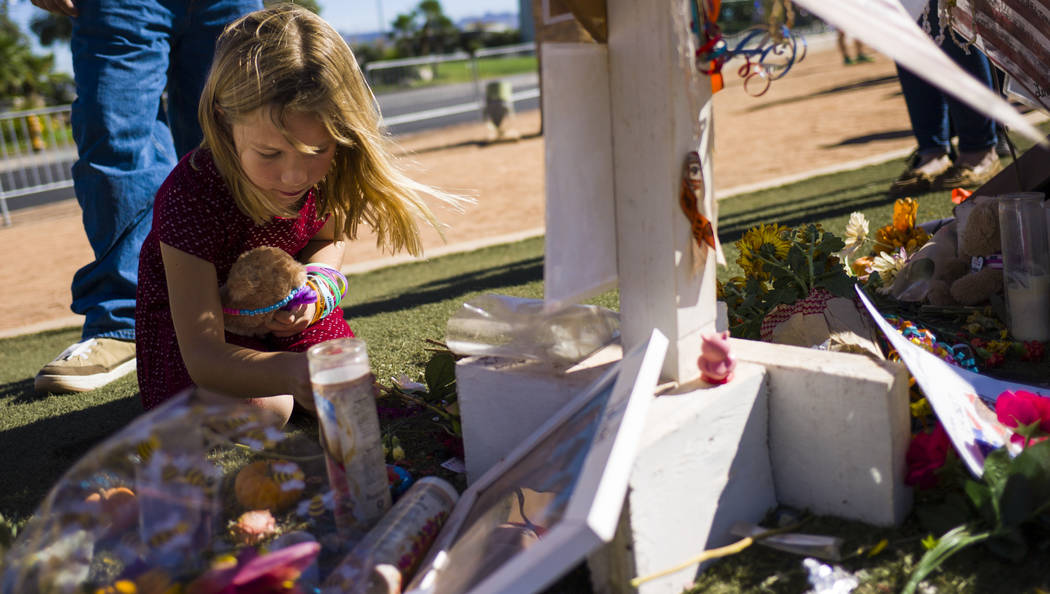 Steps away, he noticed her eyes.
There was no question: She was dead. So were dozens of others, scattered throughout the lawn of what had been just hours earlier the final night of the Route 91 Harvest festival.
Now, it was a hellscape. In the cool, early hours of Oct. 2, Clark County Deputy Fire Chief Jon Klassen had been tasked with assessing each victim for conclusive signs of death. After confirmation, he and a forensic specialist logged the time, then moved on to the next body left behind in the chaos. It was difficult, but it had to be done.
There was something about this woman, though, lying about 100 feet from the stage. She had no obvious wounds. No apparent bleeding. She seemed so peaceful. Lifeless, but looking up at the stars.
"Her eyes were wide open," Klassen recalled. "Beautiful, blue eyes."
On that field of matted grass and blood, the chief swallowed the rotten feeling creeping up his esophagus and focused.
He watched as the forensics specialist kneeled down and touched the woman's jaw, checking for rigor mortis, the stiffening of extremities that happens after death.
As expected, the woman's jaw refused to give. Instead, a single, small tear dropped out from her eye and slowly slid down her cheek.
"And it was like, I know!" Klassen said. "And I just kind of broke down."
Holding out hope
Shortly before sunrise on Oct. 2, Robert Patterson hopped in his car and raced toward Las Vegas.
His 16-year-old son sat in the passenger seat, fielding the nonstop phone calls and text messages from friends and family asking about the boy's mother, Lisa, who had been at the festival with friends.
Robert's eyes were on the road, but his mind wandered.
She would have texted or called by now, he thought. He heard about the shooting minutes after it happened, and from his home in California, he anxiously waited for his wife to touch base. They had been texting about an hour before the gunshots began.
"Are you having fun I miss u," Robert, 53, had said.
Quickly, Lisa responded: "Yes."
"I miss u too," she added, with a kissing emoji.
In a follow-up text, she said, "Miss you so much."
But now, after Robert had called and texted her more than 50 times, there was no response.
Maybe someone had grabbed her phone, he hoped. Maybe she dropped it or lost it as she ran for her life.
He had stayed up all night waiting for news until he couldn't take it anymore, woke his son and headed to Nevada. With hours left to go on the road, he did his best to keep calm.
Music played. His son repeated into the phone: We don't know, we don't know.
The father looked down at his speedometer: 105 mph. He couldn't bring himself to slow down.
Moments later, he spotted red-and-blue lights behind him. He briefly prepared to be pulled over, only to realize that the officer had sped past him, headed toward Las Vegas, too.
On the side of the patrol car, Robert read the words, "Manhattan Beach," a small, oceanside community near Los Angeles, not far from where Robert and his family lived in Lomita.
"I could tell that he knew what I was doing, and I knew exactly what he was doing," Robert said. "So I kind of just followed him. And I didn't care. I could tell that he didn't care, either."
For about 150 miles, Robert trailed the officer at 110 mph, the pair hurtling toward more information. Soon, the familiar Strip skyline was visible through their windshields.
Fun with friends
On the afternoon of Oct. 1, Lisa Patterson had considered skipping the last night of Route 91 and heading home. She missed her husband and children.
The mother of three called Robert and ran the idea by him. But he insisted she stay. It's what she wanted to do, anyway; he could tell by how happy she sounded before hanging up. She was just feeling homesick.
Lisa, 46, was a huge country music fan. Over the years, she had been to several similar country music festivals, like Stagecoach in California.
Robert, her husband of 20 years and her best friend for even longer, loves country music, too. But the idea of being in a huge crowd of people, and in some instances camping overnight, never really appealed to him, he said, laughing.
He liked being at home best, and he trusted his wife. It was healthy for her to enjoy events like Route 91 with her girlfriends. She would be home in no time.
Lisa was excited for Jason Aldean. When the star took the stage, she and her friends were so close they could see his facial expressions.
Together, they sang along and swayed with the crowd until Lisa suddenly dropped.
Her friends thought she fell. But when she didn't get up, they assumed she had passed out.
They kneeled down to give her some air, only to realize she wasn't responsive. Panicking, they enlisted strangers to help. Maybe she'd had a heart attack?
That's when they realized the popping they'd been hearing was gunfire. They didn't know, but Lisa had been shot in the back of the neck.
Nearby, others began dropping, too, either because they were dodging bullets or because they'd been shot. The shock brewed for a few seconds before the crowd stampeded toward the exits.
Most of Lisa's friends ran. One managed to hide nearby, and all survived unscathed.
But Lisa was left alone on the field, her lips turning blue as the gunfire continued, her eyes staring up at the sky.
Searching for answers
Robert's first stop in Las Vegas that morning was University Medical Center. He still hadn't heard from his wife, but now there was a rumor she may have been treated and placed on a hospital list.
He waited in the lobby with his son for about an hour, frustrated as he watched volunteers pass out food and families reunite with their loved ones. He just wanted an answer, and eventually he got one: Your wife isn't here, and we can't help you.
So Robert drove to Valley Hospital Medical Center, where he waited another hour only to be told the same thing.
He went to two more hospitals. Still, no Lisa.
Feeling helpless, and lost, he drove to the Route 91 venue. He noticed the broken Mandalay Bay windows above him, which marked where the gunman had opened fire.
"I was freaked out from that," he said. "It still freaks me out."
Ignoring the terror building inside him, Robert pulled over and asked an officer for help. As he waited for an answer, he looked at the Route 91 stage and peeked through the fencing, searching for any sign of Lisa. Nothing. But the barriers made it hard to see.
With fading hope, Robert ended up at the family assistance center in the Las Vegas Convention Center, just east of the Strip. There, he waited until about 8 p.m. with his son, also named Robert, and his 19-year-old daughter, Amber, who'd driven to Las Vegas from Northern Arizona University.
He tried to comfort his children. He wanted so badly to talk to Lisa.
She was 18 when they met — funny, outgoing and positive. Robert was 25. She volunteered at her church often, and Robert shared her strength in faith. They dated for seven years before they married.
The pair rarely went two hours without talking to each other. For Robert, the last 22 hours had felt like ages.
Eventually, Robert was called into a conference room. Neatly organized on a table were Lisa's purse, phone, ID, cards and lipstick.
"They just told me she had passed away and they had positively ID'd her with fingerprints," he said.
He only had a few moments to take in the traumatic news. As he walked out the door, his eyes met his children.
"They both knew once they saw my face that their mom had passed away," Robert said. "Amber just lost it, right then."
It was even tougher, he said, because the worst moment of their lives was on public display. About 300 other people were also in the center, waiting for news.
"I am so sad that almost every single one of them probably got the same news that I got," Robert said.
Week of hell
The days since Lisa's death have been dark, difficult and torturously slow.
Robert didn't get to see his wife's body until Oct. 10, more than a week after the shooting.
"Me and my son couldn't recognize her," he said. "She was very swollen."
"Usually when someone dies," he continued, "you need to get them to the mortuary as soon as possible. She didn't get to the mortuary for almost six days."
The Clark County coroner's office previously had reported that all victims' bodies were disseminated to mortuaries by Oct. 6.
But by that date, Robert and his family had returned home and still were waiting to confirm that Lisa had been moved. No one gave him an answer until the next week, despite repeated calls to the office.
"That was probably the worst week of hell that I've ever had in my life," he said.
The only comfort Robert found during that stretch of time came from his family, friends, children and an unlikely source: a man Robert now calls "Fire Chief Jon."
Nameless face
In the days after the shooting, Klassen couldn't stop thinking about the woman on the field.
He called the coroner's office and described her, trying to find out who she was. Two victims fit the description: a woman who had died at Sunrise Hospital and Medical Center, and a woman who had never left the field.
It wasn't long before Klassen called Robert and told him the story about Lisa's single tear.
"I said, 'If that were my wife or mom, maybe someone who loved her would like to hear that,'" Klassen recalled through his own tears.
"And so begins the saga of Jon and Bob," Klassen added with a laugh.
The day Robert and his son came to Las Vegas to retrieve Lisa's body, Klassen treated them to dinner.
Now, Klassen often calls or texts Robert to check in with him and his family.
"Bob's a great guy, man," Klassen said, again beginning to cry. "If Bob and I met under other circumstances, we'd be the best of friends. There's no doubt in my mind."
Paying respects
On Tuesday, Robert brought his younger daughter to Las Vegas. It was his third time visiting since the shooting.
Brooke, 7, is a kind, energetic girl who "looks just like her mom," Robert said.
She's smart, too. She understands what happened. Brooke is the one who asked to come and visit the memorials.
"I couldn't not bring her," Robert said, standing by the white cross that now bears his wife's name near the Welcome to Las Vegas sign. "I think this is something she's going to remember forever."
On the cross, Brooke carefully piled on several bracelets that read "#VegasStrong" and "#LiveLikeLisaP." A member of Lisa's church had created the bracelets. The church also paid for Lisa's funeral.
"Daddy, can I take the cards?" Brooke asked.
"Of course you can, babe," her father said.
She stared at one note for several seconds: "Sleep pretty darling, do not cry and I will sing a lullaby."
'Still in a fog'
Since Lisa's death, no one in the family has been able to get much sleep. Amber, the oldest child, withdrew from her university. A college a few miles from their California home offered her a full-ride scholarship as she grieves.
"I think what probably bothers me more than anything is I just don't know what happened," Robert said. "I worry about what Lisa's last moments were. I don't think that she suffered, but you just have no idea."
He stays up most nights wondering. Little Brooke now snoozes by his side, in the spot where Lisa used to sleep.
"I'm still in a fog. Everything is still so surreal to me," Robert said.
On Tuesday night, Robert took Brooke to the Golden Knights hockey game. The team gave them jerseys. They put Brooke on the big screen and treated her to a ride on the Zamboni. She had a blast, and a few rows behind them sat Fire Chief Jon.
Robert and Brooke planned to visit the Las Vegas Community Healing Garden the following morning. There, they would sprinkle some of Lisa's ashes. But first, he had to face the pang of reality.
"Usually I wake up in the morning happy like, 'I love my wife; I love my family,'" he said. "Now I wake in the morning like, 'My wife is dead.'"
Contact Rachel Crosby at rcrosby@reviewjournal.com or 702-477-8301. Follow @rachelacrosby on Twitter.
Related
Las Vegas shooting victim: Lisa Patterson, Lomita, California