Jurors hear how teen was killed over cherished iPad
August 24, 2016 - 5:41 pm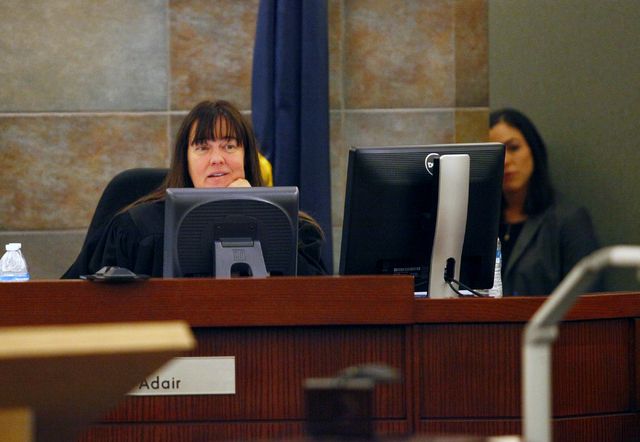 Fifteen-year-old Marcos Vicente Arenas cherished his iPad, and carried it just about everywhere he went, listening to his favorite music through tethered earbuds.
"The iPad was important to Marcos because he wasn't used to having nice things like that," Chief Deputy District Attorney Jacqueline Bluth told jurors Wednesday during opening statements in the murder trial of 24-year-old Michael Solid.
When one of Solid's friends, Jacob Dismont, tried to rob Marcos, the teen clutched the iPad with all his strength, the prosecutor said. After Dismont wrested the iPad away, he jumped into a white Ford Explorer, with Solid waiting in the driver's seat. Marcos flung himself on the vehicle, trying desperately to hold on, reaching for the device, as he was dragged, run over and killed.
Deputy Special Public Defender Randall Pike told jurors that throughout the trial, which is expected to wrap up next week, prosecutors would not be able to prove the charges against Solid, though he admitted he was the driver.
Dismont led the robbery, Pike argued, and "he's the one who was destroying the evidence that was tied to him." Prosecutors said that after Marcos was killed, Dismont tried to disguise the SUV by adding flame stickers and changing the license plate.
Dismont, now 21, pleaded guilty last week to second-degree murder and conspiracy to commit robbery and is awaiting sentencing.
Marcos's father, Ivan Arenas, testified Wednesday that he had taken out a payday loan to purchase the iPad at a pawn shop about a month prior to his oldest son's death. It had been a birthday gift and a reward for doing well in school.
Father and son spent the day together lifting weights. Marcos had hoped to make the varsity football team.
Around 3 p.m. on May 16, 2013, Marcos walked to a Chipotle near their northwest valley home and picked up a burrito bowl and burrito.
After encountering Dismont, Marcos struggled and screamed. As he was dragged from a sidewalk, he looked into the eyes of a nearby motorist, Rebecca Shanahan. The boy mouthed the word "help," she told jurors, as several members of the teen's family and friends listened and wept in the courtroom.
The prosecutor said Marcos suffered a collapsed lung, lacerated liver, lacerated pancreas and a skull fracture.
"As they escaped with an iPad, he lay dying in the middle of Charleston" Boulevard, Bluth said.
Earlier this week, the Nevada Supreme Court said it would not stop cameras with a television show about the Clark County district attorney's office from filming the trial.
Attorneys with the Clark County special public defender's office had argued that Investigation Discovery's "Las Vegas Law," which recently was greenlit for a second season, is not a news entity and should not be allowed to record the proceedings. The production company provides entertainment, rather than news, the defense lawyers argued.
Lawyers for the docudrama's production company, MY Entertainment TV, said defense attorneys made a "baseless" claim with the high court.
While rejecting the arguments of Solid's attorneys, Justices Ron Parraguirre, James Hardesty and Kristina Pickering asked the show's lawyers for a written response.
"The answer shall address MET's intended use of the film in light of" Supreme Court guidelines on electronic coverage of court proceedings. Those rules limit the use of courtroom-captured video to "educational or informational purposes only," the court said.
Contact David Ferrara at dferrara@reviewjournal.com or 702-380-1039. Follow @randompoker on Twitter.
RELATED
'Las Vegas Law' renewed for second season
Steve Wolfson says critics wrong about 'Las Vegas Law'
Show on Las Vegas DA's office depicts 'exotic, exciting, excessive' courtroom drama