Las Vegas jury acquits man of murder in girlfriend's 2006 death
Updated May 18, 2017 - 8:19 pm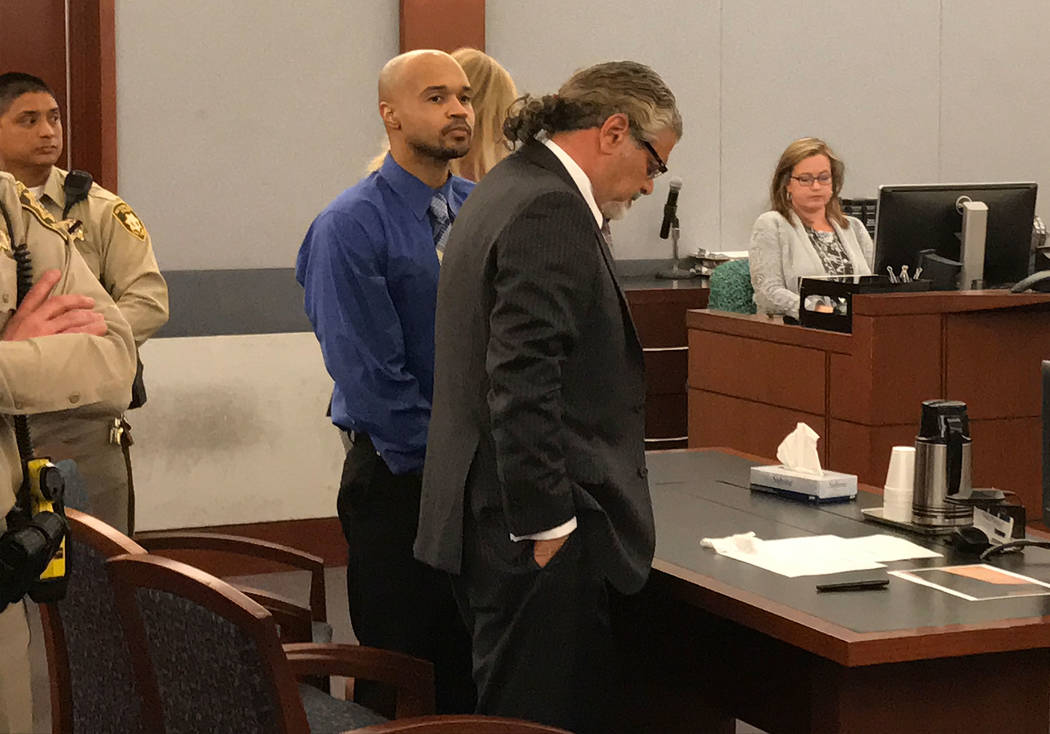 Shaun Leflore was acquitted Thursday of a first-degree murder charge in the 2006 death of his girlfriend.
"We spent years preparing for this and putting our blood and sweat into this thing, and we always believed in Shaun," defense attorney Joseph Abood said outside the courtroom after the verdict was delivered.
A Clark County District Court jury reached its verdict about three hours after hearing closing arguments in the case.
Leflore, now 35, was arrested in 2013 in connection with the shooting death of Chantel Hollowell. Her death was initially ruled a suicide.
Leflore told police he witnessed Hollowell, 21, shoot herself in the head.
Prosecuting attorney Leah Beverly argued that Leflore staged the scene to look like a suicide.
"This was the perfect crime," Beverly told jurors in her closing argument. "A real-life, 'How to Get Away with Murder'-type situation."
While investigating Leflore's assault of a different woman, police in Riverside, California, learned of the Hollowell case. They contacted Las Vegas police, prompting the department to review evidence and reopen the case.
Leflore already was serving a sentence for assault when he was arrested and booked on a murder charge in the Hollowell case.
Family and friends said Leflore was abusive, and that Hollowell wanted to leave him and start taking classes at UNLV, according to the 2013 arrest report.
The jury in the murder trial did not hear about Leflore's previous sentence.
"Had they been able to get that information, I know the verdict would have been different," said Hollowell's mother, Toni Relerford, in a phone interview.
Relerford and Hollowell's friend, Valerie Alejos, said they hope the verdict spurs discussion on human trafficking and domestic violence.
Abood delivered an impassioned closing argument for more than an hour Thursday morning.
"So now, some 11 years later, these district attorneys are asking you to do something that the Metropolitan Police Department and the Clark County coroner's office refused to do in December of 2006," he told jurors. "They're asking you to conclude that Shaun is a murderer."
Leflore hung his head and stared at the floor during most of the closing arguments. Defense attorney Nancy Lemcke had her arm around his shoulder for the entirety of the morning. As the verdict was read, she held Leflore in a long embrace.
Hollowell's family and friends wept as they left the courtroom after hearing the verdict.
Contact Blake Apgar at bapgar@reviewjournal.com or 702-387-5298. Follow @blakeapgar on Twitter.
RELATED
Tensions rise in Las Vegas trial of man charged with killing girlfriend
Murder trial begins in girlfriend's death originally ruled suicide
Pimp charged in 2006 death of Las Vegas prostitute initially ruled a suicide