Las Vegas man now a suspect in 2 homicides
Updated June 30, 2022 - 4:56 pm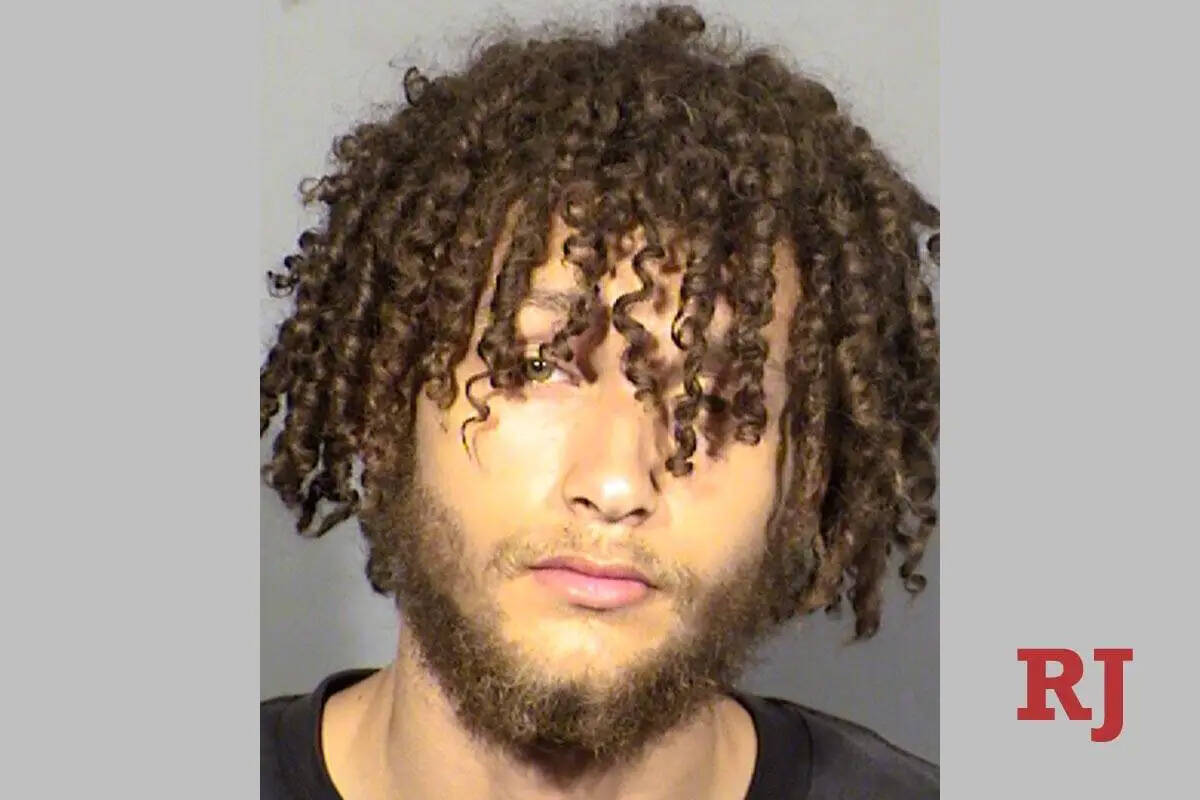 Las Vegas police say a man arrested in an east Las Vegas slaying is now a suspect in a second homicide in the same neighborhood.
Alonzo Brown, 18, of Las Vegas, has been arrested in the June 23 killing of Josue Chaparro-Montalvo, 36, near East Tropicana Avenue and Boulder Highway.
Police said at a Thursday press conference that Brown is also considered a suspect in the May 4 killing of Paulo Viana, 62, who was shot at a bus stop in the area of Tropicana Avenue and Nellis Boulevard.
Metropolitan Police Department Capt. Dori Koren said that after the June 23 killing detectives were concerned because it happened in the same area as the May homicide, the description of the suspect was the same, and the same 9 mm handgun was used.
"What was especially disturbing as they reviewed some of the surveillance footage they noticed that the suspect seemed to stalk the victim," Koren said. "It appeared to be a random killing. There wasn't any apparent motive from what we could tell."
Las Vegas Justice Court records currently indicate he is charged in a single slaying. It was not immediately clear with which homicide he is charged.
Police wrote in Brown's arrest report that after Chaparro-Montalvo was found slain on a sidewalk, detectives recovered five 9 mm handgun shell casings near his body. Also near the crime scene police found a black puffy "LA" jacket with white fabric gloves. Further away, police found a pair of black jeans with large holes in the knees stashed underneath a vehicle.
Police said they then located video surveillance depicting the moments before and after the slaying.
The video, police said, showed Chaparro-Montalvo emerging from a convenience store just after 3 a.m. and then being followed by a man wearing a black ski mask, a black "LA" jacket, black jeans with holes in the knees, and a pair of Nike shoes that were black, white and red.
"The male was observed following the victim and closed the distance very quickly," police said. "The victim turned to look back at the male three different times."
Moments after the shooting, the assailant was pictured running away from the crime scene. He was no longer wearing the ski mask and the man is depicted pulling down his black jeans and throwing them under a vehicle. The suspect was skinny, with a light-skinned complexion and long scraggly hair.
Police said in searching their records, they realized there was a second, similar homicide in the area of Tropicana Avenue and Nellis Boulevard on May 4. In that case, Viana was fatally shot after arguing with a man at a bus stop. Video surveillance recovered in that homicide investigation showed Viana's assailant wearing a dark hoodie with large white lettering and a black ski mask. After Viana was slain, police said the video showed the killer stripping his clothing after the shooting. Around the same time, police said, Brown was stopped by police as part of an investigation of a hit-and-run crash at the Whitney Library near Nellis and Tropicana Avenue.
"Review of the body camera from that incident showed Alonzo Brown wearing a similar black hoodie with a white design and a black ski mask," police said. "Alonzo was described as skinny, having a light-skinned complexion and long scraggly hair."
Koren said Brown was identified as the suspect on Monday, and the next day was apprehended by police after a foot chase. Brown was arrested with a firearm in his waistband and one in his backpack.
"At this time we don't believe that he knew the victims. We don't believe that there was any traditional criminal motive such as drugs or robbery or anything like that," Koren said. "Our concern for this one was that it appeared much more random and what I mean by stalking is that now from additional video surveillance, everything we think in both incidents, he picked out a target, stalked that target until he ended up going up and killing that person."
Police said Brown lives half a mile from both homicide crime scenes.
"We were able to catch this suspect as early as possible and now with him in custody there's no danger associated to this case," Koren said.
Contact Glenn Puit by email at gpuit@reviewjournal.com. Follow @GlennatRJ on Twitter. Contact David Wilson at dwilson@reviewjournal.com. Follow @davidwilson_RJ on Twitter.