Las Vegas mother arrested in baby's death
Updated March 10, 2018 - 12:32 am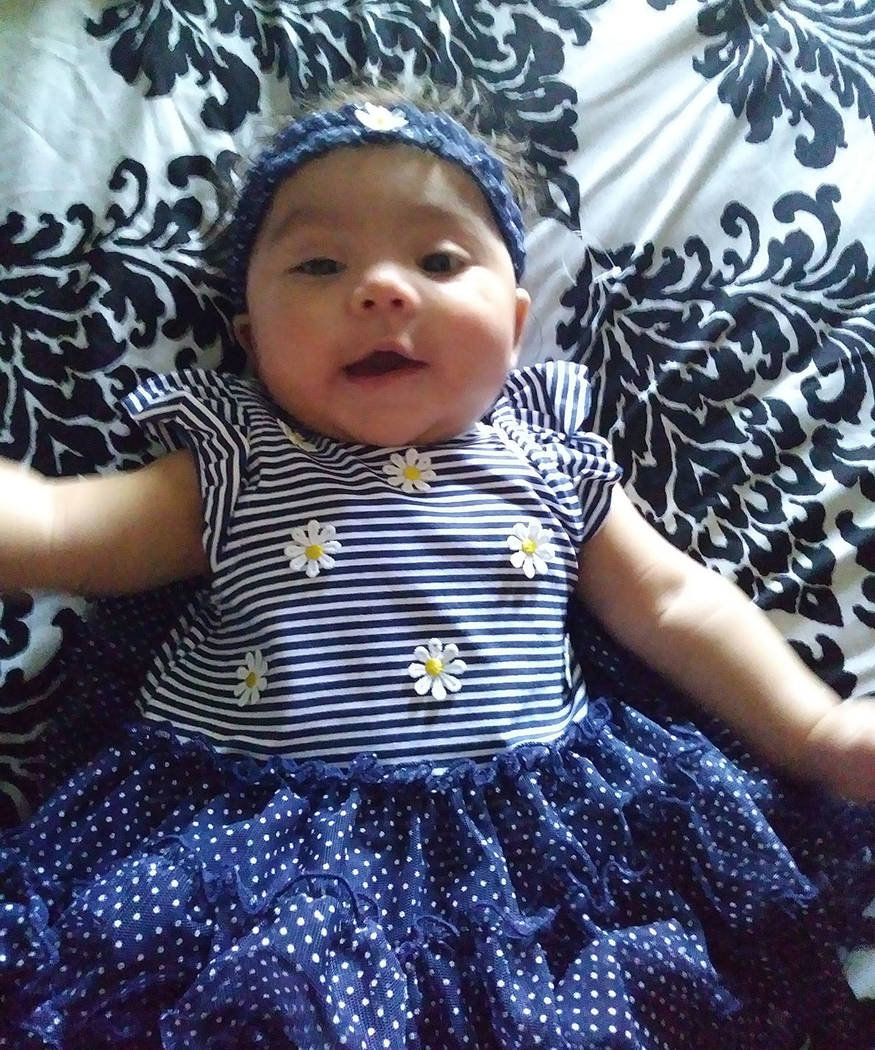 A woman was arrested Thursday in connection with the death of her daughter, two months after the child's father was charged with murder.
Raelene Jemison, 36 was booked into the Clark County Detention Center on a charge of second-degree murder. Las Vegas police detectives interviewed the woman Thursday, and she was arrested at the end of the interview.
Ten-month-old Jordyn Chu died Jan. 24 at University Medical Center. The day before, police went to the couple's apartment complex on the 9200 block of West Charleston Boulevard, near Rampart Boulevard, after medical personnel reported that a man was threatening them at a home where a child was found unresponsive.
Eric Chu, Jordyn's father, was arrested by deputy U.S. marshals on Jan. 26 in Chicago and was extradited to Las Vegas.
The father told police and medical personnel that Jordyn suffered from seizures, but he could not account for the girl's skull fractures, according to his arrest report.
While Chu was at the hospital with his children, a doctor noticed that the girl's twin brother also had marks on his neck and bruises, the report states.
In the months before Jordyn's death, her parents were the subject of a Clark County Department of Family Services investigation after the brother was hospitalized with a broken arm.
County records show that case was closed before Jordyn's death, after investigators could not substantiate allegations of neglect.
Jemison told police that Chu had been rough with the girl and her brother, the arrest report states. She described him as "aggressive" and said she was afraid of him.
She also called police in June after Chu allegedly said he was going to "end up killing" the twins. According to the report, he was arrested for owning a firearm despite previous felony domestic violence convictions.
After Chu's arrest, Jemison denied in an interview with the Las Vegas Review-Journal that he had threatened their children. She said she never saw bruises on Jordyn or her twin brother and their father "was fine with them."
"I never once thought he would hurt those kids," she said in January.
Contact Max Michor at 702-383-0365 or mmichor@reviewjournal.com. Follow @MaxMichor on Twitter.
To provide information
Anyone with information about Jordyn Chu's death may contact the Metropolitan Police Department's abuse and neglect section at 702-828-3364 or AbuseNeglectReporting@LVMPD.com. To remain anonymous, contact Crime Stoppers at 702-385-5555 or at www.crimestoppersofnv.com.