Las Vegas police fired 58 rounds in killing of robbery suspect
Updated June 19, 2018 - 12:26 am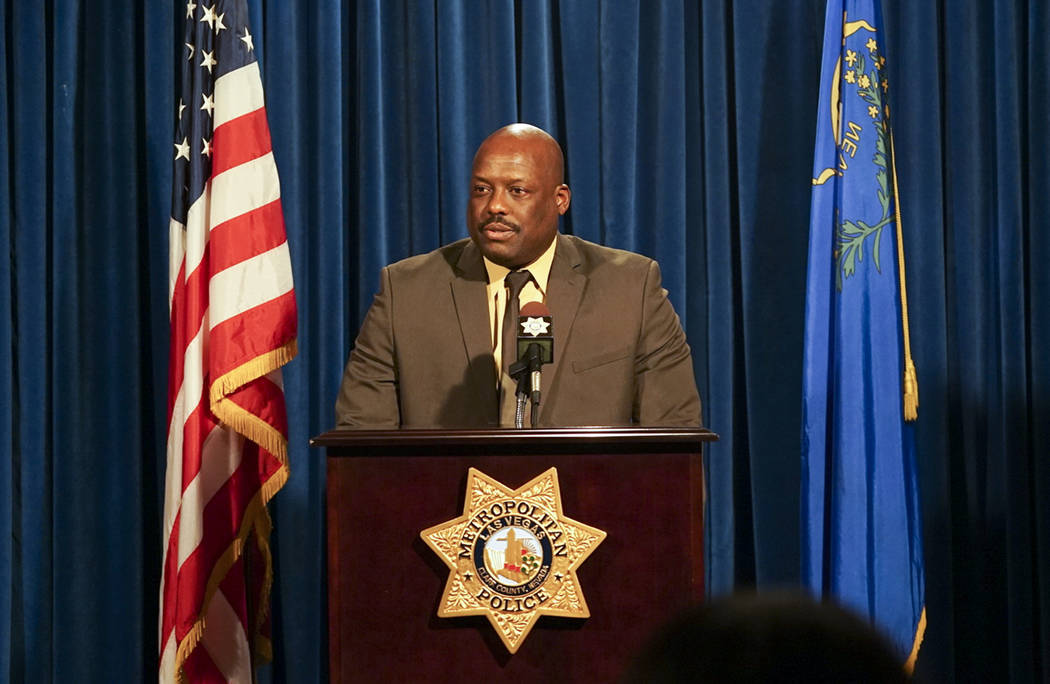 Seven Las Vegas police officers fired a combined 58 rounds at an armed robbery suspect as he drove an SUV toward them in the east valley last week.
The driver, 18-year-old Terrence White, was struck twice in the torso and died at the scene, a Metropolitan Police Department official said Monday.
Officer Anthony Gariano saw White asleep in the black Dodge Durango at Radwick Drive and Owens Avenue just before 4 a.m. Thursday, Assistant Sheriff Tim Kelly said. Gariano noticed an AR-15 semiautomatic rifle on a passenger seat and called for backup.
The stolen Durango matched a suspect vehicle description used in a string of robberies by a man armed with a rifle.
Officers set up containment around the area and placed spikes in front of the SUV's tires. White woke up, started the SUV and began to drive away. He then made a U-turn and faced the officers.
"You will be shot if you drive this way," a man's voice was heard saying over a bullhorn in body camera footage shown at Monday's briefing.
White ignored the command and drove toward the officers, who opened fire just before 4:30 a.m. The Durango crashed into a police vehicle, but no officers were injured.
Kelly said officers saw White move toward the rifle, and they fired a second volley. Investigators did not know Monday if White ever displayed the rifle, Kelly said.
Police said White's rifle was stolen from a National Wildlife Refuge law enforcement vehicle in May.
One officer, Frank Rycraft, fired 19 rounds at White. Rycraft was involved in another police shooting last June, when a man fired at least two rounds at officers.
All seven officers involved in Thursday's shooting were placed on paid leave during the investigation.
White was wanted in a spree of robberies. Two other men wanted in the robberies were arrested the night before the shooting, after they robbed two men and shot one of the victims, police said. Police would not name the other suspects, citing the investigation.
Had he survived, White would have faced charges of assault with a deadly weapon on a protected person, malicious destruction of private property, possession of a firearm and possession of a stolen vehicle.
White's death marks Metro's eighth police shooting of 2018 and its fourth fatal of the year. At this time last year, three of Metro's eight police shootings were fatal.
Contact Blake Apgar at bapgar@reviewjournal.com or 702-387-5298. Follow @blakeapgar on Twitter.
Breakdown of 58 rounds fired by police
— Officer Frank Rycraft: 19 rounds
— Officer Jeremiah Beason: 14 rounds
— Officer Joseph Aguilos: nine rounds
— Officer Jordan Anderson: six rounds
— Officer Robert Stephenson: five rounds
— Officer Anthony Gariano: three rounds
— Officer Craig McIntosh: two rounds
Source: Metropolitan Police Department