Las Vegas police hold briefing on officer-involved shootings
Updated August 7, 2018 - 7:22 pm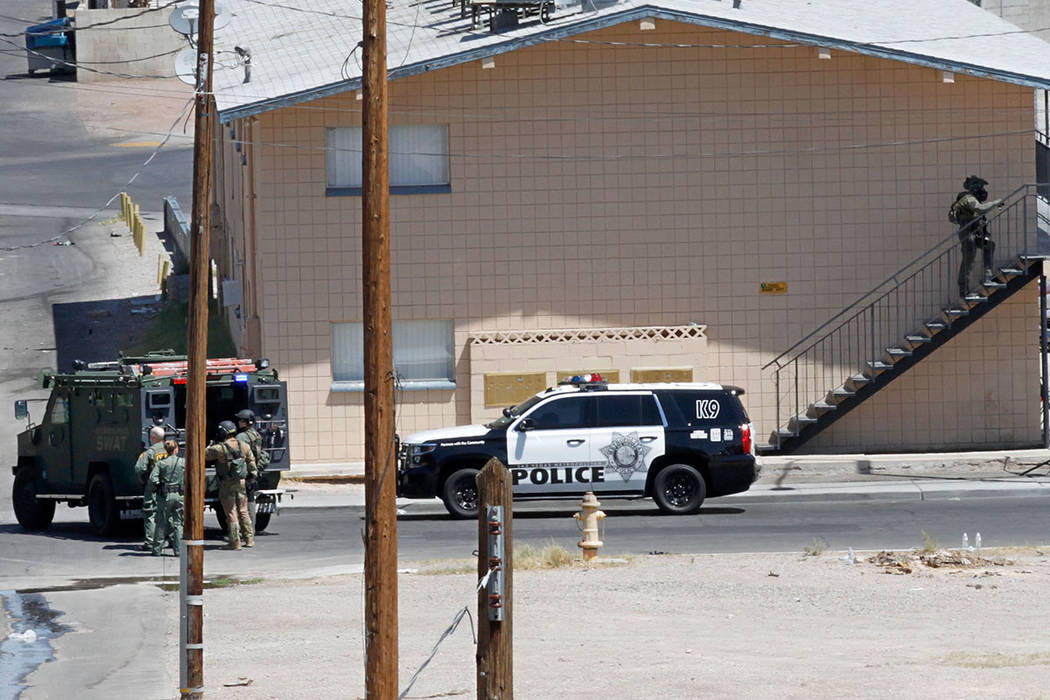 Las Vegas police provided new details Tuesday on two officer-involved shootings that occurred about 10 hours apart on Saturday.
They showed body camera footage Tuesday on the two shootings, the first of which ended an hourslong standoff north of the Strip and the second of which happened while police worked a call of a possible suicidal person in the central valley.
"It is unfortunate they come back to back as they did on that date, but (Metropolitan Police Department officers are) prepared and understand their mission and are prepared to do that mission," Clark County Assistant Sheriff Charles Hank told reporters.
At 1 p.m. Saturday, Metro SWAT officers entered an apartment at 210 W. Baltimore Ave. in an attempt to end a standoff with Danzel Boyd, 28, whom police had suspected of sexual assault and attempted sexual assault. Two SWAT officers, James Ferrante, 35, and William Marx, 48, shot Boyd multiple times in the apartment bathroom, Assistant Sheriff Brett Zimmerman said. Boyd died at the scene.
"He had ample time, between 1 o'clock p.m. and 1:13 when we made entry into the bathroom and (1:15) when he was shot, to give up," Zimmerman said.
Ferrante's body-worn camera captured SWAT officers blasting down the bathroom door and Boyd fighting with a police K-9 dog in a bathtub. Ferrante and Marx shot at Boyd when he raised a .40-caliber handgun from within the tub at 1:15 p.m., Zimmerman said.
He fired six rounds from a .40-caliber handgun and five rounds from a TEC-9 handgun during the barricade, two or three of which hit a nearby parking garage at the Stratosphere, Zimmerman said.
Had Boyd survived, he would've faced three counts of attempted murder on a protected person, two of kidnapping, two of sexual assault, a count of robbery, a count of shooting from an occupied structure and a count of prohibited possession of a firearm, Zimmerman said.
About 10 hours after that shooting, 42-year-old William Orellana fired at officers from inside a stolen red Nissan Titan pickup truck outside of his house at 1512 Saylor Way, near Jones Boulevard and Vegas Drive, Hank said. Metro officer Johnathan Tomaino, 25, returned fire.
Orellana was found dead with a self-inflicted gunshot wound in the truck.
Authorities determined Orellana crashed his black Chevrolet Camaro about 9:15 p.m. on the highway near Searchlight before fleeing north in the damaged car.
The damage forced him to pull over on the highway about 12 miles north, where he carjacked a woman's pickup truck and drove north toward Las Vegas, Hank said.
Had Orellana survived, he would've faced multiple charges including attempted murder, robbery, hit-and-run, grand larceny of an automobile and shooting at an occupied vehicle, Hank said.
Contact Mike Shoro at mshoro@reviewjournal.com or 702-387-5290. Follow @mike_shoro on Twitter.