Las Vegas police say man killed by officer at Jean resort had bipolar disorder
January 24, 2017 - 3:17 pm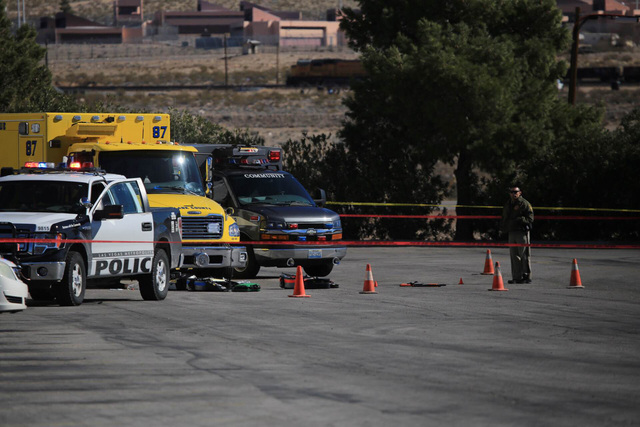 The naked man who was fatally shot by a Las Vegas police officer at a Jean resort had stabbed himself several times before the officer arrived at the scene, a Metropolitan Police Department official said Tuesday.
"His body was covered with self-inflicted stab wounds," Undersheriff Kevin McMahill said at a media briefing.
The shooting happened Saturday morning in the southeast parking lot of the Gold Strike, about 30 miles south of Las Vegas.
McMahill said the man who was shot, Paul Carr Palmer III of Sedona, Arizona, had been living out of his car in the area and had been diagnosed with bipolar disorder. He was not taking medication and had tried to kill himself in the past.
Employees saw Palmer, who was nude, in the Gold Strike's pool area with what was described as multiple stab wounds. When resort security tried to confront him, he chased after them while brandishing a folding pocket knife, McMahill said.
Metro officer Peter Bicsanszky, 42, was dispatched to the resort at 9:39 a.m. Palmer did not comply with the officer's commands and charged at him while holding the knife over his head.
Bicsanszky hit him with two beanbag rounds fired from a shotgun, but Palmer was not deterred.
"He barely paused," McMahill said.
The officer then fired two rounds from his sidearm, one of which hit Palmer.
Palmer, 50, died at the scene. He had stabbed himself at least six times before the officer arrived, McMahill said.
The department played a cellphone video recording of Palmer chasing two security guards, followed by resort surveillance footage that showed Palmer charging toward the police officer.
Bicsanszky has been a Metro officer since July 1998. He has been placed on paid administrative leave pending a review of the shooting.
Contact Wesley Juhl at wjuhl@reviewjournal.com and 702-383-0391. Follow @WesJuhl on Twitter.