Las Vegas police say teen recruited 2 others to help kill her mother
February 21, 2017 - 1:22 pm
Updated February 21, 2017 - 6:59 pm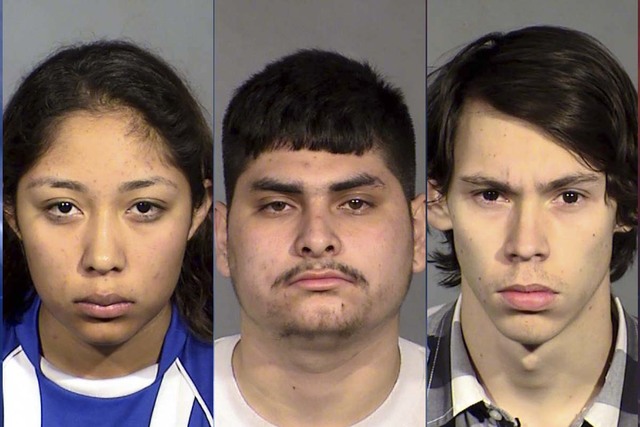 Brenda Garcia told her boyfriend in the fall of 2014 that to escape a gang she had to kill her mother, Las Vegas police records show.
About a month later, the teenager, her boyfriend and her neighbor across the street strangled Julia Garcia, wrapped her body in trash bags, and abandoned it in a desert area between Lake Mead National Recreation Area and Las Vegas, Brenda Garcia's arrest report said.
The three teenagers were arrested on murder charges Saturday, more than two years after the death. Brenda Yamileth Garcia, 18, Joseph Luis Sanchez, 19, and Michael Trieb, 19, face charges of murder with a deadly weapon, robbery with a deadly weapon and conspiracy to commit murder.
Sanchez told police Brenda Garcia paid him and Trieb $50 each a few days after the woman was killed. Sanchez told police he and Garcia broke up a couple of months later, police said.
A search team found the body of Garcia's mother, Julia, on Nov. 15, 2014, near State Route 147 and Pabco Road.
Julia Garcia's husband had reported her missing Nov. 6, 2014. Brenda Garcia, who was about 16 years old at the time, told police she found an email from her mother the day before that read she was leaving the family, the report said.
Las Vegas police served a search warrant on the family home the day after Julia Garcia's body was found. Phone records showed that Brenda Garcia was at home the day her mother disappeared but should have been at school, the arrest report said.
She withdrew $200 from her mother's checking account the day her mother was reported missing to buy food and bedroom decorations, the report said.
Metro's forensics lab in February 2016 matched the trash bags found in Brenda Garcia's home to the bags that covered Julia Garcia's body. By February 2017, Brenda Garcia and her then-boyfriend, Sanchez, had developed as detectives' top suspects, the arrest report said.
The three teens confessed during interviews with police earlier this month, but each gave a different version of events, the report said.
Brenda Garcia told police she waited at a nearby park for her younger siblings to go to school, at which point Sanchez and Trieb would carry out the attack. The teens then cleaned up the blood from the kitchen, got rid of the body and stole the woman's money and jewelry, the arrest report said.
She said the plan was originally to kill both of her parents, and the crime would serve as Sanchez's gang initiation, the report said.
Police did not say in their arrest report how the killing of the mother would help Brenda Garcia escape from a gang.
Trieb told police that as Julia Garcia was being killed he heard the woman ask "why?"
Review-Journal writer Mike Shoro contributed to this report. Contact Wesley Juhl at wjuhl@reviewjournal.com and 702-383-0391. Follow @WesJuhl on Twitter.