Las Vegas police seek suspect in double homicide at Strip hotel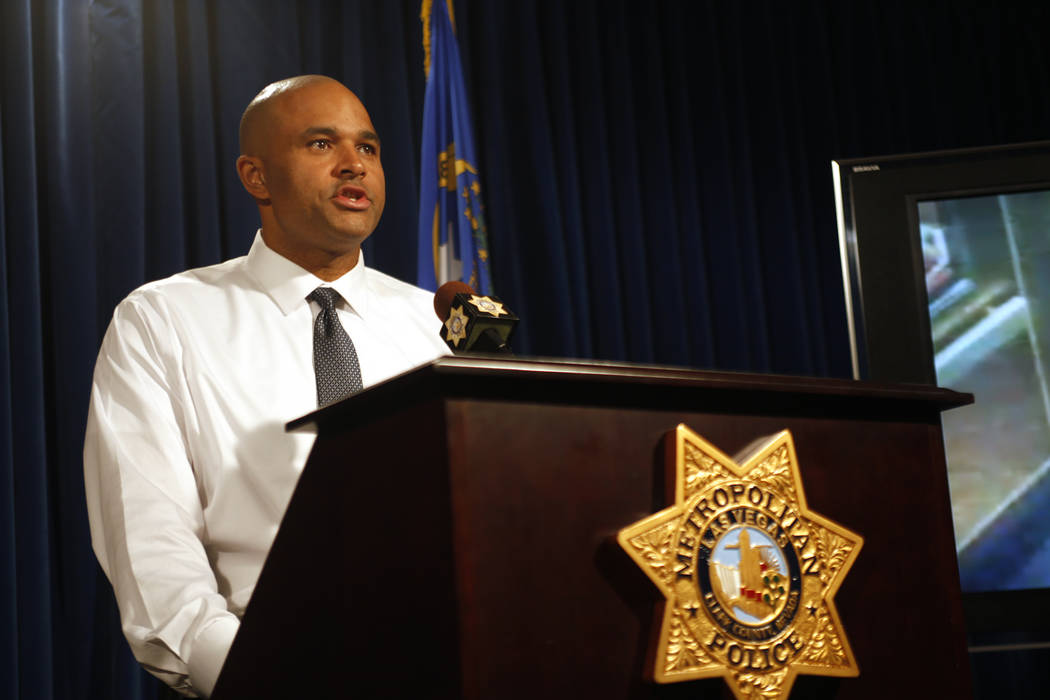 Las Vegas police want help finding a suspect in the stabbing deaths of two tourists found Friday inside their Strip hotel room.
"These two individuals did not deserve what happened to them, and we want to see justice served on a very dangerous man and see him behind bars," Metropolitan Police Department Lt. Ray Spencer said at a Wednesday news conference announcing new details on the case.
Spencer showed security footage obtained earlier Wednesday from inside Circus Circus, 2880 Las Vegas Boulevard South. The footage shows a man Metro homicide detectives suspect burglarized two Vietnamese tourists' hotel room and killed the pair Friday morning.
The released footage shows a man riding an elevator to the hotel's top floor about 4 a.m. About 45 minutes later, he returns to the elevator wearing a backpack that police say belonged to 30-year-old Khuong Nguyen, one of the victims. Police initially thought the attack happened about 2 a.m.
Detectives determined the man had walked from door to door inside the hotel, checking to see which were unlocked, Spencer said.
Officers discovered no signs of forced entry into a hotel room where security found the bodies of 38-year-old Sang Nghia and Nguyen on Friday afternoon. Items were missing from their room, and both bodies had been stabbed.
"It is possible the suspect simply opened the door," Spencer said.
The elevator footage of the man appears to show him text and talk on a cellphone while wearing the backpack.
Police don't know the man's location and haven't recovered a weapon, Spencer said.
The man was seen wearing a blue and gray baseball T-shirt with a logo on the front, black Adidas pants with white stripes down the side and black shoes, police said.
Officers described him as a light-skinned black man between 25 and 30 years old with a tattoo just below his neck. Spencer described the tattoo as either the top of a dragon or a tribal tattoo.
"The victims in this case were viciously attacked, and the suspect must be caught as he is a danger to our entire community," Spencer said.
"Just like brother and sister"
Nghia and Nguyen were part of a group of 12 tourists visiting from Vietnam, police said. The pair failed to show up to a planned trip Friday to the Grand Canyon, prompting concern from the group. Security checked on the pair in their hotel room and found their bodies.
The two were co-workers at Nghia's tour company, according to her daughter, Chau Nghia.
Nguyen's job took him to countries across the world — Australia, Germany, France, Thailand, Japan and Korea, to name a few.
"He's been all over the place," his cousin Steven Nguyen said in a phone call from his home in Kansas City, Kansas.
Khuong Nguyen enjoyed the "culture shock" he experienced in each new country he visited, his cousin said.
The U.S. was one country he hadn't visited until last week.
The cousins would talk through video calls, and Steven Nguyen last spoke with his cousin on a video call about 9:45 p.m., hours before his cousin's death. Khuong Nguyen was happy, his cousin remembered, and commented on the dry heat in Las Vegas compared to the humid heat in Vietnam.
"It's very tragic since he just got to the U.S., and then all of the sudden this happens," Steven Nguyen said.
Police had previously incorrectly identified Nghia and Nguyen as a couple. But the two were close, Chau Nghia told the Las Vegas Review-Journal.
"Just like sister and brother," she said.
Police urged anybody with information on the case to call Metro homicide detectives at 702-828-3521 or by email at homicide@lvmpd.com. The public can also call Crime Stoppers at 702-385-555 to remain anonymous.
Circus Circus is offering a $10,000 reward to anyone who provides information leading to an arrest.
Their deaths marked the 89th and 90th homicides investigated within Clark County and the 75th and 76th investigated by Metro this year, according to Review-Journal records.
Contact Mike Shoro at mshoro@reviewjournal.com or 702-387-5290. Follow @mike_shoro on Twitter.